I was at Walmart last week and found a quite impressive display of pumpkin carving kits and more by Pumpkin Masters. It's the brand you probably already know and trust for all your pumpkin carving needs, as they celebrate their 25th anniversary this year. I usually just grab a kit without even checking out all the creative, fun options that are available. Shame on me.  Our pumpkins are never going to look like the exciting, creative pumpkins we see at the doorsteps of other people's houses. Well, not until this year! We were given the opportunity to check out some of Pumpkin Masters cool Halloween pumpkin carving kits.
Family Carving Kits
There are many kits to choose from under the Family Carving Kits.  These kits require adults using the tools but plenty of family interaction!  We have always enjoyed carving our Halloween pumpkins together as a family, usually 2 or 3. My kids are still young, so we do the majority of the carving, allowing them to scoop out the insides and help pick a design.
We were able to review the original Pumpkin Carving Kit. This is the #1 selling carving kit in America. Pumpkin Masters® original, patented carving kit allows you to create amazing designs with ease. The kit include specially designed patterns, saws, drill, Scraper Scoop™, and Pounce Wheel. It comes with 17 total pieces, 12 patterns, and 5 tools.  In the back of the book, there are carving instructions on how to properly use the tools to create the awesome designs.  The Dracula, Kitty Bat, and Scared Welcome cut outs look really cool to try and not too scarey for younger kids.
Kids Carving Kits
Kids carving kits from Pumpkin Masters allow kids to do much of the carving activities on their own. There are kits for kids as young as 4 years old.  Now that my kids are almost 5 and 7 years old, times are changing. They want to be independent. They want to do things themselves. With Pumpkin Maters Kids Carving Kits, kids can experiment and make their own Halloween Jack-o-lanterns.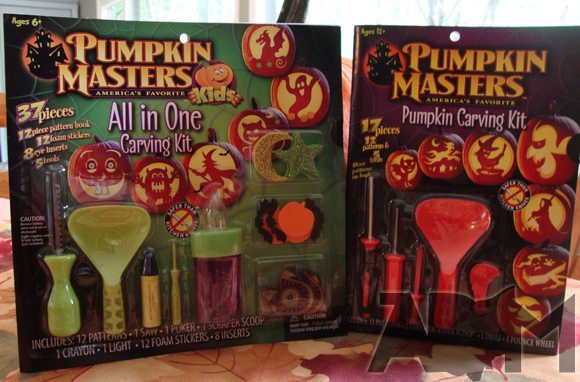 The All in One Carving Kit has everything your kids need to make more than a dozen pumpkin designs.It includes 12 patterns with instructions, 12 foam stickers, 8 eye and teeth inserts, 1 kid-friendly DuraSaw®, 1 Scraper Scoop, 1 Poker, 1 battery operated light, and 1 crayon.  The designs are even more kid-friendly.
The patterns are amazing! Simply tape the pattern onto the pumpkin and have your kids poke holes through the holes in the paper to form their spooky design. Then, you have the lines ready to cut out the design easily with the DuraSaw. This will give your kids the ability to make the coolest pumpkin on the block, by themselves.
Spooky Pumpkin Lighting
Pumpkin Masters offers a fun assortment of Spooky Pumpkin Lighting  to give your pumpkin just the right glow to fit the personlaity of your pumpkin. This lighting option is a much safer alternative to lit candles while still providing the same kind of glow you are use to.
My kids were excited to use the Flickering Mayhem Light in their pumpkin! It gives the effect of a spooky light that flashes quickly and bright to a slower soft dim.
Trick or Treat Accessories to Keep Kids Safe During Trick or Treating
Pumpkin Masters offers Trick or Treat Accessories to keep your kids safe while trick or treating including lighted safety buckets, safety flashlights, costume reflectors, and reflective stickers.
I've seen the prepared moms that have reflective stickers and glowing elements on kids costumes and props but never thought of looking for the reflective stuff! This year, I will be ready with Pumpkin Master's new Reflective Stickers. Kids can personalize their pumpkin, costume, or accessories with a variety of 100 stickers in 4 colors! This will be lots of fun!
Our Pumpkin Carvings
Although it is a bit early to start carving pumpkins, we had to try out the new pumpkin carving tools. We had a great time tonight carving 2 designs into one pumpkin.
[slickr-flickr tag=pumpkinmasters]
This was not a paid post. My own opinions were used based on my perceptions and experience. Thank you to Pumpkin Masters who provided the products for review.