St. Nicholas Day is December 6th every year. Do you have your stocking hung? Or are you places your kids' shoes outside your child's' room tonight? Do you have everything you need to stuff those stockings?
Who is St. Nicholas?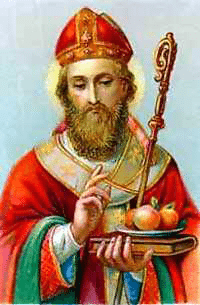 If you don't live in a city with strong German influences like Cleveland, St. Louis, Milwaukee, Louisville, and Cincinnati, you may not have even heard of it. I know I didn't until my mother-in-law called me to remind me of St. Nicholas Day for my son's first Christmas.
St. Nicholas was a real person, he was a Bishop of Myra (Turkey) and lived during the 3rd and 4th Christian Centuries. He was a defender of the faith and was known to have miracles performed through his works. He supplied poor women/girls with a marriage dowry by throwing bags of gold coins through windows.
Now, the legend of St. Nicholas Day is that his magic continues – not for marriage dowries but by leaving gifts and treats on his birthday, St. Nicholas Day, December 6th.
What to Put in St. Nicholas Day Stockings
St. Nicholas will leave treats in either stockings hung by the mantel or even shoes left outside of kids' bedroom doors. Typical St. Nicholas Day Stocking Stuffers include cookies, candy, fruits, nuts, and small toys or books in their hung stockings. We shop locally at Mr. Bulky's in Cuyahoga Falls for candy, nuts, and gold coins.
We'd love to know what you include in St. Nicholas Day Stockings and how you celebrate! Or maybe this is your first year for a new Christmas tradition, tell us! Comment below.