Our friends at Smith Dairy have released a brand new take on cottage cheese with the new  Artisa Fine Curd Cottage Cheese. This isn't an ordinary cottage cheese, it is a 50% smaller, fine curd that results in a smooth texture layered with delicious fruits including:
Raspberry Pomegranate
Peach
Apple Cinnamon
Strawberry
Wild Berry
Pineapple
I received product to facilitate this post.
We have been enjoying Artisa Fine Curd Cottage Cheese snacks all month long. It is a delicious, healthy snack any time of day. I don't mind my kids reaching for this healthy, all natural snack any time of day.  We even found a local Acme store handing out yummy samples the other day.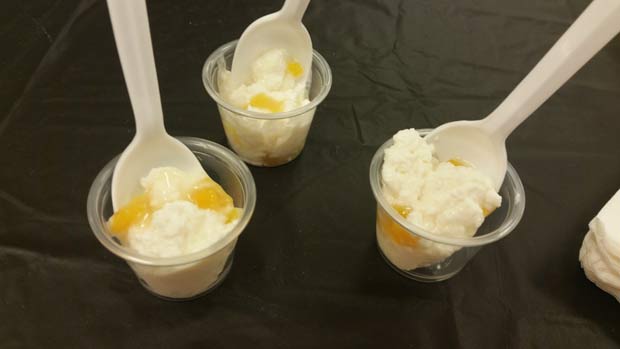 We've taken  Artisa Fine Curd Cottage Cheese snacks with us in our cooler all summer long for picnics and just for snacks. I plan to pack them for my kids' lunches at school too. Although it is an all natural and healthy food, it also provides a sweet flavor that kids and adults can both enjoy.

It is a great alternative to yogurt, providing you with calcium and more protein too.
There are plenty of flavors to choose from too. The only way I've had fruit with cottage cheese before is pineapple, yes, Artisa has pineapple and it is delicious.  Another favorite is peach, it's amazing. My kids' both like strawberry best. he fact that there is no high fructose corn syrup used to sweeten it. This is a naturally delicious and satisfying snack.
Protein is important for a fulfilling snack. With 15 grams of protein per serving, this snack will easily tie you over until your next meal – and is a great accompaniment with lunch.  I'm also on the lookout for snacks and foods with a lot of protein, especially for my son who is Type 1 Diabetic. Added protein keeps diabetics blood glucose levels steady.
Even though Artisa just hit the market this Summer, there are plenty of places to buy Artisa.   I've found it locally at Heinens, Acme and Discount Drug Mart. Since it is a new product, you might find it on an end-case near the dairy aisle, otherwise, it is placed with cottage cheese.
Each individual sized Artisa is around $1.49, you can print a $.25 off Artisa coupon here.  They were handing out coupons at Acme this week too.