If you live in NE Ohio, you likely have your favorite sauerkraut dishes! My husband's family is Polish, so we enjoy fresh kielbasi with sauerkraut during the holidays as well as sauerkraut on hot dogs and sandwiches year-round. We have never found a favorite sauerkraut until we tried Cleveland Kraut, now it is all the Orley family eats!
This is a sponsored post.
Switch to Cleveland Kraut
Switch to Cleveland Kraut for the Taste…
Once you taste Cleveland Kraut, I promise you that you won't want to go back to ordinary jarred or bags. Cleveland Kraut is super fresh, crunchy, crunchy, unpasteurized, and full of healthy probiotics just like grandma makes. In fact, Cleveland Kraut recipes were inspired by the grandmothers of two Clevelanders (and brother-in-laws) who took recipes from their German and Slavik families and turned them into the "best tasting and crunchiest sauerkraut in the world". I had the chance to check out several varieties.
Switch to Cleveland Kraut for the Unique Flavors & Recipes
Instead of going with my traditional recipes, I was excited to try new ways to enjoy sauerkraut on the Cleveland Kraut recipe page. Since Cleveland Kraut offers a variety of flavors, you can experience sauerkraut in new and unique ways like never before.
In header image above and below,  you'll see that I prepared their Beer-Braised Sausages with Classic Sauerkraut recipe.
This is a really easy to prepare crockpot recipe that is full of amazing flavor. For this recipe, I used the Cleveland Kraut Classic Caraway, which is similar to traditional sauerkraut you'll find in stores. It is similar but the flavor and crunch is tremendously better! It isn't too strong in flavor or smell.
My family ate this meal up promptly. Of course, my kids are familiar with sauerkraut because they grew up with it but I highly recommend trying this particular flavor if your family is new to sauerkraut too.
Switch to Cleveland Kraut for the Convenience
Keep a resealable bag of Cleveland Kraut on hand to add flavor to everything. Like I said, we enjoy sauerkraut on top of sausage sandwiches, hot dogs, and sandwiches often. We have really enjoyed kicking it up a notch with Cleveland Kraut Gnar Gnar! It adds amazing flavor of bell peppers, jalapenos, and chilies to anything you prepare, we especially like it with sausage rolls. Cleveland Kraut is so convenient to have on hand!
Pork always goes well with sauerkraut as well. Their Pressure Cooker Pulled Loin with Roasted Garlic Sauerkraut is a new way my family now enjoys pork tenderloin. YUM! It is a really easy recipe that you can get on your table even on busy week nights in just 40 minutes – how convenient!!

It is another crockpot or pressure cooker recipe that couldn't be easier to prepare. It uses their Roasted Garlic flavor sauerkraut which is another really good kraut to try with your family.
This is a delicious recipe to serve family or even while entertaining guests as the weather starts to turn cooler.
There are so many recipes to try, some that you may not have even thought of adding sauerkraut to and others that are what you'd expect like this amazing Ruben sandwich loaded with the Whisky Dill Cleveland Kraut. If that doesn't tempt you, I don't know what will! I plan to make this over the weekend for my family.
Another fun and unique way to enjoy sauerkraut is with a cheesy, melty, grilled cheese. I'm sure this is on the menu at all of the grilled cheese restaurants that keep popping up over NE Ohio. I'm not sure what I never thought of it but I plan to put this on my panini sandwich maker soon – it is the ultimate comfort food, don't you think?! I think I'll put this on the menu this fall with a hearty soup.
This Chili con carne with the Roasted Garlic Kraut looks delicious.  I try new chili recipes all the time because my family loves chili, so adding kraut would really add new and unexpected flavors. So, not only does Cleveland Kraut add tons of flavor to typically ordinary meals, but it adds a lot of health benefits as well. In fact, that is a main reason people add sauerkraut to their diets.
Switch to Cleveland Kraut for the Health Benefits
Sauerkraut has so many health benefits, mainly due to the fermentation it undergoes that promotes the growth of beneficial probiotics. If you know anything about probiotics, you know that it is basically our body's first line of defense against toxins and harmful bacteria.  We try to eat foods with probiotics including yogurt and kefir or take probiotics tablets year-round for that reason.  Adding sauerkraut is a really tasty way to get your family's bodies ready for cold and flu season – which will be here before we know it. Cleveland Kraut is a probiotic rich food that can reduce your rick of getting the common cold and if you do get sick and eat sauerkraut often, you can recover faster and reduce your need for antibiotics too. 
Cleveland Kraut is a healthy option! Adding regular amounts of Cleveland Kraut to your diet helps contribute to a healthier immune system. Also, it as plenty of nutrients including Vitamin C, Vitamin K, Iron, Manganese, Vitamin B6, Folate, Copper, Potassium, and more. Plus, sauerkraut is also linked to decrease risk of cancer, promotes heart health, aids in weight control, reduces urinary tract infection, reduces stress, maintains brain health, contributes to stronger bones, and so much more. I'm surprised it isn't more popular than it is with all the health benefits!
Switch to Cleveland Kraut to Support Local Business
When you purchase Cleveland Kraut, you are supporting many local businesses. Cleveland Kraut is local! Everything is hand-picked, hand-chopped, fermented, hand coldpacked by a Clevelander!
I'm not really a beets lover but my husband is. So, I'm happy to give him the option of adding Beet Red to his meals. It is made up of fresh fermented beets and carrots, so try this if you love beets.
Although I'm not a huge fan of beets, I do like them. If it is part of a meal, I think I'd really like them like in this Cheddar Cheese Bacon Potato Soup recipe below.  I'm always looking for hearty new soup recipes because my family just loves soups on the fall and winter.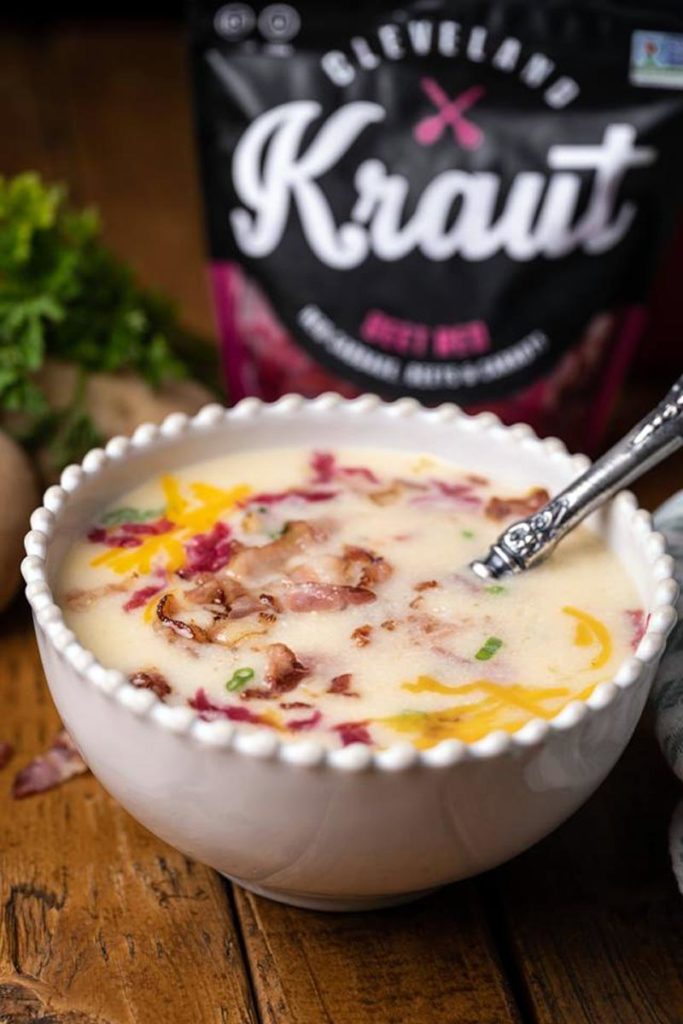 Cleveland Kraut taste great with amazing flavors that go way-way beyond the bagged or jarred sauerkraut at the stores. It's more in line with homemade sauerkraut that takes 3 weeks to prepare at home! Adding Cleveland Kraut is going to give your family great variety of food – and if you are like me, you struggle to find new and exciting dishes that are easy to make and your family will eat.
You can purchase Cleveland Kraut in the Akron area at Earth Fare, Mustard Seed Market, Giant Eagle, Market District, Walmart, Target, Seven Grains Natural Market, and Heinen's.
Where to buy at a store near you.  I hope you'll make the switch to a tastier, crunchier sauerkraut with Cleveland Kraut – and support a local Ohio business!