Still searching for perfect Christmas gifts? Give them what they love – coffee! Check your list, how many are coffee lovers? Probably most – introduce them to eco-friendly, single-serve gourmet coffee from Steeped. It's the perfect gift for serious coffee drinkers on your list!
This is a sponsored post.
That's not a tea bag you see, it is actually coffee! Gourmet Steeped Coffee in a completely compostable, eco-friendly bag.  Don't feel guilty about single-serve coffee ever again. Steeped coffee is eco-friendly with no extra plastic waste and requires to extra equipment!  I was first introduced to Steeped a couple years ago and love how amazing the flavors are but also how convenient! I can have gourmet coffee anytime, anywhere – love taking it with me while I travel too.
Simply add a Steep bag to your cup, pour hot water cover and let dunk to the strength you'd like adn let it ride. You have delicious coffee in about 5 minutes! You can even make cold brew coffee the same way – easy peasy.
The coffee comes in single-serve bags that are nitro-sealed to ensure absolute freshness so you know that you are getting the freshest coffee every time. It's the perfect gift for any coffee lover, traveler, or busy mom on your list.
All it takes to brew a perfect cup is hot water and a few minutes, and at the end of the day, there are no wasteful plastic pods accumulating in waterways or landfills.
Choose from Mild, Medium, Dark roast and Decaf – there is something for everyone.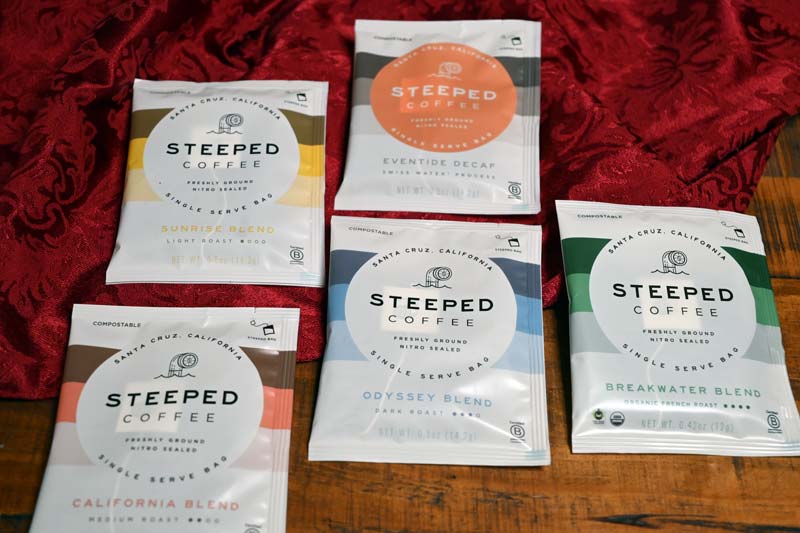 So, give the gift of eco-friendly gourmet coffee this year or even a subscription! They also have plenty of gift items to go with your coffee like kettles, mugs, and even a jetboil zip!