As a mom, I try very hard to keep healthy snacks available to my family at all times. It wasn't until I was introduced to the Sargento Spring Cleaning campaign that I thought about snack placement. The National Healthy Snack Survey concluded that more than 50% of people say they would eat healthier snacks if the snacks were easily spotted. Sargento suggests putting healthy snacks front and center. Doesn't that make so much sense?
Sargento suggests that we spring clean our refrigerators and kitchens with this piece of advice in mind. So, I did. I'll let you peek into my disorganized, messy fridge below. I had healthy foods in the fridge but not easily accessible!
Wow, I really needed to clean my fridge. Sargento suggest that healthy habits start with a clean and organized refrigerator, and I tend to agree.  Sargento has a new product out that puts healthy snacks front and center in the refrigerator. The new Sargento Fridge Packs are available in three popular Sargento natural cheese varieties: Light String Cheese, Colby-Jack Cheese and Mild Cheddar Cheese. All Sargento cheese snacks are 100% natural and never processed.  What a great idea! My kids love cheese snacks but they are usually hidden away in the meat and cheese drawer to be forgotten!
I can't stand the ugly fridge picture above. I have to show you the new and improved fridge and then I'll tell you the way it improves snacking habits for summer.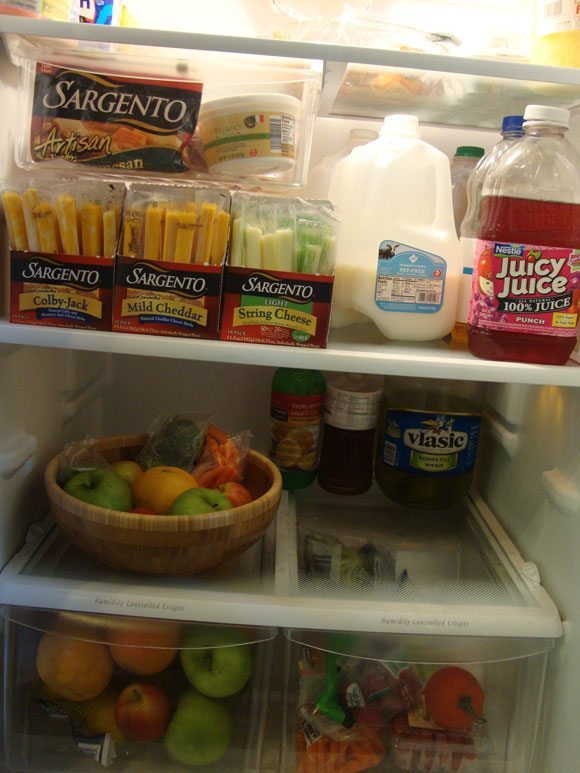 Aww, so much better, right? Notice how the Sargento Fridge Packs are right in front and easily accessible by everyone, including my kids. They are portion controlled snacks with all kinds of goodness, including protein.
Sargento Lists How to Create Healthier Snacking Habits:
Pack Portable Snacks. Whether you are working, sightseeing, or running errands with the kids, bring a protable and healthy snack with you. If your kids are like mine, they instantly become hungry when we start driving in the car. I always bring a water bottle for each kid and a healthy snack. It keeps them satisfied, gives them a healthy snack instead of fast food, and it saves me money.
Stock up on nutrient-rich foods. If you are stocked up on foods such as whole grains, fruits, vegetables, eggs and cheese, you'll snack wisely and get the energy boost you need from a snack. If you don't buy the sugary snacks, you won't eat them. Simple, but true.
Portion Control. Aim for 100 to 200 calories per snack, cheese, fruit, and nuts all fall into this category easily.
Include Protein + fiber in your snacks. If you reach for a snack with protein and fiber, you will feel fuller for longer, and they pack other vital nutrients to support good health.
My girl asked me to take a picture of her after I cleaned the fridge. Isn't she a dollbaby?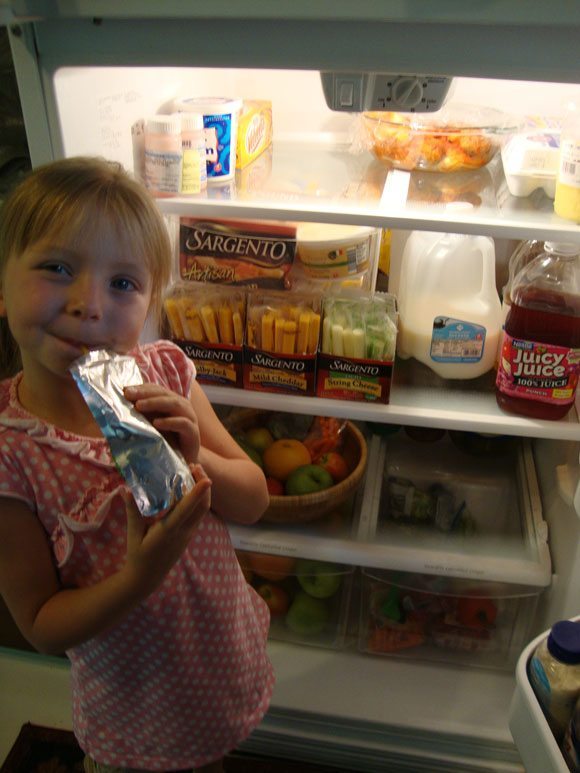 By the way, placing the cheese snacks and a bowl of washed fruits in the fridge has made a huge difference in my kids snacking. They like that they can get their own snacks at any time they want, with permission of course. The independence that this gives them has been big for them, plus it is teaching them from an early age what foods are appropriate for snacking anytime. Of course the Sargento cheese tastes great, my kids like to take turns trying the 3 varieties that we have, there are 4 to choose from in stores. I will be keeping my fridge stocked with the Fridge Packs this summer. I like seeing my kids reaching for healthy snacks, especially my daughter who hates milk. I like that she is getting calcium in her cheese snacks.
In my gorgeous bamboo bowl, I added washed fruits and washed vegetables in little zip lock bags so they can grab what they want. I buy vegetables in 5lb bags at Sam's Club, so this gives them a way to grab some veggies for snacks easily. Such simple ideas that Sargento gave me for healthier snacking but put into practice, they really work!
Buy Sargento Fridge Packs
Start off by buying healthy foods, including Sargento Fridge Packs. You can find them in the refrigerated cheese section of major grocery retailers for a suggested retail price of $6.99 for 18 snacks.
I wrote this review while participating in a blog tour by Mom Central Consulting on behalf of Sargento and received product samples and a promotional item to thank me for taking the time to participate.