Anytime is the perfect time to visit Bonefish Grill. We often enjoy family dinner out at Bonefish Grill because it is a nicer family friendly restaurant with a menu that my family enjoys. We are hooked on ordering off their seasonal menus as they are always offering something new and tasty for a limited time.  Their Spring menu is perfect for fish lovers and perfect for Lent.
I received a gift card to facilitate this post.
Bonefish Grill serves market-fresh seafood and fish, fine steaks, appetizers, desserts, and more across the country with several locations in NE Ohio.
We can't go to Bonefish Grill without ordering their signature Bang Bang Shrimp as an appetizer! The piled-high crispy shrimp  is amazing tossed in a creamy, spicy sauce that has enough kick to be addicting but not too spicy for everyone to enjoy.
For a limited time, you can also order Applewood Bacon Wrapped Scallops perfect for sharing with 4 scallops wrapped with Applewood bacon and topped with mango salsa.
For this outing, we took grandpa out for dinner. Bonefish Grill is such a great place to visit with one another and have fun together as a family.  Bonefish Grill prepares shrimp in a number of ways, all of which are exquisite. Grandpa ordered an appetizer of Thai Coconut Shrimp to which we all enjoyed sharing!
A great way to enjoy the new seasonal menu at Bonefish Grill is their Dine & Discover menu. Two can dine for just $55, this includes an appetizer, two entrees, and dessert!
I really hope that Bonefish Grill considers keeping the new Georges Bank Scallops entree on their permanent menu. The scallops are grilled to perfection while still tender and served with a crispy Applewood bacon pieces.  Ever since I had the opportunity to learn to prepare wild mushroom risotto with Stouffer's top chef, I order risotto. It is a dish that I have yet to perfect on my own but enjoy thoroughly in restaurants. Georges Bank Scallops is served with a delectable side of Parmesan risotto and fresh green beans.
My husband ordered the new Kate's Wild North Atlantic Haddock dish. Of course I had to taste-test it and couldn't believe how delicious the haddock was. The combination of this mild, sweeter fish with garlic dusty was perfect as it, however when they topped it with feta cheese, artichokes, and lemon basil butter sauce, it was quite tasty. My husband and I both really enjoy artichokes but have never had them served with fish, it was a pleasant surprise. This dish was perfectly balanced with fresh green beans and mashed potatoes.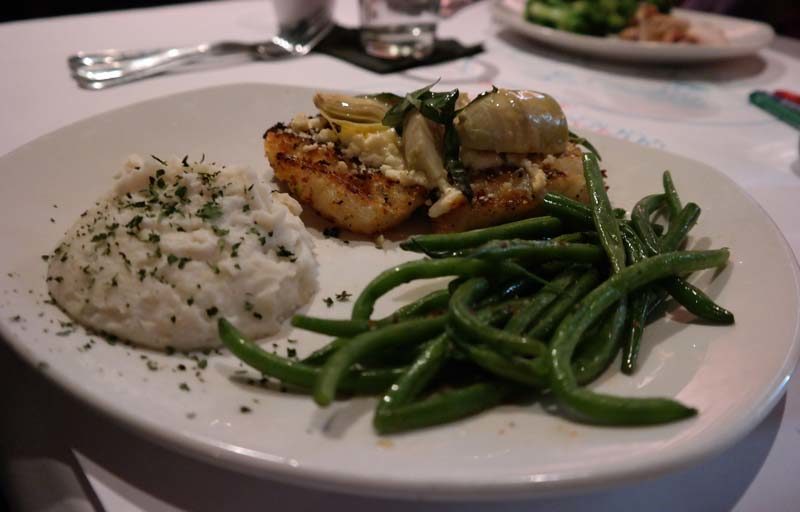 The seasonal menu item, Cedar Plank Norwegian Salmon looks delicious too roasted and served on a cedar plank and topped with sweet honey and savory Dijon. This dish is served with jasmine rice and a medley of fresh asparagus, button mushrooms, pearl onions, and peas.
There is also an Irish Organic Salmon prepared market-fresh on the Spring menu.
The Rockefeller Atlantic Cobia is sure to delight. The wood-grilled Atlantic Cobia is a firm fish with a sweet flavor. In this dish, the Cobia is topped with creamy spinach and lump crab and served with two fresh sides.
We always end our dinner out at Bonefish Grill with a dessert to share. Our favorite is the  Macadamia Nut Brownie, it is a real treat with drizzled raspberry sauce, vanilla ice cream, macadamia nuts, and freshly house-made whipped cream.
This rich dessert is made for sharing with large portion size, just be sure to get a couple if you have a larger party! It just so happens to be gluten-free as well! 
The food is always amazing at Bonefish Grill and so is the attentive service. Bonefish Grill is a great location for date night, family dinner nights, and lunch with friends.
Hand-Crafted Happy Hour
The fresh fish experts are now offering mouth-watering menu items during their new Hand-Crafted Happy Hour served 4-6:30 p.m. every day, including weekends. Delight in Bonefish Grill Hand-Crafted Happy Hour Bar Bites menu of sushi-grade Ahi Tuna Poke, as well as Crispy Cod Sliders, Wagyu Beef Sliders, Crispy Au Gratin Bites, Mussels Josephine and Crispy Calamari priced at $6 each. There will be handcrafted martinis and cocktails, mixed drinks, wines and draft beers specials as well.
Make dinner reservations soon before this Spring menu is gone! Locally in NE Ohio, choose from several locations including Independence, Crocker Park, and Canton, Ohio. You can find your local Bonefish Grill here.
Get social with Bonefish Grill on Facebook and Twitter.