Are you Wild or Mild when it comes to food choices? Chili's has a new menu with a side by side of 4 delicious recipes made each for wild or mild food lovers. Choose from Kicked-Up Queso (or original), Blazin' Big Mouth Bites (or original mini burgers), Jalapeno Chicken Quesadillas (or Chicken Bacon Ranch) and Crispy Honey-Chipotle Chicken Crispers (or Sweet Maple BBQ Chicken Crispers).
Chili's Mild side of the menu
My family visits Chili's often. We've ordered off the Wild or Mild Menu twice now and still deciding on our favorites. I normally go for Mild. Below, I'm enjoying the Chili's Mild Bacon Ranch Chicken Quesadillas. Don't think that just because they are on the Mild side of the menu that they aren't full of delicious flavors of applewood smoked bacon and cheese. The dish comes with sour cream, house-made pico de gallo and ancho-ranch dressing.  The flavor combination is a hit for our entire family, as of course everyone had to try them! The side of rice was good but the black beans were super good, I was actually surprised at how good the black beans were. Yummy!
Chili's Wild side of the menu
My husband, Matt likes spicy foods so he ordered off the Wild side of the menu. He enjoyed the hearty plate of Chili's Wild Blazin' Big Mouth Bites.  This dish includes 4 peppercorn-crusted mini burgers with jalapeño-mayo, jalapeños and American cheese. It was perfect for my husband's taste buds but I can't handle jalapenos so there was no way I was tasting it! However, it is served with crispy onion strings and homestyle fries to which we all enjoyed. I can never pass up crispy onion strings!
Chili's Kids Menu
Chili's always offers a complete selection of menu items for kids. You can go with basic foods like burgers and fries to grilled chicken or quesadillas. Chili's has a great kids menu! My kids enjoyed grilled chicken and corn dogs during this visit, both chose corn on the cob. I'm not sure where they found corn on the cob this time of year but it was mighty tasty!
Plus, the kids menus come with lots of fun activities and games that kids and families can play until the food arrives. Whoever thought of this was a genius!
Chili's Lemonade
Everytime I go to Chili's, I order their lemonade. I'm totally addicted. I like their Strawberry Lemonade but this time I tried their Blackberry Lemonade. It is my new favorite. How I wish I could have Chili's Blackberry Lemonade all the time.  Oh, I heard they have Mango Lemonade too, I'll have to try that next time for sure. 🙂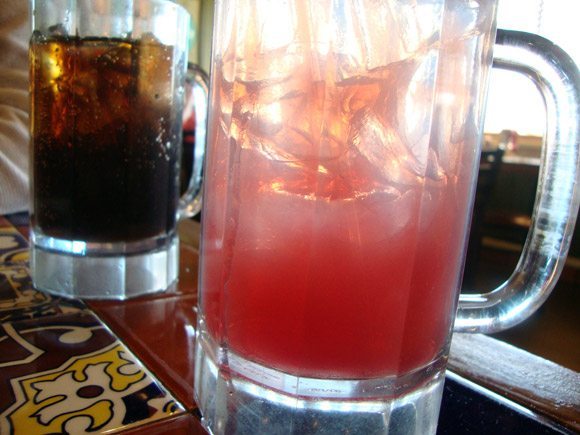 Free food at Chili's
When you sign up for their newsletter, you will receive a free chips & queso on your next visit. Can't beat free food!
"Shout Out To Eat Out – Wild or Mild" Contest
Chili's is running a contest called Shout Out To Eat Out Wild or Mild Contest. To enter, upload a head shot of yourself. Then, create a wild or mild avatar on shoutouttoeatout.com. Prizes: One (1) winner will be randomly drawn every day and will receive one (1) $20 Chili's gift card. The most voted 'Wild' avatar will win a 'Wild' trip to Las Vegas and the most voted 'Mild' avatar will win a 'Mild' trip to Disney World! Ends 4/30/2011.
Win $20 Chili's Gift Card (Closed)
Updated: 4/7/11 Winner Announced: Congratulations, Dominique.
Chili's has generously offering 1 lucky AkronOhioMoms.com fan the chance to experience the Chili's Wild or Mild Menu with a $20 Chili's Gift Card.
For complete contest rules, please see our Contest Statement and Blog Disclosure.
Contest ends at 11:59pm EST on April 4, 2011 when a winner will be drawn at random and announced the next day. When commenting, please include your email address (not visible to public). I will notify the winners and they will have 36 hours to respond!
This was not a paid post. My own opinions were used based on my perceptions and experience. Thank you to Chili's who provided the gift cards for review & giveaway.