Now that our kids are back-to-school, it is time to reconnect with friends and family. Finally, everyone is home and on a some-what good routine, so they are more easily tracked down! What could be more perfect than dining out with friends and family to catch up?
Although my husband and I both work from home, it has been an extremely busy Summer. We decided to celebrate back-to-school with a lunch date at Red Lobster. Shhh! Don't tell our kids!

I participated in a campaign on behalf of Mom Central Consulting for Red Lobster. I received a gift card to facilitate my review promotional item as a thank-you for participating.
My husband and I like to go to Red Lobster during lunch time more often than anywhere if it is just the two of us. We enjoy their delicious food and the atmosphere is always inviting.  We go to Red Lobster to celebrate special occasions like birthdays and anniversaries with our extended family too. Since we live in Ohio, having seafood is always something special which makes it the perfect place to celebrate something special.
I normally order shrimp of some kind when we eat at Red Lobster, it is my favorite! We were thrilled that it is Endless Shrimp time – one of their most popular promotions for 12 years!  Both myself and hubby ordered the Endless Shrimp. Our menu make it a little tricky to find, it was on the back of the menu near the desserts, but we found it!
Endless Shrimp comes with a salad and unlimited Cheddar Bay Biscuits. I could eat and eat and eat Red Lobster biscuits, they are so amazing! Their hand-crafted strawberry lemonade is also amazing!
Endless Shrimp is just what it sounds like. You can get as much shrimp as you want! Choose from:
New! Spicy Soy Wasabi Grilled Shrimp
Hand Breaded Shrimp
Garlic Shrimp Scampi
Shrimp Linguini Alfredo
I chose the Hand Breaded Shrimp and Shrimp Linguini Alfredo with a side of green beans to start things off.

My husband ordered the Garlic Shrimp Scampi and their new Spicy Soy Wasabi Grilled Shrimp.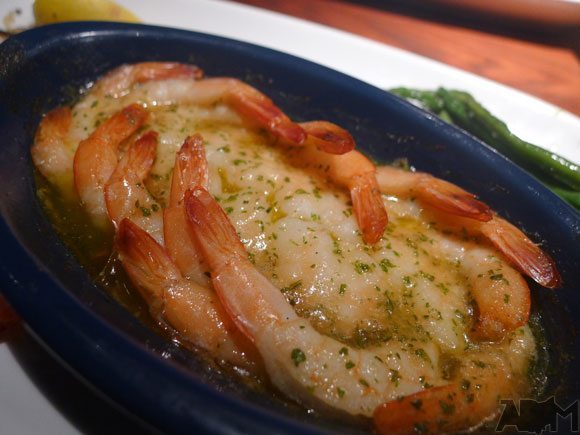 Sure, this is a LOT of food for the two of us but we are celebrating! The tables on both sides of us were celebrating birthdays while we were there. One was a son and his mom and the other was a table of friends. Red Lobster is just a great place to celebrate for any age.
Believe it or not, we ordered more shrimp! It is "Endless Shrimp," you know. I ordered additional hand breaded shrimp because they are just sooooo good and an order of the spicy soy Wasabi grilled shrimp. I had expected the Wasabi shrimp to be much spicier but it was perfect for me.
My husband added an order of breaded shrimp and the shrimp linguini Alfredo.
Needless to say, we were stuffed. Our waitress was great at asking us to order the next round in time for it to be prepared so we wouldn't have to wait around after eating the first plate. We never had an empty plate in front of us! My hubby and I had a nice date together. It is so important to reconnect with your spouse with dates. Spending time one-on-one is vital to a marriage and to any relationship.  At just $15.99, Endless Shrimp makes it the perfect time to go out with friends and family to reconnect or to celebrate special occasions.
On the way to Cape Cod a couple weeks ago, we drove through Times Square where I saw Red Lobster! It was our first time in New York City, so it was very exciting. I loved finding familiar places to snap shots of like Red Lobster. If you are traveling to or live near Times Square, Endless Shrimp is available but may have an additional charge – same goes for Hawaii…
Like Red Lobster on Facebook
Follow Red Lobster on Twitter
Who do you want to reconnect with?