Head on over to your local NE Ohio McDonald's for the debut of their new Buttermilk Crispy Tenders and nice addictingly amazing dipping sauces!  Scroll down for where to get FREE Szechuan Sauce in Akron!
This is a sponsored post.
New Buttermilk Crispy Tenders Review
I love that McDonald's has raised the bar with this new menu item made with 100% white meat chicken and NO artificial flavors, colors or preservatives.  Seasoned and battered to perfection, the new Buttermilk Crispy Tenders are crunchy on the outside and juicy on the inside.
We've all had chicken tenders whether at a restaurant or at home, normally it isn't something to talk about. I have to say that the buttermilk breading is exceptional and the light seasoning makes these chicken tenders something that kids and adults alike will enjoy. The all while meat chicken is tender and juicy, making for the best combination ever.
New Dipping Sauces at McDonald's
To make things even more addicting, dip the tenders in one or two of the 9 McDonald's sauces including: Creamy Ranch, Honey, Honey Mustard, Hot Mustard, Spicy Buffalo, Sriracha Mac Sauce, Sweet 'n Sour, Tangy Barbeque, and the new sweet-and-tangy Signature Sauce.
I know it is dorky but I really like the sauce holders on the 4 and 6-piece packaging too! It just shows that these chicken tenders are made for dipping!
We had a good time enjoying dinner together and trying out all the new sauces!  We aren't the only ones excited about the sauces, McDonald's fans are obsauced with the sauces so McDonald's is offering limited-edition, custom screen-printed gig-style posters. The Delicious Design League created a limited run of individually numbered sauce-themed posters for the biggest fans.

You've gotta try the new Signature Sauce!! It is my new favorite, it is slightly sweet, yet flavorful.
What a fun poster too!
My all-time favorite McDonald's sauce is the Sweet 'n Sour for nuggets, chicken tenders, fries, and even dunking cheeseburgers!
The Hot Mustard is an oldie but goodie as well.
You can never go wrong with the tangy McDonald's Barbeque.
Some like it HOT!
Some like it HOTTER, Sriracha HOT!
My kids love the cool and Creamy Ranch!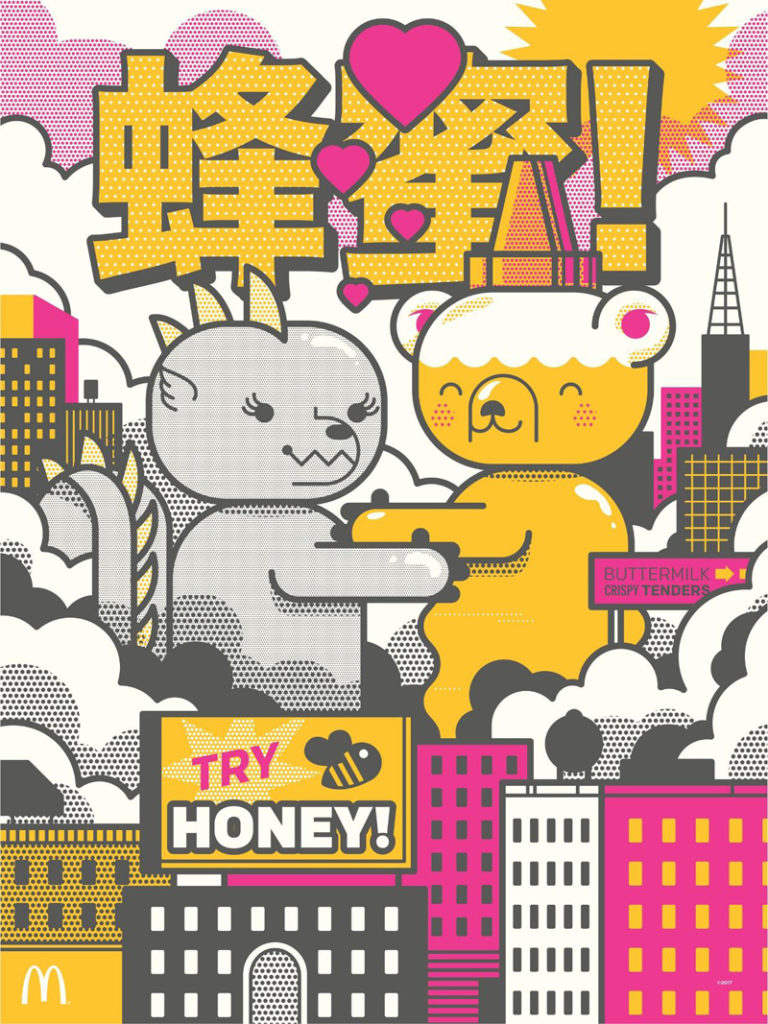 Get FREE Szechuan Sauce
Get your hands on FREE Szechuan Sauce and these fun collectible sauce-themed posters at the 246 East Exchange, Akron location and others throughout the country on Oct 7th! This is a one-time only, limited-edition, run of Szechuan Sauce  – it is REALLY limited, so be sure to get there early!
McDonald's
246 East Exchange
Akron, Ohio
You can purchase the new Buttermilk Chicken Tenders in quantities of 4, 6, or 10. You can even buy all sizes in value meals too! I've seen the signs for the new Buttermilk Crispy Tenders everywhere from Barberton to Macedonia, it looks like they will be all over NE Ohio by this weekend.
Customers in markets such as Cleveland that feature McDelivery through UberEATS.
Enjoy!