My favorite place to eat at Chapel Hill Mall is Charleys Philly Steaks. Whether it is lunch time, dinner time or for a quick snack, the food is always fresh and delicious. The samples that they hand out are always enticing too!
Scroll down below for your chance to win $25 Charleys Philly Steaks gift certificates!
We stopped by last week for lunch and were excited to see a couple new menu items!
I received a gift card to facilitate this post.
New Menu Items at Charleys Philly Steaks at Chapel Hill Mall
Charleys' fries are always delicious but they have outdone themselves with their new Nacho Deluxe Fries at Chapel Hill Mall!
The Nacho Deluxe Fries are large enough to feed a small army – or at least a couple hungry kids. They feature Charleys' famous cooked-to-order fries loaded with warm cheddar cheese sauce, shredded cheddar cheese, bacon bits, diced tomatoes, zesty Jalapeno Ranch dressing, jalapenos and chives.  YUM!  You'll love each and every single bite – whether you use a fork or go in for it with your fingers! It's layers and layers of ultimate deliciousness. My husband and son both like spicy food so they really appreciated the added kick from the Jalapeno Ranch dressing and fresh jalapenos.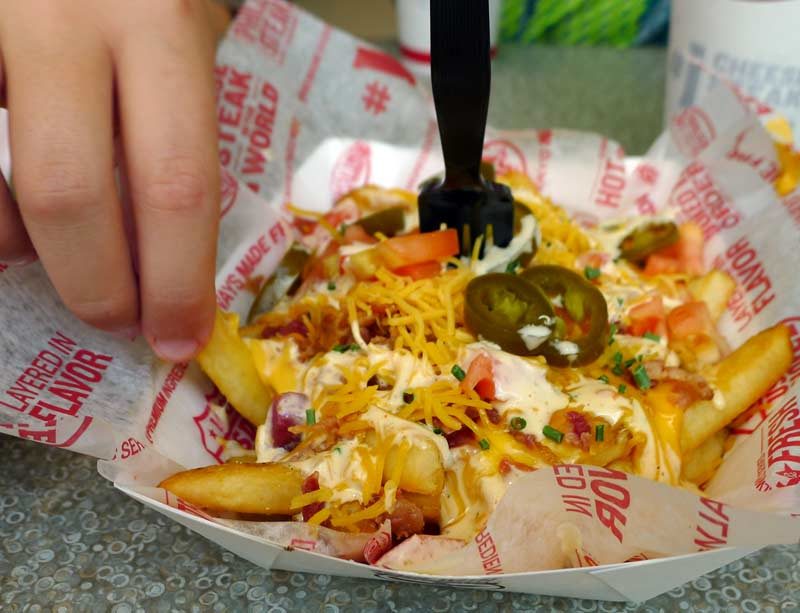 Although I did steal a bite or two, I still love the original fries loaded with ketchup on one half and malt vinegar on the other side. Messy and delicious like 'fair fries' is what I always think of when I have fresh cut fries from Charleys.
Another must-have new menu item at Charleys Philly Steaks at Chapel Hill Mall is their Raspberry Lemonade! You can't visit Charleys without ordering one of their signature lemonades! The Raspberry Lemonade is my all-time favorite, both sweet and tart, it is utter perfection – with a meal or stand alone.
Both the Raspberry Lemonade and the Nacho Deluxe Fries are available for a limited time, so be sure to stop by Chapel Hill Mall soon!
For the main entree, I always order their Signature Philly Cheese Steak that is loaded with a generous portion of steak, grilled onions, green peppers, mushrooms, and white American Cheese.
To me, nothing can beat this signature sandwich – although I have been known to steal bites of other sandwiches from my kids. 🙂 The Chicken Philly comes in as a very close second place.
Speaking of the Chicken Philly, for just $4.99, you can enjoy a small Chicken Philly with fries for a limited time! This is a great deal – and delicious for everyone but especially for those of us counting calories or for older kids with larger appetites.  Chaleys Philly Steaks does offer kids meals too – keeping everyone happy and satisfied.
Charleys is a franchise business, and there are several locations to choose from. However, I've never been to a more pleasant location than the one at Chapel Hill Mall. The staff is friendly, helpful, and ready to serve hot, fresh food with a smile – every time.
They show pride in their work and it makes a huge impact on the overall dining experience. They were happy to pose for a quick photo opp when I told them that I was running a blog promotion on my blog about them. It says a lot to have the kind of experience that we had when they didn't even know we were reviewing their restaurant, food, and service.
I'm not the only one that thinks this – during our visit, Charleys Philly Steaks always had a line – but the line moves quickly as each is served cooked-to-order food right before their eyes.
Don't forget to pick up their loyalty card where your 8th sub or salad is FREE! Yay!
If you have younger children, make sure you stop by the Chapel Hill Mall carousel and indoor playground too. It is always a fun outing to the mall when Charleys and the carousel is involved!
While shopping for back-to-school clothing or if you are in Cuyahoga Falls, be sure to stop by Charley Philly Steaks at Chapel Hill Mall to sample their delicious new menu items too!
Charleys Philly Steaks at Chapel Hill Mall
2000 Brittain Road
Akron, OH 44310
Mall Food Court – Use South Entrance
There is no reason to leave the mall hungry!
Win $25 Charleys Philly Steaks Gift Certificate
This is your chance to win $25 Charleys Philly Steaks gift certificate to enjoy these new menu items or  your favorites!
a Rafflecopter giveaway