My family loves dining out at Olive Garden. When they were younger, I found it to be one place that both my kids enjoyed the food and it was a very comfortable family setting. It has become a family favorite and the place that my in-laws enjoy going to for many birthday celebrations. I like how their restaurants are set up with areas throughout that are partitioned off in a way that gives you a family-type setting. We always request the large table in its own little area at the Fairlawn, Ohio location for our large family gatherings, it feels like our own personal restaurant.  Their tag line, "When you're here, you're family" rings true with every dining experience we have enjoyed.
Buy One, Take One Meals at Olive Garden
Have you heard of the Olive Garden Buy One, Take One menu? Olive Garden has a special menu with 5 entrees for this promotion. Select one item to enjoy at the restaurant and bring the second entree home. I was given an Olive Garden gift card and promotional item to try this new menu out last week.
I think the Olive Garden Buy One, Take One menu is an amazing idea – at an incredible price of only $12.95. Two meals for $12.95 is unheard of! Choose from 5 delicious menu items that are sure to tempt anyone!
I selected the Smoked Mozzarella Chicken with Penne Pasta.  I was curious as to whether the portion sizes would be less since you get 2 meals for just $12.95, however I was surprised with a regular, large portion of hot food! The flavor was amazing too with a delicious sauce and plenty of medium size pieces of tender chicken throughout the dish. The mozzarella cheese throughout makes this dish a crowd-pleaser for sure! It was delicious, and way too much for me to consume in just one setting, so I brought leftovers home.

My meal included unlimited garden-fresh salad or homemade soup and bread sticks. I always choose the garden salad because I just love it. I even order a bowl of the garden salad to go for family dinners and parties! We had a great time during our visit at Olive Garden. Some how, sitting at a restaurant with your family becomes more than just dinner. It becomes a fun time engaging with each other and having fun. Olive Garden is the perfect setting for a family dinner out.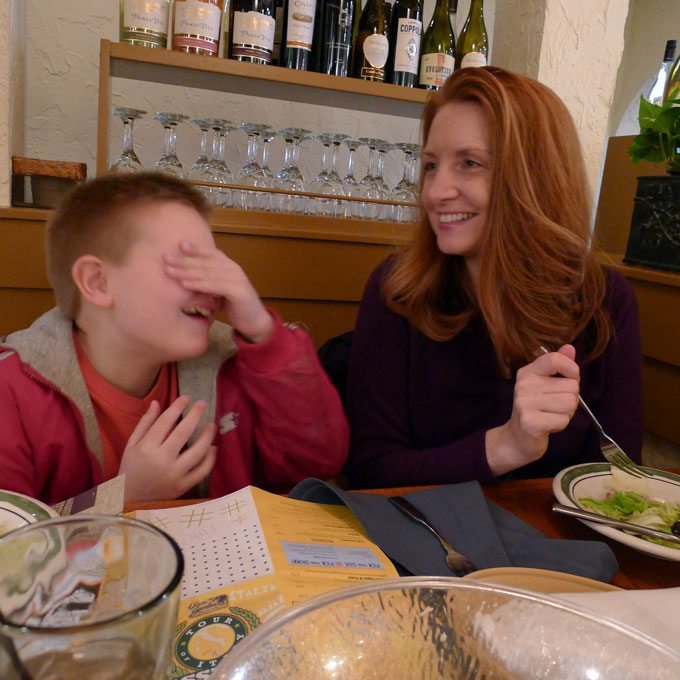 The "Take One" meal that I chose was the Mezzaluna Ravioli with Five Cheese Marinara. This is a new dish for Olive Garden with the ravioli shaped in crescent moon shapes instead of squares.
They brought the chilled entree to me in a sealed container with heating instructions. It is ready to take home when you are ready to leave. It almost felt like I was cheating by taking a second entree home- especially for the low $12.95 price tag!
It takes just a few minutes in the microwave to heat up and enjoy the entree at home. I enjoyed it for lunch the next day while my kids were in school. It taste even more amazing eating a fresh Olive Garden meal at home! It was plenty for lunch, so I even shared it with my husband, along with my Smoked Mozzarella Chicken leftovers. He didn't complain! Usually, I don't take time to prepare myself a good lunch during a work-day. It was so nice to be able to just pop my Olive Garden second entree in the microwave and enjoy a delicious meal – without wasting time in the kitchen!

I think that next time we visit Olive Garden, I'm going to have my entire family order from the Buy One, Take One menu so that I can have another free night of cooking the following day! It makes for an easy evening the next day, which we can all use! Doesn't it sound like this promotion was made for moms?! I highly recommend moms take advantage of this affordable and amazing offer.
Like Olive Garden on Facebook
Follow Olive Garden on Twitter
Visit Olive Garden
Check out the Buy One, Get One menu at your local Olive Garden.
Win $75 Olive Garden eGift Card
You have the chance to win a $75 Olive Garden eGift Card!
a Rafflecopter giveaway

This promotion is in no way sponsored, endorsed or administered by, or associated with, Facebook. In order to comply with the latest Facebook Promotion Guidelines (revised 5/11/11), the following statements are true:
* Giveaway participants release Facebook from any responsibility whatsoever.
* Giveaways on this blog are in no way sponsored, endorsed or administered by, or associated with, Facebook.
* Giveaway participants are providing information to this blog and giveaway sponsors only; not to Facebook.
30 Day Winning Rule applies. For complete contest rules, please see our Contest Statement and Blog Disclosure.
Contest ends at 11:59pm EST on May 5, 2013 when a winner will be drawn at random. I will notify the winners and they will have 36 hours to respond or another winner will be selected!
I participated in a campaign on behalf of Mom Central Consulting for Olive Garden. I received a gift card to facilitate my review promotional item as a thank-you for participating.