Treat  your family to a delicious  brunch at the Rusty Bucket in Solon, Ohio this weekend. Brunch is the perfect way to relax, take your time and enjoy yourself with a delicious menu of food and good company. Indulge in made-from-scratch classic American Fare comfort food at the Rusty Bucket with your family, friends, or make it a date with your significant other.
I received a gift card to facilitate this post.
Brunch at the Rusty Bucket in Solon, Ohio
Although we enjoy breakfast food, we never go out for breakfast unless we are on vacation. Brunch is the perfect way to enjoy breakfast favorites with a mix of savory and sweet menu items – without getting up early.  My family had a really good time at the Rusty Bucket when we went out for brunch last weekend. It felt different than lunch or dinner out, it was more special and a lot more relaxed.  We enjoyed hanging out together while enjoying delicious food that we don't typically get to enjoy at home or restaurants.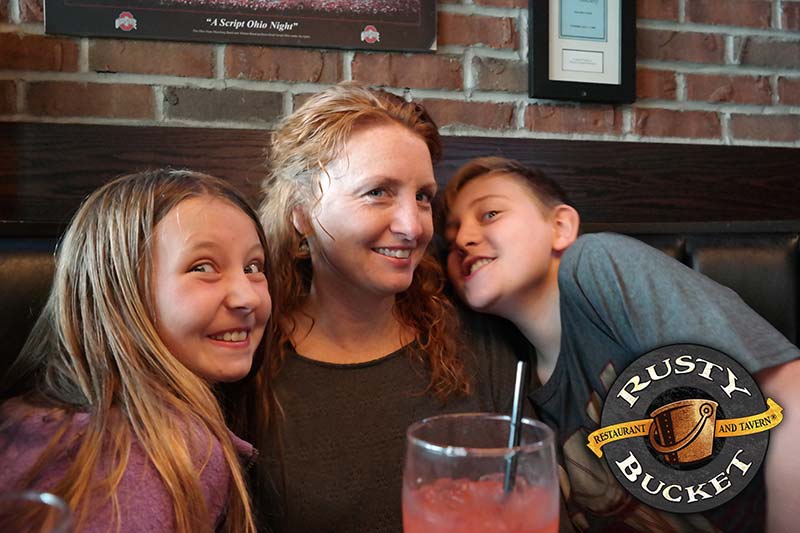 We enjoyed freshly squeezed Raspberry Lemonade and Strawberry Aqua Fresca as a special treat for brunch. Since my kids are Type 1 Diabetic, we requested no sugar be added. Every drink is made to order – with real lemons and raspberries and strawberries. I love this because it means my kids can have something more than water or diet soda, unlike other places where everything is pre-made and full of sugar. For the adults, there is a full bar for traditional brunch drinks, including Bloody Mary.

Rusty Bucket is a casual place to enjoy made-from-scratch comfort food that everyone can agree on for brunch, lunch, or dinner.  We've visited many times before but this was our first time for brunch. We were excited to try their brunch menu because we never go out for breakfast but love that type of food.
My husband ordered Bucket Biscuits & Gravy and we all couldn't get enough taste bites of it. My kids especially loved his choice! This is a more traditional brunch item with two biscuits topped with sausage patties, house made sausage gravy, two eggs sunny side up and scallions. This is the type of brunch that you'd never make at home but that everyone enjoys. It's total comfort food!
I enjoyed the Braised Short Rib Hash which could easily be enjoyed for breakfast or lunch making it the perfect brunch menu item. This generously sized meal includes tender braised short rib meat, roasted red skin potatoes, caramelized onions, bell peppers and cheddar cheese topped with two sunny side up eggs and scallions. I could eat this every day, it was so full of flavor and filling. I'll order this again next time for sure!
My kids both ordered the Breakfast Burrito.  It is a huge burrito with a flour tortilla stuffed full with perfectly scrambled eggs, sausage, sautéed peppers & onions, pepper jack & cheddar cheese. The burrito is topped with ranchero sauce, sour cream and cilantro. My daughter ordered hers with the sauce on the side for fear it might be too spicy. My son has an adult palate and loved the flavor combination. Neither could finish this adult-sized menu item.
I didn't realize that there was a kids' menu for brunch too or at least my daughter would have ordered from that menu. It includes Biscuit & Gravy, Yogurt & Fruit, Cheesy Scrambled Eggs, and Waffles.
As a parent, I love that Rusty Bucket is a family-friendly restaurant that offers kids' meals of REAL food, not the run of the mill fried foods that other places serve on kids' menus.  Rusty Bucket is part of the Kids LiveWell program where they offer made-from-scratch kids' menu items that focus on fruit, vegetables, lean protein, whole grains, and low-fair diary with a limit on unhealthy fats, sugars, and sodium. They still offer more traditional menu items like chicken tenders, however they offer a more extensive menu that I appreciate. I love that Rusty Bucket serves high quality food to everyone.
They even have a Bucketeer Bookworm Program that caught my daughter's attention! For every 5 books your child reads, kids can earn a complimentary Kid's Meal. My daughter surpassed her school's 40 book challenge and has read 98 books this year. She figured that if she started the Bucketeer Bookworm Program at the beginning of the school year that she'd have about 20 kids meals coming to her! She picked up a bookmark and started a new list for summer reading.
Brunch is served at the Rusty Bucket Saturdays and Sundays from 11 am – 3 pm. We had the place to ourselves when we arrived right at 11am on a Saturday until a little later when people started strolling in. I love the slower pace that dining out for brunch offers.  With brunch, you can enjoy a leisurely meal with family and friends with no rush. Plus, you can indulge in both savory and sweet items.  Also on the menu for brunch is Chicken & Belgian waffles with maple syrup and powdered sugar. For dessert, try the Warm Cinnamon Sugar Donut Holes with caramel sauce!
As I said, Rusty Bucket is a casual restaurant that is very accommodating to families. It is the sort of place that I would never hesitate to take my kids, even toddlers.  There are many large-screen flat televisions to catch the game too. We had a really nice time as a family enjoying brunch at Rusty Bucket and plan to make it a new tradition.
Treat your family to brunch this weekend: Saturdays and Sundays from 11am  – 3pm.
Rusty Bucket
6025 Kruse Drive
Solon, OH 44139
440-248-2300