Appetizers are my favorite foods to make and take to parties.  It is a fun way to indulge in something extra delicious, although usually this means lots of extra calories. I've been enjoying the new Original and Mini New York Style Bagel Crisps this summer. They offer a lighter snack option and are great for entertaining or just snacking on with your family.
New York Style Bagel Crisps Review
New York Style Bagel Crisps are made out of real bagel bread but with a crunch that can't be beat.  The first bag we opened was the New York Style BBQ Mini Bagels.  They are the size of a potato chip but 50% less fat than snacking on potato chips!  The flavor is fantastic, not too sweet for BBQ. I think the flavor and the crunch lend them very well to top with cheese.  Since it was BBQ flavor, I topped a few with Colby cheese and my kids loved it. If I was trying one of there other flavors like the Roasted Garlic, Sea Salt, Plain, Sesame, or Sea Salt & Cracked Pepper, I would top them with a spreadable cheese or use with a dip recipe.
If you are looking for new entertaining recipes, head over to the New York Style website recipe page. I tried their Spinach Artichoke Dip Recipe and it was delicious. It is a recipe served warm in the crockpot, so it is super easy to serve and keep warm at any party or gathering. Check out the photo below for the simple Spinach Artichoke Dip Recipe Ingredients including artichoke hearts, spinach, and a couple cheeses.
Did you notice the tiny green peppers from my garden? 🙂  For the Spinach Artichoke Dip Recipe, simply mix the mayo with the Parmesan cheese. Then, add the remaining ingredients and top with a mozzarella or Monterey jack cheese. Warm for 1 hour on low.
I didn't have a gathering to attend for this dish so we enjoyed it with dinner tonight.  My kids are big fans of spinach dip, so they loved it, artichokes and all!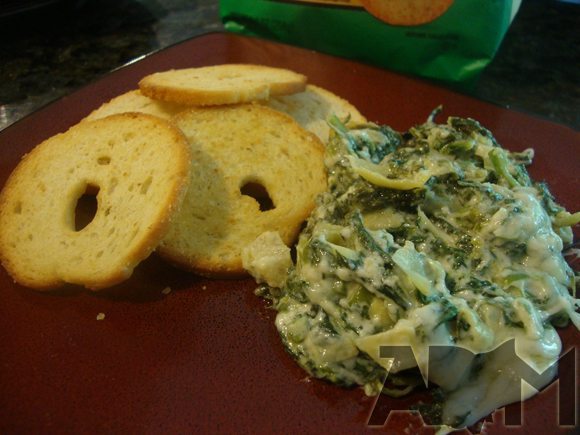 I served the Spinach Artichoke Dip Recipe with New York Style Garlic Bagel Crisps. They were the perfect fit for dipping the scrumptious warm dip. The flavor combination was right on too. The garlic crisps are very flavorful. They are good alone but excellent with a dip like this one.
I found the crisps easier to dip with than a cracker because they are more sturdy in structure. I have had problems in the past with serving dips and the crackers breaking because the dip was too hearty. This is not an issue with the New York Style Bagel Crips, which is good to note if you, too have had these issues.
Check out the recipes on the New York Style website, I'm sure you'll find one just perfect for entertaining.
Bagel Snack Star Sweepstakes
You have the chance to live it up with a red carpet movie experience through the Bagel Snack Star Sweepstakes on the New York Style facebook page. It is simple to enter with a fill in the blank form. Be sure to enter before the contest ends on September 2, 2012.
If you are the lucky winner, you will have a red carpet movie experience right at your local theater and it will all be photographed! You and your closes 50 friends can enjoy a rented out theater AND receive a year supply of movie tickets with a $500 gift card!! I don't know anyone that wouldn't want to win this fun and exciting prize!
Like New York Style on Facebook
Follow New York Style on Twitter
I wrote this review while participating in a campaign by Mom Central Consulting on behalf of New York Style and received a product sample to facilitate my review and a promotional item to thank me for participating.