Give your foodie dad only the best this Father's Day with a gift of award-wining Wisconsin cheese. He's gouda love it! 😉  Father's Day is the perfect time to treat Dad to the best and unique gifts like a gift box of world-famous all natural cheddar cheese curds from the Cheese Curd Capital of Wisconsin. He'll enjoy each and every tasty, wholesome bite…
This is a sponsored post.
Widmer's Cheese Cellars has the perfect gift for your foodie dad. Even if your dad isn't a 'foodie', he'll easily taste the quality of any cheese selection from Widmer's, based out of the Heart of Wisconsin's Dairyland.
I was able to review the Widmer's Cheese Cellars Cheddar Gift Box for a party this week. It is the cheddar lover's dream come true with 4 different types of cheddar!
And who doesn't like a good cheddar cheese? It is probably safe to say that not many of us have experienced quality cheese like this – it is award-wining after all. We were surprised at how flavorful the cheeses are – not typical cheese at grocery stores.
My dad can sit down and eat an entire sleeve of crackers and equal amount of cheese at any given time. He loves his cheese and cracker snacks, maybe a bit too much. He would love this gift basket with 2 blocks that are just perfect for slicing for crackers including a block of mild cheddar cheese.
This gift box also includes Jalapeno Popper Cheddar to spice snacks up! It is a delicious, flavorful cheese with a nice kick. Our guests at the party we had over the weekend really enjoyed this variety.
I've never had 2 or 4 year aged cheddar cheese until now. Your dad will find it quite special to have such a unique treat, as did we. 
The 4 Year Old Cheddar Cheese has a rich, flavorful taste to it. I really liked it, although I couldn't tell you that it was an aged cheddar with my limited experience with such, but I can tell you it was tasty and everyone else liked it too. It did come with a few jokes about serving 'old cheese' but a cheese connoisseur or foodie will notice how special it is.
The 2 Year Old Cheddar Cheese was delicious as well. Above all, this is a special collection that will be enjoyed as a thoughtful gift this Father's Day or any time of year.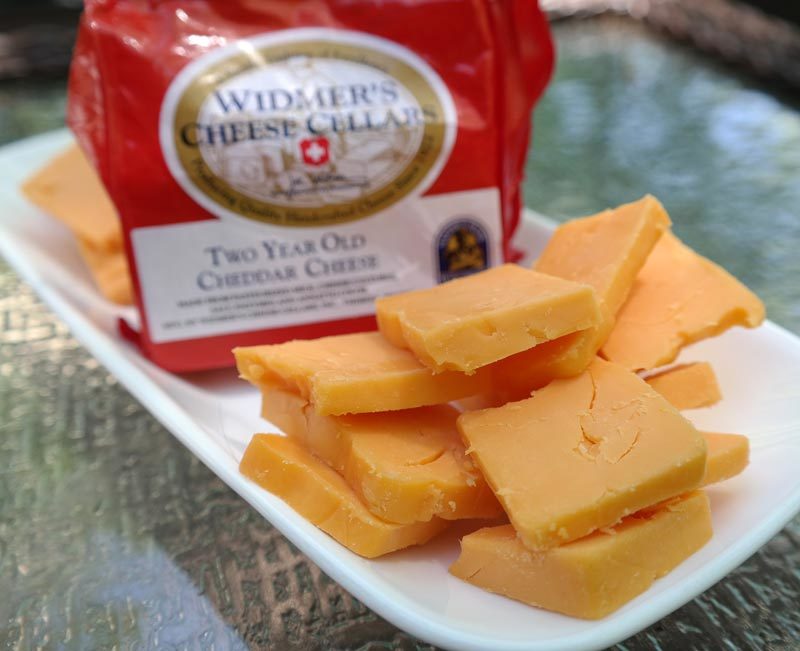 Widmer's is a family owned business, which I love. Father-son duo, Joe Widmer Sr. and Joey Widmer work together to make these cheeses at their family's original factory in Theresa, WI.  The gift box even has a cute baby photo of John Widmer on it – making it extra fun to give as a gift on Father's Day.
It is also good to note that Widmer's has been in business over 100 year in Wisconsin and Minnesota and has 450 dairy farm families that work with them to produce their award-winning cheeses.
They have a large selection of cheese products and gift boxes to choose from.
The Cheesemonger's Basket Gift Set is a really nice set of Bleu Mont Bandaged Cheddar, Red Rock – a Cheddar/Blue mix, and Hook's Eight-Year Aged Cheddar as well as a package of Potter's Wisconsin Rye Crackers and a Fromagination's Signature Cranberry Relish.
The Widmer Cheese Cellars Gift Box A is anther fine choice with Mild Brick Cheese, Jalapeno Pepper Cheddar, Colby Cheese, Aged Brick Cheese, Mild Cheddar, Summer Sausage, and Widmers Aged Brick Spread.
For this selection of cheeses, father and son 3rd & 4th generation cheesemakers, Joe Widmer Sr. and Joey Widmer have created authentic cheddars aged up to 12 years – this is sure to impress your dad as well.
Check out all that Widmer's Cheese Cellars has to offer on their website. It is a gift dad is sure to dive into this Father's Day and enjoy for some time after.