Do you think that all milk at the grocery store is the same?  If you are from Ohio, you know that the difference between SMITH'S Milk and all the other brands is the yellow jug. But do you know why they use the yellow jug? Did you know that other milk could have already lost up to 25 % of its vitamin B2, 39 percent of its vitamin A, and 18 percent of its vitamin D before it even gets to your fridge? It's all about the jug, read on to find out more!
Local Orrville, Ohio SMITH'S Milk company is offering you helpful tips this season on milk product safety to keep you and your family healthy.  Yes, there is a proper method to handling milk for the highest quality, a longer shelf life and the best flavor.
How to Store Milk:
The ideal storage temperature for milk, whether at the grocery store or at home, is 33 to 40 degrees. With milk, every degree counts, and the higher the temperature, the shorter the shelf life and the greater decline in flavor.
Just 10 to 15 minutes of exposure to room temperature affects the quality of milk, even if re-cooled. At the grocery store, pick up milk right before checkout. At home, place milk in the refrigerator as soon as possible, and always return the container to the refrigerator immediately after filling glasses.
Purchase milk in special packaging designed to best protect the product, such as SMITH'S milk in the Yellow Super Jug®.
SMITH'S Yellow Super Jug
Let's get back to the SMITH'S Yellow Super Jug. Scientific studies have shown that, when exposed to natural light or to the fluorescent light most common in grocery stores, milk in the typical white or translucent non-protective packaging can lose 25 % of its vitamin B2, 39 percent of its vitamin A, and 18 percent of its vitamin D. Just 20 minutes of exposure to sunlight or 24 hours in fluorescent light can also significantly alter the flavor of milk in non-protective jugs. 25%?! That is huge!
I am picky about milk purchases, SMITH'S Milk is one of the only brands I purchase. At one point, I purchased all three kinds.  When my kids were toddlers, I gave them SMITH'S Vitamin D Milk. One they got a little older, I started giving them 2% milk. My husband and I drink the Fat Free Milk.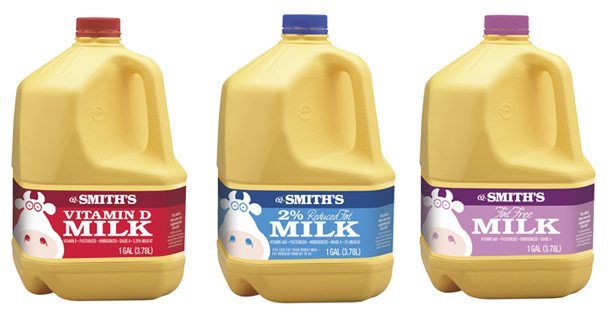 Now, we are down to just the 2% for my son and Fat Free for my husband, daughter and I.  We drink between 3-4 gallons of milk a week! My son has always been a big milk drinker. He just loves milk! It doesn't hurt that he knows that milk helps build strong bones and muscles.
My daughter has never liked drinking milk. After I stopped nursing her as a baby, she didn't want to drink regular cow's milk! It has always been an issue for us to be sure she got enough calcium in her diet because we could only get her to drink a limited amount of milk daily. It wasn't until the past couple months that she said milk made her belly hurt. We switched her from 2% to fat free milk to see if that helped. It did! Now, she drinks the SMITH'S Fat Free Milk that my husband and I drink. She still isn't a big milk lover like her brother, but now she drinks it without complaint.
Even though my husband and I enjoy the taste of SMITH'S Fat Free Milk, there isn't anything better than 2% for dunking cookies!
Don't forget that the average shelf life of milk, kept at a constant 40 degrees, is 10 days. That's an ideal. Even if your milk hasn't passed its "sell by" date, trust your nose rather than the code, especially if you haven't been able to maintain a constant temperature for your milk. Give it the sniff test, and if it smells different from when you first opened it or if it doesn't smell wholesome, it's best to dump it and purchase a new jug.
Like SMITH'S on Facebook
Follow SMITH'S on Twitter
Buy SMITH'S Milk
You can buy SMITH'S Milk at retailers all across the region. Just look for the yellow jug! This week, it is on sale at Acme locally for just $2.50 a gallon! Not sure if SMITH'S Milk in in your area? Call 800-776-7076  to find out.
Win SMITH'S Milk for a Month Giveaway! (12 Gallons)
If your family has the chance to win SMITH'S Milk for a Month! That is 12 gallons!! You will receive 12 coupons for 12 gallons of FREE SMITH'S Milk if you win this contest!
a Rafflecopter giveaway

This promotion is in no way sponsored, endorsed or administered by, or associated with, Facebook. In order to comply with the latest Facebook Promotion Guidelines (revised 5/11/11), the following statements are true:
* Giveaway participants release Facebook from any responsibility whatsoever.
* Giveaways on this blog are in no way sponsored, endorsed or administered by, or associated with, Facebook.
* Giveaway participants are providing information to this blog and giveaway sponsors only; not to Facebook.
30 Day Winning Rule applies. For complete contest rules, please see our Contest Statement and Blog Disclosure.
Contest ends at 11:59pm EST on November 9, 2012 when a winner will be drawn at random. I will notify the winners and they will have 36 hours to respond or another winner will be selected!
This was not a paid post. My own opinions were used based on my perceptions and experience. Thank you to Smith Dairy who provided the products for review and giveaway.