Preserving food is an age-old tradition, but advancements in technology have made it easier and more beneficial than ever.  With summer in full swing, I bet your gardens are bursting with vibrant, fresh produce. If you're anything like me, you might be wondering what to do with the surplus. I have a secret to share – my kitchen lifesaver, the NESCO Food & Jerky Dehydrator.
This is a sponsored post.
I started thinking about dehydratng food when I realized that our favorite "healthy snack" of apple chips and pineapple had added oils and sugar. I thought there had to be a better way. That was my lightbulb moment. Not only could I take control of the ingredients going into my family's snacks, but also make use of the overflowing garden goods and even venture into preserving the unique flavors of wild foods.
This NESCO FD-61 WHCK 6 Tray Food & Jerky Dehydrator is my go-to gadget. It's mighty with 500 watts, but it's also smart. The adjustable thermostat and the Converga-Flow system work together to ensure even drying, no tray rotation needed. It comes with six trays, but I've already invested in additional ones because dehydrating has become such an integral part of my food prep. The best part? It's made right here in the USA.
One of my family's favorites is dehydrated chanterelle mushrooms.
Harvested from our summer woodland walks, the dehydrator locks in their unique flavor, making our winter soups and stir-fries taste like a warm summer day. The same goes for fruits and veggies from the garden. When they're in season, we enjoy them fresh, and when they're not, we enjoy them dehydrated!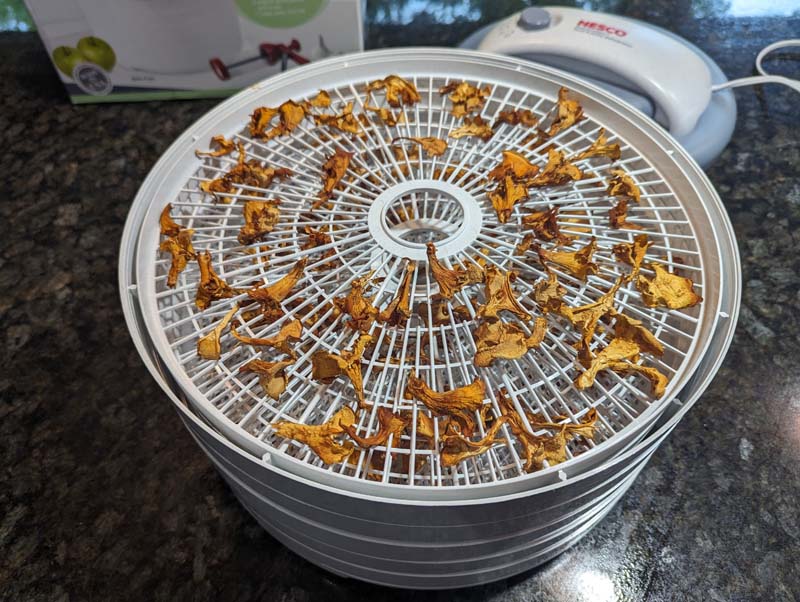 The benefits of dehydrating surprised me – it's not just about food storage. It's about capturing the peak nutrition of garden-fresh food, having healthy snacks on hand, and creating less waste. It's even a money-saver, helping us get the most from bulk purchases or large harvests. And those dehydrated fruits and veggies take up less space, which means more room in the pantry.
But beyond all of this, it's about enriching our family's health and well-being. Every dehydrated apple or pineapple chip, every preserved mushroom, is a step towards healthier living, and a tangible, tasty reminder of the care we put into our food.
So, mom to mom, if you're pondering what to do with your bountiful summer harvest, consider investing in a NESCO dehydrator. It's a decision that your garden, your kitchen, and your family will thank you for.