If you are like most, you will be firing up the grill for Memorial Day Weekend Grilling. It is the unofficial start to summer and nothing says summer like grilled steaks, burgers, and chicken! And nothing says delicious like Omaha Steaks! My family has enjoyed a variety of Omaha Steaks products over the year and couldn't be more pleased with the taste, convenience, and value.
Memorial Day Weekend Grilling with Omaha Steaks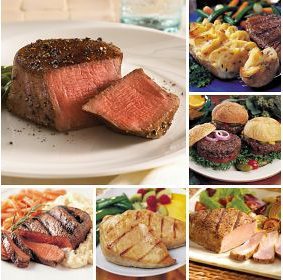 We were given the opportunity to check out and review Omaha Steaks Thrill the Grill Combo for this post. It is packed with all of our favorites from Omaha Steaks at an incredible 69% OFF savings!
The Omaha Steaks Thrill the Grill Combo includes:
2 (5 oz.) Filet Mignons
2 (5 oz.) Top Sirloins
4 Boneless Chicken Breasts (1 lb.)
4 (4 oz.) Boneless Pork Chops
4 (4 oz.) Omaha Steaks Burgers
4 Stuffed Baked Potatoes
Every order comes with 4 FREE (4 oz.) Omaha Steaks Burgers, too.
Regular Price:  $162
Sale Price:  $49.99
Savings of 69%
What I love about this combo is the variety (and the price). When we have friends and family over for a cookout, it is hard to please everyone. With the Thrill the Grill Combo, you can grill something for everyone.  Whether your guests enjoy steaks, chicken, pork chops, or burgers – you'll have them covered!
We grilled out earlier this week and enjoyed the fillet mignons and top sirloins. When I told my kids we were having steak for dinner – they were excited. Elizabeth said, "I LOVE steak"! They are use to the tender, juicy steaks from Omaha Steaks. Without even adding seasoning or marinating them, Omaha Steaks are amazing.
We also enjoyed the 4 Stuffed Baked Potatoes with dinner and grilled corn on the cob. When I say "enjoyed," I really mean we devoured the stuffed baked potatoes. It was the first time we have had them and won't be the last. They were piled high with a filling of whipped potatoes, sour cream, aged cheddar cheese, bacon bits, and chives.  My son asked for seconds and was disappointed when I said there were none. I plan to add them to my next order – 8 for just $12.99. They make a perfect side to any meal.
[exceptional-citing quoted="elijah-head-tilted,-age-8″ template="bubble-blue" date="5/5/2013″ ]This is the best dinner ever!!!![/exceptional-citing]
Tonight was a quick evening after gymnastics practice. I didn't have a meal plan in place and nobody could agree on anything. I recalled that I still had plenty left from the combo including Boneless Chicken Breasts, Boneless Pork Chops, and Omaha Steaks Burgers. That is another thing that I like about Omaha Steaks. Everything is individually sealed so you can use as many or as few as you want at a time. I enjoy the convenience my indoor grill gives me on an almost daily basis. When I don't have time to fire up the charcoal grill, I can grill inside in a matter of minutes.
I took everyone's "order" and cooked chicken, pork chops, and steak burgers tonight. They were easy to grill and all done about the same time. Having a delicious, yet quick weekday dinner is always a treat. We all had a satisfying meal in no time.
Buy Omaha Steaks Thrill the Grill Combo
Again, the variety of this combo is great for having on hand all the time – as well as for Memorial Day Weekend Grilling parties!
You can buy Omaha Steaks Thrill the Grill Combo for only $49.99. At at 70% savings, order a couple for summer BBQ s!  Order now, there is plenty of time to place your order before Memorial Day weekend.
Like Omaha Steaks on Facebook
Follow Omaha Steaks on Twitter
This was not a paid post. My own opinions were used based on my perceptions and experience. Thank you to Omaha Steaks who provided the products for review.