I'm not a morning person so I've learned a few tricks or morning hacks along the way to make our mornings go a little smoother. Breakfast is a big part of our mornings, so I've also adding a few delicious breakfast hacks that will start anyone's days off right. I hope these morning hacks will help your start your day happy too.
 I received product samples for review purposes. Opinions are my own.
Make Your Bed While in Bed
Save time by making your bed while you are in bed. I saw a genius video on how to make your bed while in bed about 6 years ago but couldn't find it online. I thought it was a fantastic idea and starting implementing it in our home. It is a quick way to make your bed every morning. Everyone loves having a nicely made bed, especially when it is so easy with this morning hack.

Make Overnight Oatmeal
I've been seeing recipes for overnight oatmeal on Pinterest for a while now. Now I know why! It is the perfect morning hack! Prepare it the night before and have delicious, hearty oatmeal in the morning. In fact, make up a whole batch for the week as it stays fresh in the refrigerator for up to 5 days.
This is a breakfast you can feel good about serving your family in the morning because it will fill them up and keep them satisfied until lunch time. Plus, it tastes like dessert so your kids will gobble it up. I've just recently came across the new Jif Flavored Spreads in Maple and Cinnamon flavors, they both add unique flavors to otherwise ordinary oatmeal!
I have two different sizes of canning jars, one for parents and one for kids. Simply layer oats, peanut butter, a little honey, milk, and anything else you like including cocoa, chocolate chips, SEEDS?? on top. Refrigerate overnight. In the morning, shake or stir the oatmeal for delicious breakfast.
This is so convenient for so many reasons. For me, I have two children that are Type 1 Diabetics. We have to count carbs for every meal. This involves measuring cups and math even on early mornings. It is really nice to have a meal pre-measured so my kids can grab it and start eating in the morning. I simply add a sticker on the jar with the carb count. It saves us so much time in the morning!
It taste amazing cold, like a banana milkshake (pictured on left)! However, if you prefer your oatmeal warm, heat it in the microwave for a minute (pictured on right).
Once you try this morning hack, you'll make it every week.
Jam in the Shower
Music can wake you up and put you in a good mood in the morning. Many of us use our cell phones for music but our volume doesn't go high enough to hear while showering. Put your cell phone in the sink for a natural sound amplifier!
You'll hear your tunes louder and start the day off cheerier. Just make sure you don't forget it is in the sink when you turn the faucet on to brush your teeth.
Enjoy Breakfast To-Go with Homemade Cereal Bars
If you and your kids are rushing out the door on most mornings, be sure to make homemade cereal bars ahead of time. Homemade cereal bars are quick and easy to make. Plus, they cost a fraction of what prepackaged cereal bars cost.
The new Jif Flavored Spreads (Maple & Cinnamon) add great flavor to homemade cereal bars! Choose your favorite cereal, add the Jif Flavored Spreads, honey, and a little butter, refrigerate for a hour, and you've got your own homemade cereal bars. Keep them wrapped in a plastic bag or wrap and they will stay fresh all week long.
We have been enjoying Cinnamon Toast Crunch homemade cereal bars made with the Jif Flavored Cinnamon Spread – my kids love them for breakfast and for snacking.
I got a little creative and make a Jif Maple Peanut Butter and Bacon Cheerios cereal bar too. Is there any better combination than peanut butte, maple, and bacon?! Be sure to check out our morning hack to bake the bacon in the oven!
Bake Bacon in the Oven
I started baking bacon in the oven a couple years ago. I can't believe how much time it saves! Instead of cooking on the stove-top that takes a lot of time, I simply place a tray of bacon in the oven and it is ready in 15-20 minutes – without flipping it once! I don't even have to pre-heat the oven!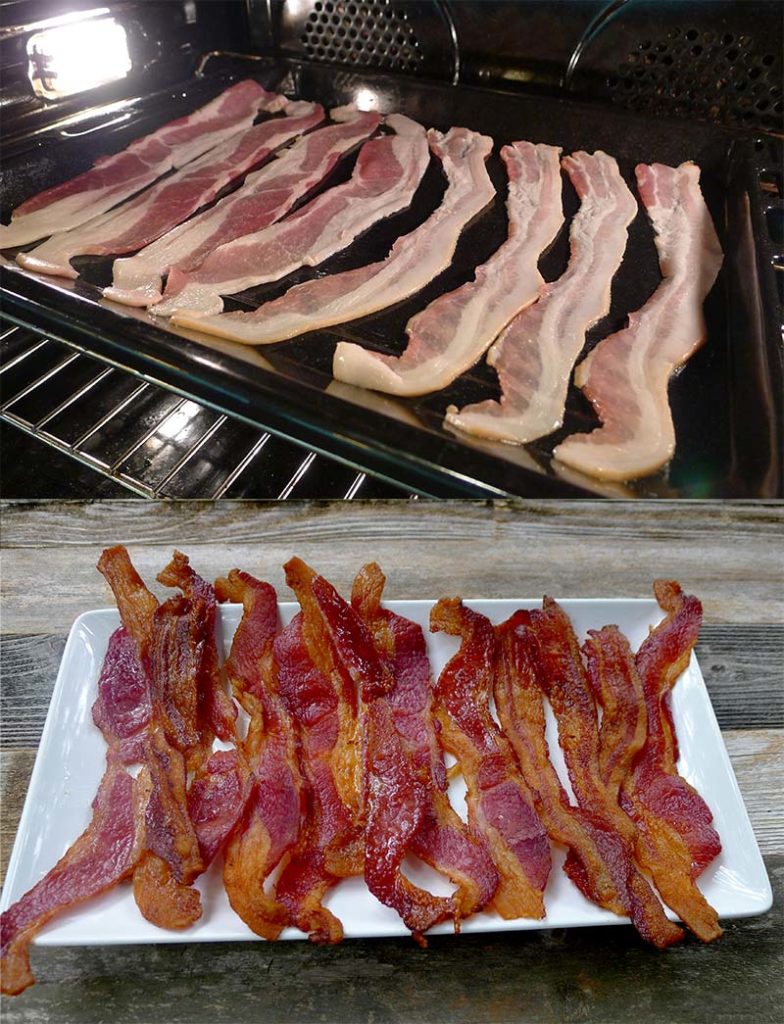 Simply turn your oven on at 375° and enjoy crispy bacon in about 20 minutes. Who doesn't love bacon for breakfast?! Now you can make it quick whenever your heart desires with this morning hack.
Keep Items in Designated Area
Have a special designated area for morning essentials and get in the habit of always putting items on those designated areas. For example, always place your keys on a key rack so you never have to search for your keys before leaving for work. (How much time have your wasted searching for your keys?!)
Have a special place for your kids' book bags and require them to have completed homework, signed papers, library books, gym equipment, and other necessary items in their bags the night before. Have another area for after-school sporting equipment and uniforms so your child can pick those items up on sports days. Create an area in your kitchen cabinets for healthy snacks for your kids to pick out a snack for school on their own.
Peanut Butter and Banana Grilled Sandwich
Surprise your kids with the ooey gooey goodness of a peanut butter and banana grilled sandwich for breakfast! This hearty breakfast is quick and easy to make but taste gourmet! It is the perfect start of any day for adults and children. The added protein of the peanut butter will keep you satisfied longer so you can focus on your morning tasks ahead.
Simply lightly butter the outside of the bread and generously spread Jif Flavored Spreads on the inside of the bread and add banana slices in the middle. The new Jif Cinnamon Flavored Spread tastes especially delicious with this grilled sandwich.
Quick Keurig Oatmeal
If you don't have a hot-tap water dispenser like me and have a Keurig, I hope you are using the Keurig to your full advantage! Without the pods, a Keurig is your very own hot water dispenser! For a quick bowl of hot oatmeal, simply fill a bowl with oatmeal and use the instant hot water from your Keurig.
For added flavor, stir in Jif Maple Flavored Spread (or Cinnamon spread). This morning hack is sure to be even more popular during the cooler months when nothing compares to hot oatmeal!
Get Ready the Night Before
Setting out clothing for you and your children the night before saves a lot of time in the morning. Spending a little time to get ready the night before will make your morning run smoothly without the added stress of finding a favorite outfit or forgetting that your kids needed to wear athletic clothing for physical education that day or special clothing for spirit wear day.
Homemade Peanut Butter Cinnamon Rolls
This morning hack is a variation of cinnamon rolls for the ultimate peanut butter lovers. Although it does take a little time, let me tell you, it is worth it! Your kids will not only enjoy eating this breakfast but will probably want to help you as well. It is just two ingredients: Jif Cinnamon Flavored Spread and Pillsbury Crescent Rolls.
Take one roll of crescent rolls and unfold. Generously spread the crescent rolls with delicious Jif Flavored Maple Spread (or Cinnamon). Cut the crescent rolls into strips and roll into the shape of a cinnamon roll. Bake in the oven at 350 for 8-12 minutes, until golden brown.
Top with melted Jif peanut butter or maple spread for the ultimate peanut butter cinnamon rolls you've ever tasted.
Serve with fresh fruit and a glass of milk for a balanced breakfast that will start any day off on a happy note.
Make Hard-boiled Eggs in the Oven
I just recently started making "hard-boiled" eggs in the oven. I have been boiling eggs on the stove for years, and it works but on busy mornings, it is nice to just pop them in the oven and have them ready in just 1/2 hour with no monitoring. Simply place eggs in a muffin pan, one in each muffin hole and they are cooked perfectly in 1/2 hour.
With this morning hack, you can enjoy hard boiled eggs for breakfast, pack them for lunch, or enjoy as a healthy, protein packed after-noon snack. We enjoy hard-boiled eggs often in my home, I usually boil about a dozen a week, so this morning hack has come in handy for us!
What are your favorite morning hacks? Share with us so we can all save time (and sanity) in the morning!