Today is National Jerky Day which means it is time break out this protein rich snack for the whole family.

Jerky is the 2nd most popular snack in America, only behind chips. There has been an incredible increase in consumers choosing jerky over other snacks over the past 5 years. Many, like my family, reach for jerky for its high protein and zero to low carbohydrates – great "free snack" for type one diabetics. Others reach for jerky for the lower calories and reduced fat. Either way, it is a tasty snack that is perfect anytime, including on-the-go as it doesn't require refrigeration.
Jack Link's Meat Snacks
Jack Link's is our go-to snack. We have a supply at home and in the car at all times. My family loves all Jack Link's jerky. There is so many types to choose from – flavors and style including beef sticks, steak strips, and steak bites.  We take Jack Link's meat snacks on every trip, including amusement parks. They really curb your appetite and give you energy especially on days where you are out and on your feet all day.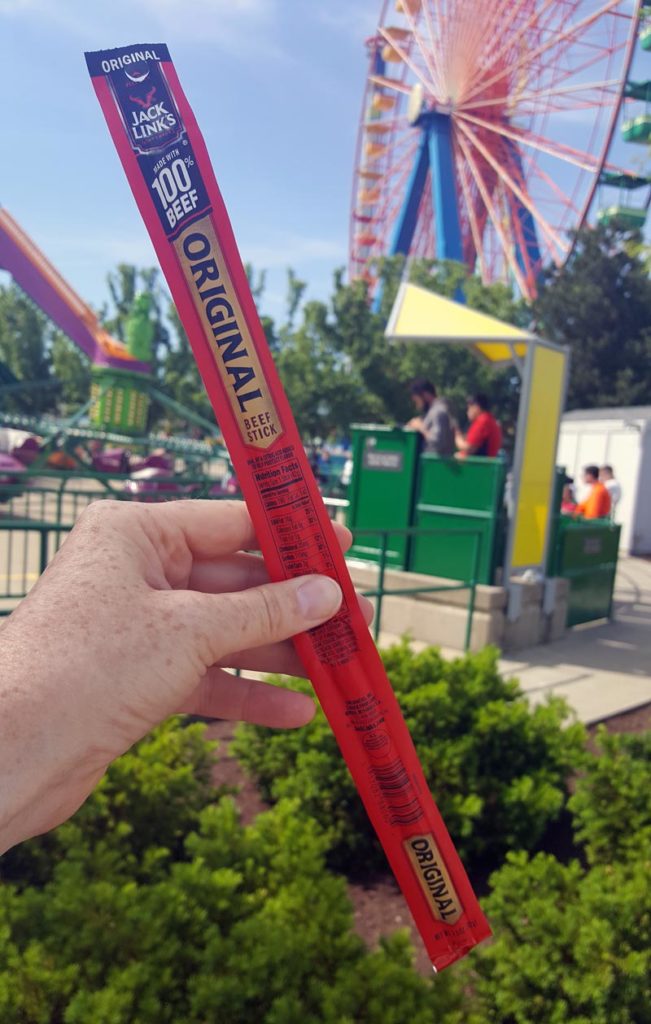 Like i said, jerky is a good snack for type one diabetics, if my kids' blood sugar levels are too high to eat carbs, we snack on Jack Link's. It is a great option because not only are they tasty but also more filling than other snacks because of the protein in them.  My kids' favorite are the Beef Steak Bites, especially Teriyaki flavor because it has a bit of sweetness. The steak bites are super tender and delicious to eat.
If you want a jerky that eats like a meal, try the Beef Strips, they are chewier with bold flavor. Add it to lunch or eat as a hearty snack for hours of energy. The Beef Strips offers 8 grams of protein per bar which is very impressive – as well as tasty
We keep the original beef sticks on hand too, it is a satisfying snack no matter what you are doing. I brought some along with us when we visited my sister and her kids this week. I wasn't sure if they would like them or ever tried jerky before but my kids love them so I figured they might as well too.
My toddler nephew chowed down a long original beef stick in no time. This says a lot because there are times that he doesn't want to eat anything, let alone anything nutritious.  Come on, is it even possible to be this cute?!
You can purchase Jack Link's meat snacks at retailers nationwide and on the Jack Link's website  and get 15% off and free shipping.
Lorissa's Kitchen
Lorissa's Kitchen jerky is made with antibiotic -free poultry and grass-fed beef with no added nitrates, nitrites, or MSG. This jerky offers a more tender bite than traditional jerky so even young kids can enjoy this protein rich snack. Enjoy it as a beef stick or tender beef, chicken, and turkey strips and cuts.
You can purchase Lorissa's Kitchen jerky at Giant Eagle (free advantage card sample this week), Speedway, Rite Aid, Meijer, Costco, Walgreens, and more.
Jerky for Father's Day?
So, Father's Day is this weekend. Men love beef jerky. Give the gift of jerky for a happy dad!