The holidays are upon us which means busier than ever schedules, extra refined sugar, more sickness, and shorter days.  When the temperature drops outside, it becomes increasingly difficult to maintain a healthy diet, especially a holiday-themed dinner.   Did you know that most Americans only reach the MyPlate recommendations for vegetables, fruit, proteins, dairy and grains 7 out of 365 days a year!?
 This post is in collaboration with Balance Your Plate and Stouffer's. As part of the collaboration, I received product and incentives in exchange for participating in the program.
We want to provide our families healthy meals but sometimes we need a little inspiration and help. That's where Stouffer's frozen dishes come in. By utilizing Stouffer's frozen dishes and pairing with fresh vegetables, we can all reach the MyPlate recommendations for better health for our entire family quickly and with very delicious results.

I've personally cooked with the chefs at Stouffer's and know the emphasis they put on quality ingredients like their Lasagna with Meat & Sauce we just had for dinner. Stouffer's is my secret to providing my family balanced meals.
I feel good serving my family tasty Stouffer's foods made with the freshest ingredients. Frozen foods are packed when they are at their highest in nutritional value making it a smart choice.
One of my family's favorite meals is Stouffer's Family Size Lasagna with Meat & Sauce.  It is a hearty lasagna that is full of flavor that my whole family loves. Stouffer's makes their frozen foods the way you would, with quality, fresh ingredients that you'd find in your own kitchen cabinets – if you had the time to make it yourself. We like the gooey cheese on top browned and crispy.
Even though it is really convenient to prepare and serve Stouffer's lasagna with meat & sauce, there is no shame since it is packed with premium ingredients that you can trust and recognize – with no artificial flavors, color, or preservatives.
We like to pair our Stouffer's lasagna with fresh sides for a very balanced plate. Although it is tempting to pair with garlic bread, we try not to add any extra carbs to our meal. We try to balance our plate at every meal.
I enjoy inviting friends and family over during the holidays but don't have a lot of time to prepare feasts. I recently invited my parents, sister, and her family over for a pre-Thanksgiving dinner before our schedules get too busy.
I served  two Stouffer's Family Size Lasagna with Meat & Sauce, a vegetable loaded salad, asparagus with fresh green means and artichoke hearts, and a fresh apple cobbler.  This was a menu that made everyone happy, all 12 of us!
As you can see, I used a lot of fresh ingredients in this meal.
I like to load my salads with plenty of vegetables. During this time of year, we have great access to broccoli (I just picked the last of mine this week!) and fresh tomatoes. I also added fresh parsley (from my garden), olives, carrots, green onions, spinach, and romaine lettuce. I served this salad with an Italian dressing.  We always have a large salad like this for both Thanksgiving and Christmas meals, it is good to fill up on fresh vegetables so you don't pile the unhealthy items on your plate.
Now is the perfect time to find market-fresh green beans in the stores, so I prepared a festival green vegetable dish. We all need our green vegetables. This recipe is perfect to take with you to a Thanksgiving or Christmas potluck. It is a welcome site compared to heavy, starch-filled foods. This recipe includes a pound of fresh green beans sauteed in a little olive oil and fresh crushed garlic. Next, I added fresh asparagus and artichoke hearts.  These vegetables are readily available all Fall and Winter long.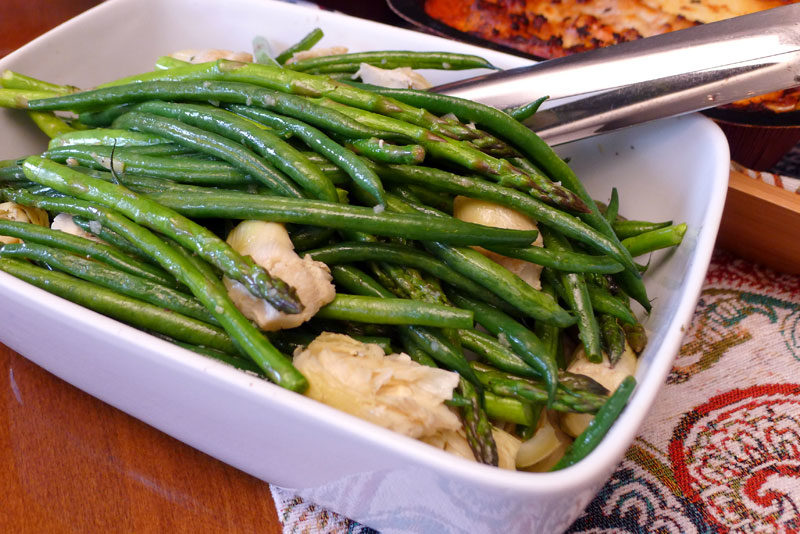 One of our favorite desserts for Thanksgiving is homemade apple pie along with pumpkin pie. Both pies are loaded with sugar and carbs. I opted to make a low-carb, low-sugar fresh apple cobbler. Now is a great time to get local apples. I tossed 6 apples cinnamon, nutmeg, and 1/4 cup of sugar. I topped it with a hearty oatmeal topping. By skipping the two crusts and added sugar of traditional apple pie, I made this a healthier option for my entire family while still being festive.
Nobody missed the garlic bread that is so traditionally served with lasagna. We loaded our plates with plenty of flavorful vegetables along with the hearty lasagna, which was the star of the meal.
Just look at this amazing looking lasagna. The freshly made pasta layered with a rich meat sauce and topped with real mozzarella cheese is something we can all agree on.
I served two trays of Stouffer's Family Size Lasagna with Meat & Sauce for my party of 12. It was more than enough. Each one serves 8 people. When it is just my family, we get to enjoy two meals out of just one.
The average person gains 7-10 pounds during this holiday season. Much of this can be blamed on Thanksgiving and Christmas meals but also because of our hectic schedules all season long. By balancing our plates with healthier options, we can avoid gaining weight and ward off pesky germs to stay healthy.
And the best part for me as the mom and hostess is that I didn't spend hours in the kitchen, I could enjoy my family gathering because Stouffer's made it easy for me.
I encourage you to eat healthier this holiday season at home and for Thanksgiving and Christmas gatherings. It doesn't take much effort to balance your plate for delicious and nutritious meals and it is totally worth it for the health of your family.
Check out all of Stouffer's fresh-frozen dishes on the Stouffer's website. Join the conversation on Facebook and Twitter.