My kids love tacos and any and all Mexican food.  This is great because it has always been a favorite for my husband and I. We use to frequent Don Pablos in Montrose all the time during our dating years – so said it is gone. I serve tacos about once every week or two for dinner – and it is always a huge hit. We just discovered the new Old El Paso Stand 'N Stuff soft tortillas and Cooking Sauces.
I received a selection of products to facilitate this post.
Enter Old El Paso Giveaway on our Facebook Page:
Old El Paso Review
The Old El Paso Stand 'N Stuff shells make it easy to prepare single servings of tacos for the whole family. It is like a mini-tortilla bowl that you can order with a taco salad at any Mexican restaurant. My kids love it, they can fill it themselves without the mess of traditional tacos.
I also really like the new Mexican Cooking Sauces. It goes beyond the seasoned hamburger, offering new and exciting Mexican flavors to your meat and vegetables. The sauces are great for tacos, fajitas, casseroles, and other Mexican dishes.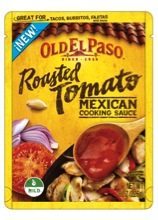 The sauces deliver a complete Mexican flavor in the convenience of a prepared packet. Choose from Chipotle, Roasted Tomato, and Chile & Roasted Garlic. It really makes family taco night easier and more flavorful!  If you are looking for exciting recipes, check out the recipes on Old El Paso website. Believe me, you'll get inspired even beyond taco night.
Like Old El Paso on Facebook
Be sure to enter to win the below kit on our Facebook page!

Gift Pack:
1 container of new Old El Paso® Stand 'N Stuff® Soft Tortillas
1 of each flavor of new Old El Paso® Mexican Cooking Sauces – Chipotle, Roasted Tomato, Chile & Roasted Garlic
Collapsible Colander
Veggie chopper
Chop turner utensil
$10 gift card to buy additional taco ingredients
This was not a paid post. The information and prize pack have been provided by General Mills through MyBlogSpark. My own opinions were used based on my perceptions and experience.