We love to try new foods and recipes in our home. My kids like to help in the kitchen and my husband is great at making up new recipes. I love trying new recipes that I find online and customizing them. Anything we can do to mix up mealtime is a good thing – to keep healthy food fresh and exciting.
One thing my family likes is peanut butter. I call Elizabeth my peanut butter girl because she loves to eat a spoonful as a snack any time of day! And, I always say yes because it is a great, protein filled snack.

We just discovered the new Jif Almond & Cashew Butters. Have you seen them? They are no-stir butters available in both crunchy and creamy – just like peanut butter. They are delicious, made of roasted almonds and cashews for a whole new nut butter experience!

I received Jif butters and a promotional item to facilitate this post.
Pumpkin Cashew Dip Recipe
I couldn't wait to try the new Jif nut butters out in a recipe. Tonight, we tried a new recipe that I found on the Jif website for Pumpkin Cashew Dip.   When the leaves start to change colors in the Fall, I start making all sorts of pumpkin inspired recipes. My family loves it! I've never made a dip like this one. The combination is unique. Normally, the pumpkin recipes I make are very sweet. So, I was excited to mix it up with this recipe.
Pumpkin Cashew Dip Recipe Ingredients: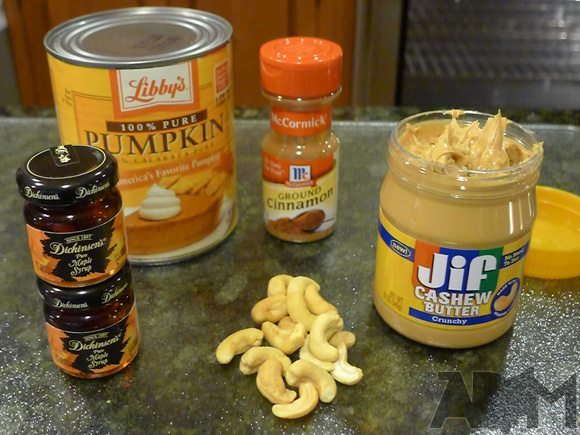 15 oz. pure pumpkin (not pumpkin pie mix)
1/2 cup pure maple syrup (I used Dickinsens')
1/3 cup Jif® Creamy Cashew Butter
1 tsp ground cinnamon (I used McCormick)
2 TBSP chopped cashews
Pumpkin Cashew Dip Recipe Instructions:
1.  Combine first 4 ingredients, stir until smooth. This is a great recipe for kids to help with. Elizabeth put all the ingredients in the bowl and turned the mixer on low.
2.  Place in a 8×8″ square pan.
3.  Top with chopped cashews.
4.  Bake at  350°F for 30-35 min.
5.  Serve warm with apple slices, pretzels, and/or graham crackers.
For just my family, I would serve it in the 8×8 pan. However, if I had guests over or was taking this Pumpkin Cashew Dip to a party, I would transfer it to a nicer dish.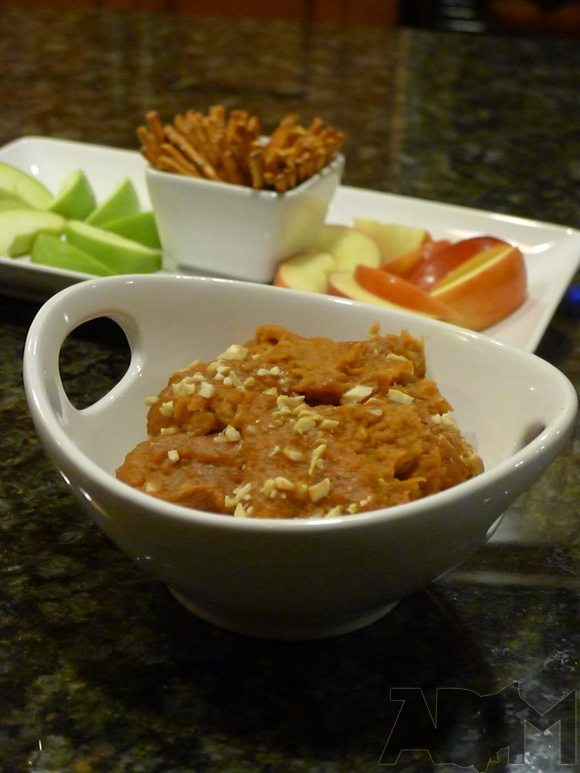 This is a perfect Fall recipe using pumpkin with a roasted cashew twist. My whole family enjoyed it for movie night tonight. My 8 year old, Elijah liked it the most with the sliced apples.
My 6 year old daughter, Elizabeth enjoyed it with the stick pretzels. I didn't have have graham crackers, but it would be an amazing combination.
Mix Up Mealtime
An easy way to mix up mealtime is to try new recipes with ingredients your family already likes. The best way to avoid eating tons of processed foods, wasting money eating out, and to eat healthier is to prepare fresh, new recipes at home. The above recipe couldn't be easier and took no time at all to prepare. It was a new way for us to enjoy two foods my family likes – pumpkin and nut butters. It was a win-win. We snacked on apples, pumpkin, and cashew butter for movie night instead of chips and dip!
Mix up mealtime with new products. I like to try new products, especially when they are from a brand I already trust and my family enjoys, like Jif products. You might not think a new product could be so different than what you normally purchase but you won't know if you don't try. We like Jif peanut butter but now, we are also fan of the cashew and almond butters. It gives me a lot of new recipe ideas that I wouldn't normally use peanut butter for. If you enjoy cashews and/or almonds, try the new Jif Cashew Butter and Jif Almond Butter to mix up mealtime in a new way.
One thing that I have learned as a mom is that the best way to get your kids to eat healthy is to have them cook with you. Recently, we mixed up mealtime by request of my kids. They wanted Tuesdays to be "Taco Tuesdays," so we implemented it. They took ownership and we all work together getting all the toppings we each like on the table. It can be difficult on busy school nights, but if you can, get them involved at least a little.
I love spending time in the kitchen with my kids. It is fun quality time together, plus they learn so much about math, following instructions, food safety, and about how food starts as simple ingredients to become the finished product. I've been cooking with my kids since they were babies. It takes a little longer and the kitchen is always a little messier, but it is so worth it.
Above all, have fun in the kitchen!
This was a sponsored post. My own opinions were used based on my perceptions and experience.