Last week, I showed you the video of me unpacking my box of Schwan's for a Week of meals.  It was the first week that my kids had all their sports and after school activities starting, so I was looking forward to an easy week of breakfast and dinners. I can't stress how amazing it was to have breakfast and dinner lined up each day – it gave us a stress-free week, not to mention amazing food! Schwan's offers convenient, healthy foods for breakfast, lunch, dinner, dessert, beverages, snacks, and entertaining.
Schwan's Breakfast for a Week
In this post, I'll share with you what we had for breakfast for the week. We received meals to facilitate this post. Some breakfast items came just 4 to a box but the majority was enough for 8-12 servings! We are still enjoying our Schwan's breakfast for a week this week!
I try to give my kids a hot breakfast on school days. I just feel like it is a better start to the day and there is no defuting the fact that breakfast is good for kids (and adults). Breakfast even makes kids smarter.  Schwan's makes it easy to give your child a delicious breakfast to fuel their morning at school.
The Mini Pancakes are yummy little pancakes that my kids loved. It was their favorite of all the Schwan's breakfast items. The box says it serves 6 but my kids only eat about 1/2 of a serving, so it is going to last much longer for us.
The buttermilk flavor is sweet and irresistible too. I served the mini pancakes with a banana and glass of milk.
The Baked Cinnamon French Toast Sticks were my #1 favorite. Each box serves 8, with 4 sticks per serving. The French Toast sticks are flavorful and soft.  You can microwave them to have breakfast in about 1 minute or bake them in the oven.
I chose to bake them in the oven because I like them a little crisper on the outside and fluffy on the inside. They were ready in 5-7 minutes.
I served them with a tall glass of cold milk. Delicious!
My kids love blueberry muffins, so we were happy to try out the Blueberry Muffin Starters. There is nothing as satisfying as a freshly baked, warm muffin for breakfast. My kids loved them and I liked that all I had to do was place the per-portioned muffin mix into the muffin pan – with or without liners.
The box makes 18 muffins, so I only made about 1/2 a batch now and will make the rest later.  I sent 1 muffin to school with my kids too for their healthy snack.
The Sausage, Egg & Cheese Biscuit is great for a quick breakfast on the run for parents and a hearty breakfast for kids.  It taste great and is a welcomed treat on a cold morning.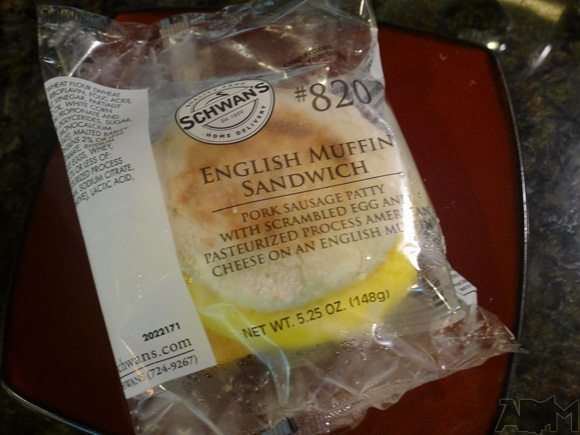 It is ready in just 2 minutes. Each box comes with 6. My kids can only eat about 1/2 at a time, so it spreads the box to 2 breakfasts for my family.
For a grab-and-go breakfast, the Toastwich Bacon, Egg & Cheese is a great choice. It is similar to a pop-tart. Pop the Toastwich in your toaster for a hot breakfast of bacon, eggs, and cheese with a pastry crust. The box comes with 8, so this is a couple meals for my family.
I serve with a fresh piece of fruit and orange juice. With Toastwich, there is no reason to not have a hot breakfast in the morning for anyone.
We had a delicious start to every day last week – and this week – by serving Schwan's Breakfast items every day. Once we finish the boxes we have, I plan to order more mini pancakes and French toast sticks and sample a couple other breakfast items like their Raspberry White Chocolate Scones and Apple Cinnamon Breakfast Bites – both look amazing!
Buy Schwan's Products
You can buy Schwan's products 1 of 3 ways. Place your order online or with a Schwan's rep.  You can receive your order via personal delivery to your door, freezer bag drop off – for if you won't be home for a few hours, or mail order.
Like Schwan's on Facebook
Follow Schwan's on Twitter
This was not a paid post. My own opinions were used based on my perceptions and experience. Thank you to Schwan's who provided the products for review.