If you enjoy a good, high quality bread and the convenience of delivery, you have to check out Wildgrain. This small business is offering a first of it's kind subscription food deliver service, offering frozen artisan breads, pastries, and hand-cut fresh pasta right to your door – as often as you'd like.
This is a sponsored post.
This young couple saw a need for nutritious carbs that used clean ingredients in their lives, they created amazing recipes and decided to share with the world years ago. Now, Wildgrain creates these recipes by hand to share with everyone on a subscription basis, while partnering with other small bakers and pasta makers across the country with the same passion.
There is no business like Wildgrain. They are the first ever bake-from-frozen subscription and delivery service that delivers sourdough breads and artisan pastries that are baked from frozen and ready to enjoy in just 25 minutes or less. Each month is different, but this was my box!

Nothing is better than fresh warm bread from the oven – unless it is artisan sourdough bread! If you've ever made sourdough from scratch, you know it is a time-consuming and difficult recipe to master. Now, you can enjoy a variety of sourdough bread and rolls without all the hard work.

I had my inlaws over for dinner and decided to serve Wildgrain Sourdough bread. They LOVED it and asked where I got it. They went on and on and on about the texture and flavor of the sourdough bread. They have been foodies long before foodies was a term, so they know their bread. It is better than the breads they loved while visiting Italy! Needless to say, they are Wildgrain fans now too.
I love that when it's just the 4 of us, I can pop just 4 sourdough rolls in the oven with dinner too – although it's hard to stop at just one roll.
They are perfectly sized for dinner with all the great texture and flavor of the large loaf.  Wildgrain mastered the crisp exterior with the soft and chewy inside of sourdough bread.
Bread can be healthy and provide you and your family nutrition when it's done right. Wildgrain sourdough bread uses a fermentation process that digests the majority of the gluten and contains lactic acid that helps your body absorb more nutrients and prebiotics that help your gut biome health.
Wildgrain also provides pastries that are like no other. I hope the Chocolate Avalanche Croissant is in their next box because my family devoured these artisan pastries!!
They come frozen in a package that can easily be taken out all four or one at a time.  They bake in about 25 minutes, so it's a fast treat anytime of year, which can be dangerous because they are SO good.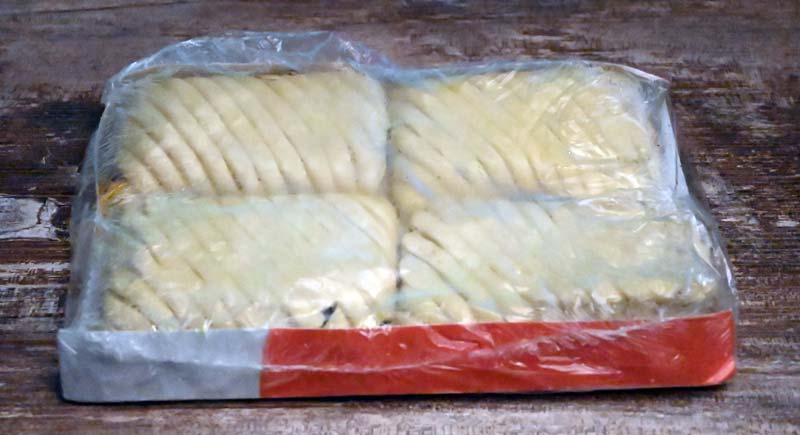 The decadent flaky croissants surround an irresistible chocolate inside that fills your mouth with amazing, glorious flavor. My whole family agrees that it's the best croissant pastry we've ever tried – anywhere – and we enjoyed them in the comfort of our home. I don't know what was going on with my camera when I took these pictures, I'm really embarrassed that they don't show just how amazing and delicious all of the food from Wildgrain is. I will have to order another box to enjoy and photograph!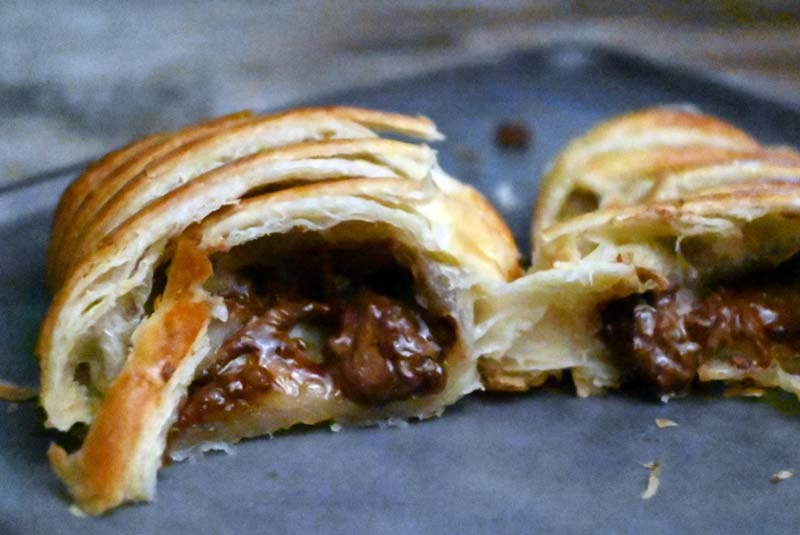 Wildgrain also ships fresh pasta with their boxes that cook in less than 10 minutes. Both pastas were amazing.
There is nothing like fresh pasta. The texture and flavor is so much better than dried.
Just look at how delicious and delicate this pasta is.
I made a Creamy Garlic Swiss Chard Chicken recipe (posting later) with the tonnarelli pasta and it was perfect. The smoothness of the fresh pasta really absorbs the sauce in recipes, making it a truly new and exciting pasta experience.
Wildgrain is committed to providing clean, high-quality food for your family that provides you with superior nutrition. If that resonates with you, consider signing up today. The cost for a Wildgrain membership is $89 per box, you can decide how often you'd like to receive the shipments and cancel anytime. Plus, shipping is always free.