We came across the Capresso froth Pro Automatic Milk Frother and gave it a try this week on one of the colder evenings.  To be honest, I wasn't sure what to expect.  I've had specialty drinks before from a Barrister, but I've honestly never known what is Milk froth!?  Its so sad, sad…
Today, we're Frothin' Milk
This unit from Capresso makes hot or cold milk froth using a dishwasher safe pitcher.  The heating and spinning element is top notch and heavy steel, and the controls for spin and temperature are obvious, clear and automatic.
OK So here's my steps:
Put Skim Milk in
Push Button
(It's really really really that easy)
You can use any type of milk or even chocolate milk for frothing, but the instructions said that skim milk works best for the thickest foam.  It has something to do with the lack of heavy fat in the milk.  Makes sense to me.
When milk is frothing, all you see is a small 1.5″ disk with wee tiny little spokes on it that spins the milk.  It kind of looks like you are sending a pocket knife out to cut down a field of wheat, but, surprisingly it works!  This one is patented- must be pretty good.  Milk warming and Frothing happens in under 3 minutes- depending on how much you have.  No, maybe it was just 2 minutes… Either way it was faster than warming the hot chocolate.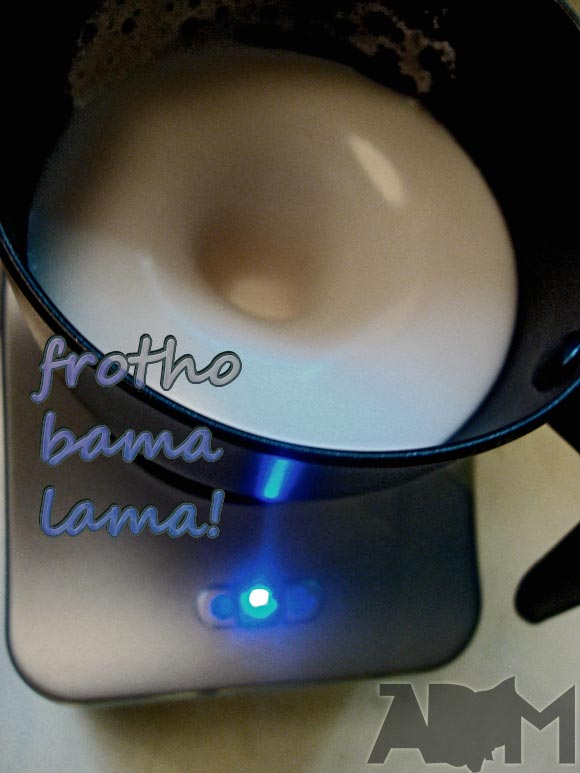 Enjoying Frothed Milk
Putting a head on your mug is a great way to feel like you've done things right.  You've made the ultimate, you've succeeded. To be honest, I never thought that having this machine would be so exciting and make my hot chocolate taste even better – without the extra calories of whipped cream!
Buy Capresso froth Pro Automatic Milk Frother
Christmas is around the corner, this would be an excellent gift for that hard-to-buy-for person and anyone who enjoys the simple pleasures of life.
You can buy the Capresso froth Pro Automatic Milk Frother on the Capresso website for $75.00 or online at Amazon.com.
Find out more on Field Finds on Facebook and Field Finds on Twitter.
This was not a paid post. My own opinions were used based on my perceptions and experience. Thank you to Capresso who provided the product for review.