To celebrate July as National Ice Cream Month, we threw a sundae party for our kids. Nothing is better than enjoying a delicious sundae on a hot Summer day. Mix in water activities for kids and you've got a fantastic Summer party!  We were excited to receive a sampling of Smucker's ice cream toppings and promotional items to throw our party and facilitate this post.
Top Summer Fun with a Sundae
Whether you are throwing your own sundae party or just serving up some Summer fun for your family, Smucker's offerings the premium ice cream toppings for everyone. Whether you like hot or cold toppings or even frozen shell toppings, Smucker's knows how to top Summer fun with a sundae for every taste! We were able to check out  2 Smucker's Shell products and 2 microwavable products for our sundae party.
I like all ice cream toppings, hot or cold, however I love hot toppings for sundaes!  Smucker's offers 4 Microwaveable Ice Cream Toppings including Hot Butterscotch, Hot Caramel, Hot Fudge, and Hot Milk Chocolate. We tried the Hot Butterscotch and Hot Milk Chocolate – both were huge hits with the kids and parents! Yummy! I like that the bottles don't get scorching hot so even kids can pour it. If you don't have it warmed, it taste great cold too.
Below, Lila pours on the Hot Butterscotch on her sundae.
Elijah went crazy with the Hot Milk Chocolate – that's what happens when you give an 8 year old a bottle of chocolate!!
Elizabeth opted for Hot Milk Chocolate as well to start things off.
The Ice Cream Sandwich Dessert on the Smucker's website looks amazing with ice cream sandwiches, whipped topping, Hot Fudge topping and Hot Caramel topping. I'm sure the Milk Chocolate and Butterscotch or any combination would rock too! It would be a huge hit at a party – it's like an ice cream sundae cubed.
My kids have so much fun with Smucker's Magic Shell toppings. It is so fun to see the toppings freeze on ice cream and then break through it when you bite into it. There are a variety of Magic Shell flavors like caramel, chocolate, cupcake, and orange cream. New this year are Pink Lemonade and Rootbeer. Lila added the Pink Lemonade Shell to her Hot Caramel sundae. She loved the combination!  She said that the Pink Lemonade Magic Shell taste just like her older sister's Pink Lemonade cookies and she loved it!
Below is the delicious Rootbeer Shell, see how it freezes even in lines?
For the Root Beer Magic Shell topping, I'd like to try Smucker's Root Beer Ice Cream Sugar Cones recipe. I know my kids would love it, especially when we add sprinkles on the shell topping!  It reminds me of the cones you buy at the pool or store that are $1-2 each, so this is an affordable alternative. There are so many delicious recipes on the Smucker's website, you've gotta check it out. The Chocolate Raspberry Bon Bons recipe with Magic Shell Chocolate Fudge topping looks amazing too.
Elijah's friend, David enjoyed a combination of Hot Milk Chocolate with Rootbeer Shell.
My ultimate sundae includes hot toppings, whipped cream, and crushed nuts. I enjoyed the hot milk chocolate and hot butterscotch toppings the best. I'm so glad that I had the opportunity to review these two items because I always opt for the Hot Fudge and Hot Caramel toppings. It's good to switch things up a bit. Now I know that I like this combination just as well! It is sooooooooooo good! We use Ruggles Vanilla Bean ice cream too instead of just plain vanilla. It has a great, fresh vanilla bean flavor to it.
We had a great time enjoying our sundaes together. Afterward, we got out the sprinklers and slip n slide for more Summer fun. It doesn't take much to have an awesome party – just add sunshine, water, and ice cream sundaes. Do you agree?!
How do you top off Summer fun?  What is your favorite sundae combination? We'd love to see it, pin it to my SummerSundae Pinterest board! Tag with #SummerSundae
Win Smucker's "Top Summer Fun with a Sundae" Kits – Includes $50 American Express Card : (ARV: $150)
You have the chance to win a Smucker's "Top Summer Fun with a Sundae" Kits: (ARV: $150)!
Includes:
Smucker's Pink Lemonade Magic Shell Topping, Smucker's Root Beer Magic Shell Topping, Smucker's Hot Milk Chocolate Microwavable Topping, and Smucker's Hot Butterscotch Microwavable Topping
$50 American Express gift card for you to purchase any other items you may need
Banana Republic beach tote bag
Beach themed disposable camera
Colorful beach towel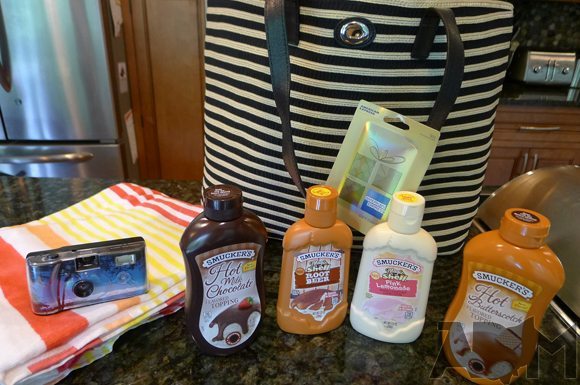 They even have a Summer Fun Giveaway similar to this giveaway where you can win a Top It With Fun Kit for you and a friend on the Smucker's facebook page.
a Rafflecopter giveaway

This promotion is in no way sponsored, endorsed or administered by, or associated with, Facebook. In order to comply with the latest Facebook Promotion Guidelines (revised 5/11/11), the following statements are true:
* Giveaway participants release Facebook from any responsibility whatsoever.
* Giveaways on this blog are in no way sponsored, endorsed or administered by, or associated with, Facebook.
* Giveaway participants are providing information to this blog and giveaway sponsors only; not to Facebook.
30 Day Winning Rule applies. For complete contest rules, please see our Contest Statement and Blog Disclosure.
Contest ends at 11:59 pm EST on July 30, 2013 when a winner will be drawn at random. I will notify the winners and they will have 36 hours to respond or another winner will be selected!
This was not a paid post. My own opinions were used based on my perceptions and experience. Thank you to Smucker's who provided the products for review and giveaway.