Many people are switching to a plant-based diet but find it difficult to prepare tasty meals, especially on busy weeknights. There aren't many convenience foods to choose from that are plant-based for those really busy nights when you get home from work and have kids' homework, sporting practice and other extracurricular activities to take your kids to and from.
For such nights or anytime you'd like a delicious plant-based meal, rely Veestro meal delivery service.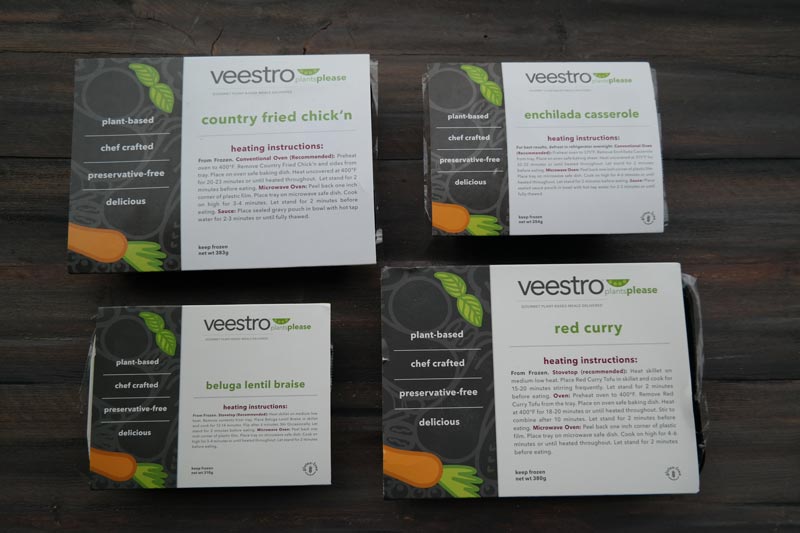 This is a sponsored post.
Veestro Plant Based Meal Delivery Service
Veestro is a meal delivery service that makes it easy to get more plant-based foods into your diet without sacrificing taste or convenience. Simply heat up delicious, organic, healthy, and sustainable from plants meals. I like that with Veestro, you can always have a healthy option in the freezer ready to go – plus you don't have to shop for it as it is delivered to your door!
Each meal comes with instructions for microwave, and/or stove-top or oven preparation. My family enjoyed taste-testing all 4 meals together. We each sampled every one on our plates – it was so much fun. The Enchilada Casserole was everyone's favorite – we wished there was more. If you have a gluten-free diet, you'll like that you can eat it! The tofu and vegetable layers and delicious sauce packs this meal with great texture and flavor.
Country Fried Chick'n was a surprise, I've never seen this recipe as plant-based elsewhere. I eat chicken so I wasn't sure how well I'd like this but I really enjoyed it. "It taste like chicken" is the first thing I thought and said. 🙂 It comes with colorful fresh veggies and mashed potatoes too, the ultimate comfort meal. The potatoes are also healthier, I really wasn't a fan of them but with the gravy, they were fine.
My husband is a fan of Indian food and like liked the Red Curry with Tofu. The sauce was really good with a hint of coconut.
If you have a dairy-free, gluten-free, meat-free, peanut-free diet and like lentils, then Beluga Lentil Braise is a good choice. It's more of a bowl type of meal, soupy with quinoa and veggies. It was tasty but not a typical meal for my family. I'd say unless your kids are use to this type of meal, keep it for adults.
Overall, we were happy with the flavors, textures, and variety of our Veestro meals. If we had dietary restrictions, we would be even more appreciative, I'm sure.
Veestro is for everyone. There are 3 ways you can order through Veestro, based on your needs. A La Carte lets you pick and choose exactly what you'd like. The Chef's Choice option is a collection of the most popular and flavorful meals you are sure to love. The Weight Loss option gives you 3 meals a day at only 1200 calories.
Meals are around $9.90 per meal.