Do you have a guest coming over for dinner that is a vegetarian or vegan? Not sure what to serve? It is easy to serve delicious meat-free meals that everyone will enjoy with Tofurky. My family was first introduced to Tofurky a couple years ago and even my 4 and 6 year old children liked it. Now, two year later, we still like it and we aren't even vegetarian! But, what does Tofurky look and taste like?? Read on!
I received product to facilitate this post.
What does Tofurky look like?
The Tofurky Roast looks and carves very much like a turkey. The texture and flavor is amazing, leaving vegetarians and vegans at no loss during holiday celebrations or a nice dinner at home.  The Tofurky Roast is stuffed with a delicious wide rice and what bread crumb stuffing that is perfectly centered in every beautifully cut slice. There are plenty of delicious reasons why Tofurky Roasts have been America' best selling alternative to turkey since 1995.
Preparing a Tofurky Roast is easy. I was able to review the Tofurky Feast which includes a roast, gravy, wishstix, and chocolate cake – enough to feed 6 people.
I decided to use the roast recipe on the box that includes a base of olive oil, soy sauce, and sage with carrots, potatoes, and onions.
I cooked it for a total of 1 hour 35 minutes at 350 F. This was a no-fuss recipe.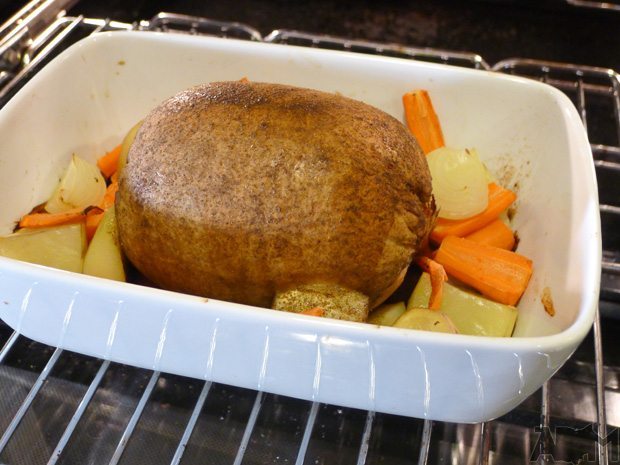 To my delight, the aroma filled my kitchen, prompting my kids to ask if it was time to eat! It smelled amazing! Not only does Tofurky give you a meatless option for dinner but it is super easy to prepare. Below is our Tofurky Feast ready to be devoured!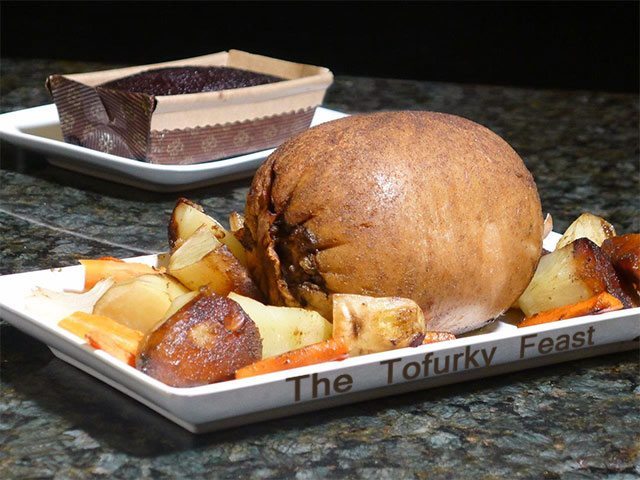 We enjoyed the roast with a side of the roasted vegetables, brussels sprouts, and noodles. Next time, I'll add more veggies to the roast since it didn't call for many.
We all enjoyed the moist, tender roast. It was delicious with stuffing and the included gravy as well.  Even though my family does eat meat, we enjoy going meatless a couple times a week. With Tofurky, it is easy and delicious to make this meatless choice. I wouldn't be able to convince my family if it wasn't tasty!
The Amy's Kitchen Chocolate Cake that comes with the Tofurky Feast is the best chocolate cake you'll ever taste. It is so moist and fudgy, almost like a brownie.
There are other ways to enjoy Tofurky Roast as well including the winners of the Roast with the Most 2013 Contest winners.  Hannah Kaminsky won first place for a fire cider brined roast rubbed with olive oil.
Second place winner Alex Baskin used the box recipe but added his favorite vegetables including potatoes, sweet potatoes, broccoli and cherry tomatoes.
Third place winner, Patricia Moomaw prepared with a homemade glaze that included maple syrup, apple butter and more and roasted with onions, potatoes, carrots, and parsnips for a sweeter roast.
For my next Tofurky Roast, I'm going to try the Aunt Jean's Crock Pot Tofurky with Cranberry Onion Sauce recipe. It is cooked in a crockpot, making it even easier for busy days.
So, as you can see. A Tofurky Roast can look a number of ways and that is just one of the fantastic things about Tofurky. Just because you decide to go vegetarian or vegan, even for a meal, it doesn't mean you can't enjoy hearty, delicious foods prepared just the way you like them.
Going vegetarian or vegan in the New Year?
There are many benefits of going vegetarian or vegan, even if it is just once or twice a week. People who avoid animal products have a lower rate of obesity with lower BMIs, reduced risk of type II diabetes, and healthier cardiovascular health. Don't worry about getting enough protein either, when you balance your diet with the right foods, you can get enough or more protein than when eating meat. For instance, the Tofurky Oven Roast deli slices contain 13 g of protein in one serving compared to only 7 g in traditional turkey meat deli slices.
Turtle Island Foods is a family-owned company since 1980.  They make more than just the Tofuky Roast. Enjoy meatless deli slices, sausage links, hot dogs, ground Tofurky, pies, pizza, pockets, and more.
Like Tofurky on Facebook
Follow Tofurky on Twitter
Win $50+ of Tofurky
You have the chance to win $50+ worth of Tofurky products. (coupons for FREE product)
Tofurky Feast ($30 value)
Tofurky Roast
2 Tofurky coupons for your choice of deli slices, sausages, pockets, pies, ground products, hot dogs, and tempeh.
a Rafflecopter giveaway

This promotion is in no way sponsored, endorsed or administered by, or associated with, Facebook. In order to comply with the latest Facebook Promotion Guidelines (revised 5/11/11), the following statements are true:
* Giveaway participants release Facebook from any responsibility whatsoever.
* Giveaways on this blog are in no way sponsored, endorsed or administered by, or associated with, Facebook.
* Giveaway participants are providing information to this blog and giveaway sponsors only; not to Facebook.
30 Day Winning Rule does apply – you can win this and additional prizes this month. For complete contest rules, please see our Contest Statement and Blog Disclosure.
Contest ends at 11:59pm EST on  January 13, 2013 when a winner will be drawn at random. I will notify the winners and they will have 36 hours to respond or another winner will be selected!
This was not a paid post. My own opinions were used based on my perceptions and experience. Thank you to Turtle Island Foods who provided the products for review and giveaway.