Since 1970, Aqua Leisure has been providing innovative products for kids that protect and encourage physical activity. I was thrilled to be offered the opportunity to review 2 of their products.
Hands On Review of Aqua Leisure Quick Click Pop Up Cabana
The Quick-Click Pop-Up Cabana offers a retreat for kids from the hot, harmful sun rays. Whether in your own backyard, the beach, the pool, the park, or even your kids soccer game, this easy to carry and easy to use cabana is the perfect solution.  The Aqua Leisure Quick Click Pop Up Cabana is made up a treated fabric that provides superb protection from sunlight.  Kids love tents to they won't object to getting out of the sun for a 'sun break'. They see the Pop Up Cabana as a cool place to play.
As soon as our Pop Up Cabana arrived, my kids wanted to get in it. Of course it was a rainy day so we couldn't go outside. This didn't matter at all. My kids played in the cabana for almost 1 hour first thing. Then it made its way into the family room where the kids camped out in it during our family movie night.
Once the weather cleared up, we took the cabana outdoors. It really is a nice place for kids to chill out in between swimming. We have a small pool in the back where the kids love to swim. They had fun relaxing in the tent during break time with their juice boxes. I kept the tent up and they have added it their their outside routine. I do bring it indoors at night since it is so lightweight.
Quick Click Pop Up Cabana is Easy to Open and Close
Parents will also love, love, love how easy it is to open and close, you can do it in less than 10 seconds. Simply take the cabana out of the included carrying bag. Pull up the string located on top of the cabana.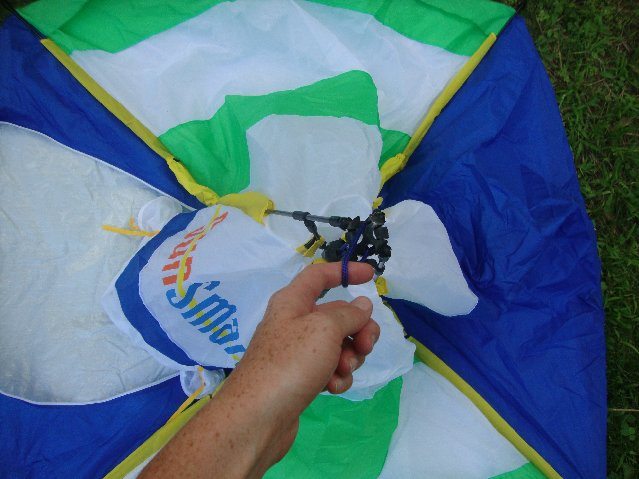 Then, "click" it into place.The whole process is less than 10 seconds!
With a product that folds up so quickly and so small, you might wonder how sturdy it is. Well, my kids have been playing in it almost daily for the past 2 weeks and it shows no wear and tear. It has a sturdy frame construction and the material is strong.
My kids play in tents and cabanas year-long. They just love to have their own space, just their size. This is a roomy cabana, it fits my 3 and 5 year old kids together quick easily. I really like that this is a safe retreat from the sun when my kids are outside playing. Also, I really like how easy and convenient it is to open and close. Sometimes I dread getting our other indoor play tent out because it is such a hassle to open and close. Now, I have a simple solution with the Aqua Leisure Quick Click Pop Up Cabana. You can see how small the tent closes down to in the picture below.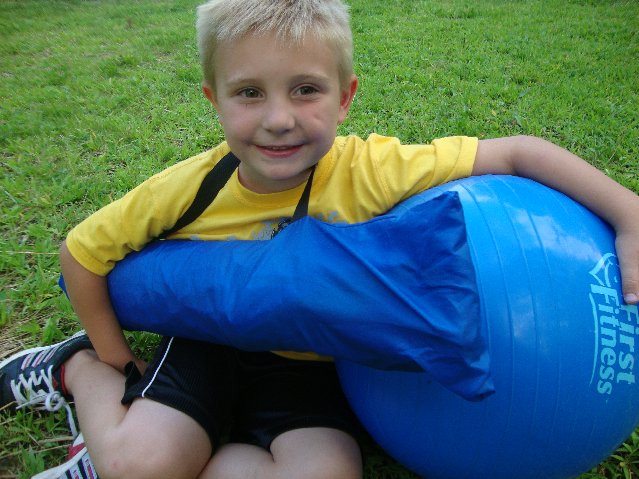 It's priced right too! You can purchase the Quick Click Pop-Up Cabana for $25.
Hands On Review of Aqua Leisure First Fitness Ball
If your kids are like mine, they can have 20 balls and still want a new one. Mostly this is because the balls we typically buy deflate or pop as soon as we buy them. That is not the case with Aqua  Leisure First Fitness Ball. This fitness ball not only withstands active play from kids but that is what it was designed to do. You can feel the quality with the thickness of the material. It is made of durable, latex free material. The ball has raised rings of material all along the ball that makes it easy for kids to grip.
This oversize ball measures in at 26 inches, making it easy enough for kids to handle yet larger than life to keep their interest!
My kids are young and still developing their coordination, so limited throwing and bouncing balls back and forth is where we are.  My kids and I often stand in a triangle and take turns passing it from one to the other, they love it!  We live on a hill so ball time is also running time. We take turns running after the ball when it gets away from us, it's just part of the game. There are plenty of organized games you can play with oversize balls as well, but just getting your kids outside to play is what it is all about.
First Fitness goal is to get kids active in play. The First Fitness Ball helps develop kids' cardiovascular endurance, strength, flexibility, and coordination while they play.
You can purchase the First Fitness 26-Inch Play Ball
for $14.
Aqua Leisure Video Review
Here's a quick video of my kids having fun with their Aqua Leisure products. Notice how my 5 year old, Elijah is promoting mom's mommy blog! So cute!

Buy Aqua Leisure Toys
Visit the Aqua Leisure Website for a full list of places to buy their products.  They can be found at national & regional chain stores, sporting goods stores, toy stores, supermarkets, drugstores, specialty stores, internet sites, and catalogs.
Win Aqua Leisure Sun Smart Pop Up Cabana & First Fitness Ball (Closed)
Updated: 8/22/10 Winner Announced: Congratulations, Angela Livingston, entry #136! Thanks to all who entered, please visit Aqua Leisure for your next kids toy and activity purchase.
Aqua Leisure has graciously offered a prize of a Sun Smart Pop Up Cabana & First Fitness Ball ($39).
ENTRY #1: You must visit the Aqua Leisure Website and comment on another product you would like to buy.

---
EXTRA Entries
(do as many as you wish and leave a corresponding comment below)
Please be sure to do Entry #1 above or all extra entries do not qualify.
For 5 entries, blog about this giveaway on your website and link back to this article and to Aqua Leisure Website.
"Like" AkronOhioMoms.com on Facebook (posting a comment is appreciated but not required)
"Like" Aqua Leisure on Facebook (posting a comment is appreciated but not required)
Follow AkronOhioMoms on twitter
Tweet about this giveaway. You can Tweet once a day for an extra entry every day! You can copy and paste: Win Pop Up Cabana & First Fitness Play Ball http://www.AkronOhioMoms.com #contests #sweepstakes
For 3 entries, Stumble Upon this post with button on top of screen
Email your friends about this offer and cc me (cindy @akronohiomoms.com). (Earn 1 entry per person, Limit 5)
Become an AkronOhioMoms member by joining us with Google Friend Connect (on the right sidebar).
For 2 entries, comment on any Total House Remodel post and let me know which one(s).
For 2 entries, comment on any other non-contest post
Enter any other active contest and leave a comment on which one(s)
For complete contest rules, please see our Contest Statement and Blog Disclosure. If you ever have any questions on entering to win, just ask cindy@ akronohiomoms .com.
Contest ends at 11:59pm EST on August 20, 2010 when a winner will be drawn at random and announced the next day. When commenting, please include your email address (not visible to public). I will notify the winners and they will have 36 hours to respond!
This was not a paid post. My own opinions were used based on my perceptions and experience. Thank you to Aqua Leisure for the products for review and giveaway.