Having a great travel bag is essential. My go-to bag this summer has been a Pischke Pockets bag. I take it everywhere from the pool to the playground to the beach to grandma's for my kids' overnighting. It is a beautiful cotton bag with a beautiful needlepoint to attach that becomes a functional pocket. Pischke Pockets is not only beautiful but inspiring many new needlepoint lovers.
Pischke Pockets Traveling Bag Review
I don't think I've ever received as many compliments on any bag or purse as I have the Pischke Pockets. It is beautiful and so versatile. I have the Maui bag and love it. There are also many other styles including Florida Keys with nautical colors, Costa del Sol with a sunflower and dragonfly design, Savannah with a southern magnolia design, Belize with colorful geckos, Napa Valley with grapes and colors of wine, and more.
Pischke Pockets bags are spacious too,  the cotton tote bag is 22″ by 19″ with the Canvas is 10.25″ x 10.25″. While at the beach, I was able to include 4 beach towels, goggles, sunglasses, water, and of course sunscreen without overloading it at all. It went everywhere with me.
At home, I use it all the time as well. I always take it when we go to the pool, waterpark, or even just running errands with my kids. It has basically replaced my purse and I know that if I were still in the diaper bag stage, it would replace that as well, in a stylish way.
It is just such a beautiful bag, and I haven't even gotten to the best part yet. The needlepoint design and instructions are to encourage people to create their own work of art. I have always wanted my own needlepoint work. I have not yet had the opportunity to settle down to stitch this bag but have plans to during movie night this weekend. The bag comes with everything you need for the needlepoint.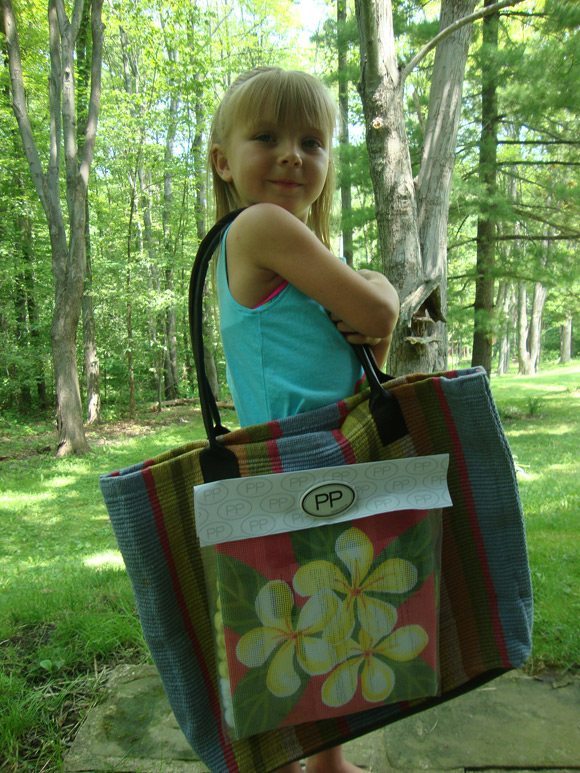 I have received so many compliments on this bag without the needlepoint, I can't wait until I have the beautiful needlepoint added!
Buy Pischke Pockets Bag
You can buy Pischke Pockets Bag in a variety of styles on the Pischke Pockets website for $215.
Win Pischke Pockets Bag (Closed)
Updated: 8/25/11 Winner Announced: Congratulations, Diane Harner!
Pischke Pockets is generously providing you with the chance to win your own Maui Pischke Pockets ($215 value)!
Important Links to enter this contest:AkronOhioMoms.com on Facebook, AkronOhioMoms.com on Twitter | AkronOhioMoms.com Google Friend Connect |  Pischke Pockets Website | Pischke Pockets on Facebook | Pischke Pockets on Twitter

This promotion is in no way sponsored, endorsed or administered by, or associated with, Facebook. In order to comply with the latest Facebook Promotion Guidelines (revised 5/11/11), the following statements are true:* Giveaway participants release Facebook from any responsibility whatsoever.
* Giveaways on this blog are in no way sponsored, endorsed or administered by, or associated with, Facebook.
* Giveaway participants are providing information to this blog and giveaway sponsors only; not to Facebook.
30 Day Winning Rule applies. For complete contest rules, please see our Contest Statement and Blog Disclosure.
Contest ends at 11:59pm EST on August 24, 2011 when a winner will be drawn at random. I will notify the winners and they will have 36 hours to respond!
This was not a paid post. My own opinions were used based on my perceptions and experience. Thank you to Pischke Pockets Bag who provided the products for review and giveaway.