Besides blowing your leaves off your lawn, there are a few things you can do this fall to prepare your lawn for the upcoming winter for a fuller, thicker lawn this Spring and Summer.
89% of Americans say that their lawn is important to them but many stop caring for their lawn once lawn mowing season is over. Follow these 6 easy fall tips to defend your lawn now for the best lawn on the block next Spring.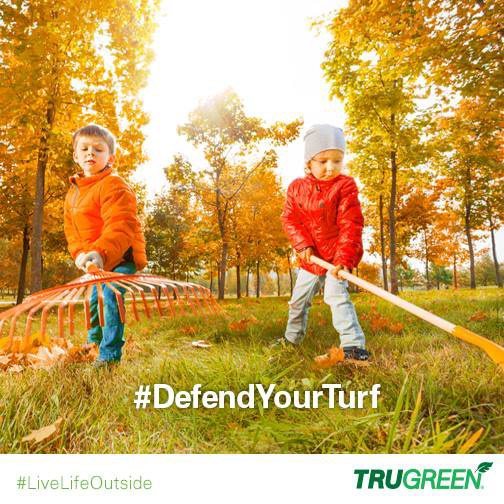 Fall Tips for a Beautiful Lawn Next Spring
1) Aerate
My husband and I started having our lawn aerated years ago and now do it every year. It is one of the most important things you can do for your lawn. Aeration promotes root health and development for healthier, fuller grass.
It simply pulls up plugs of compacted soil up form your ground to increase the ability of air, water, and nutrients to flow.
2) Overseed
Many people think that Spring is the only time to overseed, however overseeding in the Fall helps discourage future weeds and gives new grow the maximum time to develop a deep root system before the onset of the stress of a hot summer.
3) Rake and De-thatch
Rake leaves and debris away, otherwise your lawn will essentially suffocate from restricted water and airflow.  De-thatch dead grass.
4) Mowing
Have you stopped mowing? Don't stop mowing in the fall. Not only does it keep your lawn looking nice and trim but it allows your lawn to breathe and removes excess organic debris that can restrict water and airflow – i.e. dead leaves, grass and other debris.
5) Water
Don't stop watering your lawn, although you can slow down from summer watering. Watering your lawn in the fall helps sustain growth throughout.
6) Fertilize
After a long, hot summer, your lawn needs a little TLC including fertilizer with nitrogen, a weed killer, and essential nutrients to strengthen your lawn's roots for a strong base next spring.
Trust the Professionals at TruGreen
I have used TruGreen for my lawn care needs for years. The result is a healthy, lush lawn. TruGreen offers more than just amazing lawn fertilization services. Call TruGreen this fall for lawn aeration, pest control, pre-emergent and targeted weed control, and of course, fertilization by a PhD-certified specialist.
With TruGreen, you get a scientific approach to your lawn that you'll never get as a DIYer – plus it comes with a 100% satisfaction guarantee. Call TruGreen at 866-549-9077 to get your lawn in shape this Fall for a healthier lawn next Spring and Summer!