With sensitive skin, I have stuck with my same powder make up for more than 15 years. Yikes. I have tried other brands but always have either a skin reaction or an acne breakout. I've heard about Mineral Makeup from various sources over the past several years.
Recently, I learned that my powder make up is filled with a lot of oil that is clogging my pores and even aging me. I went on the search for an alternative. For me, I needed the makeup to be for sensitive skin and I was searching for something without all the oils that my previous makeup was filled with. I was thrilled to learn about Mineral Hygienics.
Mineral Hygienics Review
What caught my eye with Mineral Hygienics first was that it is designed for sensitive skin and secondly, there are only 4 natural ingredients. Wow! Mineral Hygienics is simply loose powders from crushed minerals extracted from the Earth, plain and simple. Mineral Hygienics doesn't have any harmful chemical additives, harsh dyes, or man-made fragrances – perfect for my sensitive skin.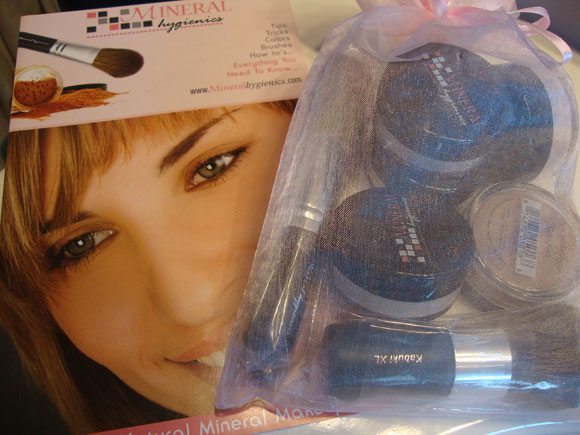 How does Mineral Hygienics Work?
The simple ingredients found in Mineral Hygienics simply adhere to your skin's surface. When you apply the powders to your face, it takes a couple minutes to mix with the natural oils found in your skin. The result? A non-clogging matte finish that allows your skin to breathe.
Mineral Hygienics Coverage
I was so used to caking on my previous powder make up for coverage. Depending on the time of year, I would be too white or too dark but always a little "fake" looking. You could tell I had makeup on. So, being used to my old application, I wasn't sure how this loose powder application would be.
The first thing I read was that a little goes a long way. Boy where they serious! I've had my Mineral Hygienics for over a month now, use it every day, and can hardly see anything is missing from the containers.
How do you apply Mineral Hygienics? Simply pour a small amount into the lid of the container. Pick it up with the brush, tap the brush to get the minerals to set into the brush.
Then, apply in a circular motion starting from the outside of your face and move inward, buffing along the way.
At first, I wasn't sure if it was working. Then I read that it can take up to 5 minutes for the makeup and your natural oils to blend in. The motto is "less is more" for this product as you don't need a lot. You can determine the coverage you want by using very little or a more. I prefer minimal coverage but enough to smooth out my face. I love that it will never clog my pours.
Choosing Your Mineral Hygienics Shade
Mineral Hygienics makes it easy to choose the right shade for any skin tone or complexion.  What's your perfect shade? Mineral Hygienics mineral makeup kits allow you to blend products easily for a flawless match and help you achieve a healthy glow. The natural anti-inflammatory properties even help with redness from rosacea or acne-prone skin too. It can even be used post-operative and is cancer patient safe.
My take on Mineral Hygienics
Mineral Hygienics really feels weightless and looks so natural. It doesn't feel like I have any make up on at all. Plus, it stays on all day long. Mineral Hygienics is perfect for the summer or when working out too as it is sweat resistant. Key benefits I've found is it provides long lasting coverage, sweat resistant, and designed for sensitive skin. I also like that Mineral Hygienics is Made in the USA!
Buy Mineral Hygienics
You can buy Mineral Hygienics with peace of mind with their 45-day money-back guarantee on all starter kits. If you want to start using mineral makeup now, I recommend the Mineral Hygienics Starter Kit. If you are unsure still, try the mini starter kits that are under $30. Plus, during the month of May 2011, you can get free shipping on any size order by using Mineral Hygienics Coupon Code FREEMAYSHIP, expires 5/31/11
Win Mineral Hygienics Mini Starter Kit (Cl0sed)
Updated: 6/2/11 Winner Announced: Congratulations, Sarina Roy, entry #10.
Mineral Hygienics is offering you the chance to win your own Mini Starter Kit of your choice.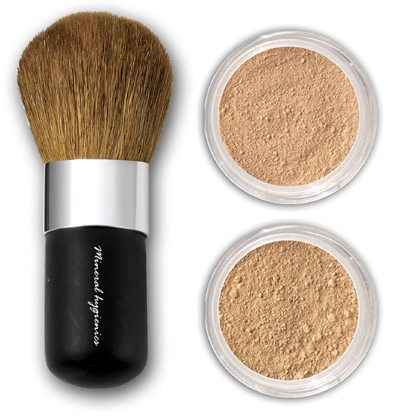 Medium Mini Starter Kit is $29.99, a savings of over $45. Kit includes: 2 shades of Mineral Hygienics SPF Foundation, Full Coverage Kabuki Brush, and Detailed How-To Guide.
Important Links to enter this contest:
AkronOhioMoms.com on Twitter
AkronOhioMoms.com Google Friend Connect
Subscribe to AkronOhioMoms.com RSS
Mineral Hygienics website

What's with the NEW Contest Entry Form?
We are trying to make it easier and more efficient for you to enter to win our contests. This is a TEST, we would love your input, email me at cindy@akronohiomoms.com.
Use this entry form instead of adding comments as entries.
To Enter, you MUST add your name, email address, and answer the mandatory question (your first time through).
For Extra "Social Entries", simply click on the appropriate boxes (only do this once too).
For Extra "Action Entries", you may only select one action entry per form. If you choose to do multiple entries, you will have to come back to the form, add your name and email address and proceed directly to "Action Entries".
You only need to click on the action entry once, even if it gives you multiple entries. This is unlike the other system where you needed 1 comment per extra entry. This should save you lots of time!
HIT Submit at bottom of the form when you have completed entries.
For complete contest rules, please see our Contest Statement and Blog Disclosure.
Contest ends at 11:59pm EST on June 1, 2011 when a winner will be drawn at random. I will notify the winners and they will have 36 hours to respond!
This was not a paid post. My own opinions were used based on my perceptions and experience. Thank you to Mineral Hygienics who provided the products for review and giveaway.