I'm always on the look-out for easy ways to help others in need. One such way is through store donation bins. Recently, Champions for Kids, General Mills, Kellogg's, Emerald and Kettle Chips have teamed up to make it even easier for consumers to donate basic products to kids in needs through in-store donations.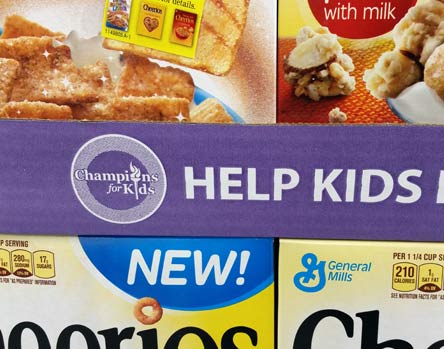 This is a sponsored post for Champions for Kids.
Help Kids Locally with Champions for Kids and Walmart
I had the privilege to sign three local charities up to partner with Champions for Kids at 3 local Walmart stores. The Haven of Rest is assigned to the Walmart in Stow, Ohio. The Access Women's Shelter is assigned to Macedonia Walmart. The Streetsboro Walmart is now partnered with the Streetsboro Christian Cupboard.
There will be opportunities for you to make in-store donations through the Champions for Kids SIMPLE Giving program throughout the year. Shopping and giving at these local stores will help the neediest of those in Summit County. When you see bins like this one, please donate an item or two to help kids in your community.
I personally had the opportunity this month to start the giving during their Snacks for Students program.  This program is to bring attention to the more than 16 million American children who live in poverty.
I was able to ask the local charities what they needed most. All 3 said they could use individually sized snacks!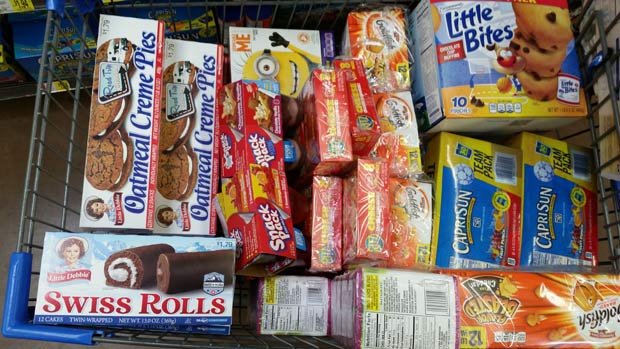 Walmart has great prices on everything, including snacks, so I was able to get a cart load!
The Haven of Rest has a real need right now for diapers too. If you stop by the Stow, Ohio location and see the bin, consider adding snacks and diapers to it! Or, they have drop-off hours at 207 East Market St. in Akron Monday-Friday 8am – 6pm and Saturday 9am – 5pm.
Access Women's Shelter also needs individually wrapped snacks as well as pillows and full sized bottles of shampoo and conditioner. Please consider donating items at the local Macedonia, Ohio Walmart in the Champions for Kids bin during the next campaign drive. Or, schedule a drop-off at 230 West Market Street in Akron by calling 330-376-0997.
If you shop at Streetsboro Walmart, consider donating items to the local food bank, Streetsboro Christian Cupboard. They can always use family-sized food as well as snacks! They said they always need Ramen Noodles too! You can also donate by contacting them at 330-626-3244.
If you are not local to the stores mentioned above, there are over 3,600 Walmart stores participating. Find a store near you that has partnered with local charities so you can help too.
Besides giving consumers an easy and simple way to donate, Champions for Kids, General Mills, Kellogg's, Emerald and Kettle Chips are giving out 13 awards worth $45,000 to the non-profit organizations participating in the Snacks for Students Program.
Connect with others that want to make a difference in their home town with the Champions for Kids social media using #SnacksForStudents on Twitter and Facebook.