It is official! I was voted America's Favorite Pillsbury Crescent Cook! I'm soaring with excitement! I can't believe it! I have never won anything, let alone something this exciting! I owe it all to my blog followers who voted, and spread the word with twitter and facebook! Thank you all so very much!
Sally Wood from Vancouver, WA was the voter that also won $5,000 just for voting. I wonder if she voted for me?
The Cheesy Brie Buttons Video Recipe won the $1,000, didn't see the name but she is from Chicago.
How many of you have actually tried my Perfect Potato Pockets or Cheesecake Bars?
I know I had a lot of votes but how many of you have actually tried my Perfect Potato Pockets or Cheesecake Bars? I hope you liked them, my family is sick of them! HA HA I promise to not push another Perfect Potato Pocket or Chocolate Cheesecake Bar onto my family or friends for a long time! LOL If you were at any social function that I was at these past several months or even invited to my house or lived next door, you are probably tired of my potato pockets and cheesecake bars! And I promise not to hand out stacks of recipe cards to friends and family to pass out. I promise to stop passing out recipe cards to clerks at stores, librarians, drive thru employees, bus drivers, teachers, and people standing in the same shopping line as me! As you can see, this contest consumed my life since last Fall! It was a fun journey and I can't thank my family enough for all their support, encouragement and help in spreading the word about the contest. Thanks everyone!
What I will do with the Pillsbury Prize Money
As I mentioned in previous posts, I plan to use my $5,000 prize money to start the remodel of my kitchen! My current kitchen is outdated with poorly working appliances from 1950 with no flooring. (Picture below has carpet but I hastily removed it and now it is concrete! I have not patience! ha!)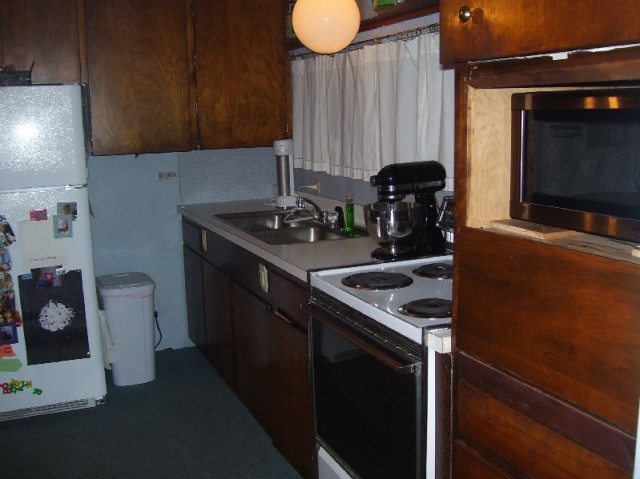 With an active family of 4, I need a kitchen that is not only functional but also the hub for family activities! We love cooking and baking together, so a new kitchen will make a huge impact on my family.
Kitchen Sponsors for Total Home Remodel Project
I am currently seeking Kitchen Sponsors! Are you affiliated with a company in the kitchen industry? In exchange for detailed posts on my blog, guest blogging on related sites and your site, I would love to feature your products in my kitchen for the Total Home Remodel Project!
Current Total Home Remodel Kitchen Sponsors
I currently have 2 sponsors for the Total Home Remodel Kitchen Project. Moms, you are going to love learning about these fabulous products that are designed with not only the family but kids in mind. Lots of safety and convenience features. I will be sharing information in future posts about the following companies.
Flooring Sponsor:
Tarkett is the sponsor of the kitchen and dining room flooring. We will be installing Laminate from their Cross Country division Seagrass Japanese a beautiful flooring with exceptional performance and value.
Stovetop Sponsor:
Kenyon Custom
Floridian All Seasons™ Built-In Electric Grill is virtually smokeless and never produces any flare ups, gives you on-the-grill taste year round in the comforts of your kitchen!
Lite-Touch™ Control Electric Ceramic Cooktop is a state-of-the-art cooktop technology with burners safe enough to touch because of induction technology! Perfect for any home with kids!
Updated 8/2017
My completed kitchen! Learn about all our kitchen makeover with this series of posts. We love our CliqStudios cabinets!