Yes, I work from my house.  There's no big fancy 7 Million dollar AkronOhioMoms.com facility on West Market Street, there's no cleaning staff, and there is certainly no on site childcare.  And the paychecks from AkronOhioMoms?  Well lets just say they aren't paying the rent just yet…  But I've found my future in the OfficePOD!
Working from Home
Employers are growing more and more accustomed to allowing workers to work from home because of the digital world that we live in,  but not all that keen on seeing that time spent in the kitchen, in the bathroom, or in taking care of your own children.  The first time your boss hears a toilet flush during a conference call, well, it might not be pretty…
A company called OfficePOD out of the UK is offering a new concept for the work at home crowd that involves creating a separate work space on your property.  Named after the company, the, well, room is an OfficePOD.  Unfortunately, because I am tied to my children at several appendages, this would not work for me just yet…

An OfficePOD as a backyard office?
An OfficePOD is basically a beautiful, upscale, windowed Cubicle that you set in your yard!  Each OfficePOD comes decked out with beautiful storage and desk space, and a heating/ ventilation and air conditioning unit that can be controlled remotely from the house.   With Skype and other digital online collaboration tools- this makes sense nowadays.
Stephen Tanner of OfficePOD says that it can be installed in about a day.  It requires a power line to be taken to the unit, and it needs to sit on a solid level base like a concrete slab.
Why I want an OfficePOD for my husband
I love the fact that my husband gets to work from home consistently as a web developer.   We have a separate room that is a home office, but, of course, my children know how to find him at any time.  There is no great isolation barrier like an extra flight of stairs, a long hallway, or whatnot.  I know that he has to suffer with the occasional blood curdling scream, requests to review the latest crayon artwork, and requests to play.  To get work done during the day instead of extending it to all hours, he needs a clean break between home and work.
An OfficePOD would totally solve that problem!  We have seen several custom designed backyard offices, but nothing that comes ready to be installed!
I like the Look
The clean lines of an OfficePOD go beyond the simple imitations that our house attempts to personify in the Frank Lloyd Wright style.   The large windowed wall would go perfect in our wooded backyard.  My only worry would be the mid-winter hike to the office!  I ran out of time to photoshop one of these babies into our backyard- alas to dream…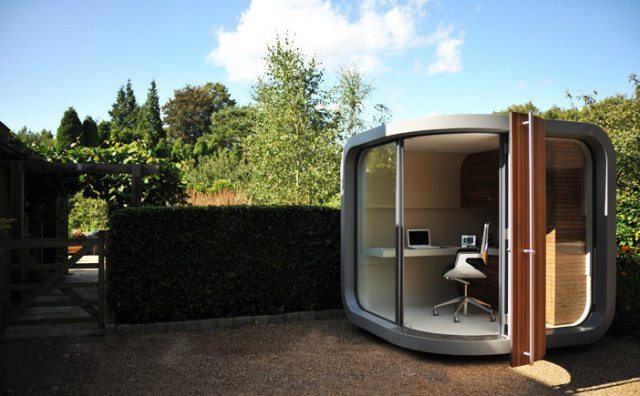 For more information about the OfficePOD, its potential positive environmental impacts (no commute) and more,
visit OfficePOD's website to find your own backyard office.