Are you looking for edgy kids clothes? Something contemporary, more modern and even considered couture? Look no further than Appaman. I received a couple Appaman pieces for my 6 year old daughter Elizabeth to review for this post. Appaman is a contemporary line of kids clothing inspired by the styles and culture of NYC.  This modern line for boys and girls will give your child a style of their own – like nothing at retailers nearby.
Appaman clothing can definitely be considered couture as it is seen on many, many celebrity kids.  Your child can look easily as trend-setting with an assortment of both boys and girls styles.
Check out these gorgeous little rock stars wearing Appaman clothing. 🙂 Who says "there are no real clothing choices for boys"?
[slickr-flickr tag=appamanboys]
There are equally as many creative, fun clothing choices for the modern girl with Appaman as well.
[slickr-flickr tag=appamangirls]
Every Appaman clothing has the adorable ape logo that my daughter loves. It is a cute logo that is rich in meaning. The founder of Appaman, Herald Husum grew up in Norway and had a corduroy ape friend named Appaman. Appaman clothing reflects the carefree nature of his childhood in design and styles, thus, the name and logo.
Appaman Clothing Review
My daughter loves the adorable Masked Bunny Grammercy Tee. It shows off her creativity and sense of adventure perfectly. Who saves a super hero bunny or girl can't save the world? With Appaman, anything is possible!

The Softie Shorts match perfectly adding a little burst of color to any girl's wardrobe. Whether paired with a tee or over a leotard, my girl loves the French terry shorts.
The pockets in front are a bonus for storing everything little girls need to store like notes, jewels, and Dora toys.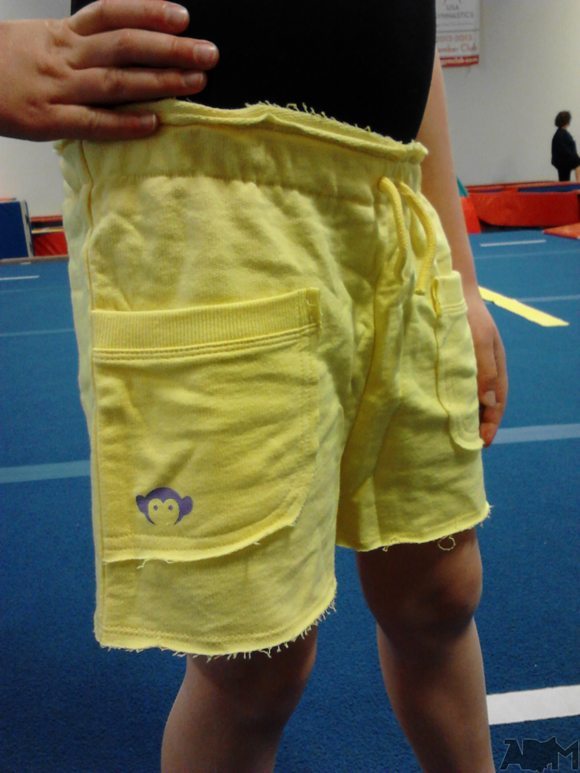 The Appaman Tankini Bathing Suit Set is so adorable and super comfy. It comes in a coral pink color combination that is my daughter's favorite. I like that it provides coverage yet is fun with the halter top style and open back.

She likes it because it is a 2-piece and she thinks the ape is adorable on the bottoms.  Made of 82% nylon and 18% elastane, it has held up perfectly since she's worn it 1/2 dozen times so far.
Like Appaman on Facebook
Follow Appaman on Twitter
You can buy Appaman apparel in stores and online. The closet store to the Akron, OH area is Children's Loft in Youngstown, OH. There are a number of online stores to choose from.
This was not a paid post. My own opinions were used based on my perceptions and experience. Thank you to Appaman who provided the product for review.