Are you keeping warm this Winter? With temps dipping below 0, it is hard to get and stay warm. Although you may be tempted to crank up your furnace, it can get quite expensive to heat up your entire house to a comfortable temperature. That's why we use our Dyson Hot + Cool fan heater in the rooms we frequent, like the family room and dining room.
I received product to facilitate this post.
Dyson Hot + Cool Video Review
Check out my quick video review of the Dyson Hot + Cool to see and hear how it works.

Dyson Hot + Cool Review
Mornings are extra cold in our home, so I use the Dyson Hot + Cool in our dining room so my kids can enjoy breakfast without freezing. The Hot + Cool is the fastest whole room heater, heating up your room quickly and quietly. I really appreciate how quickly it heats up in the mornings especially for my kids.
The way it provides an even heat is because of Air Multiplier technology. This technology draws in 25% more air and amplifies the air to project the heat further than conventional fan heaters. (In the Summer, it uses the same technology to cool rooms by drawing in 6 gallons of air per second!)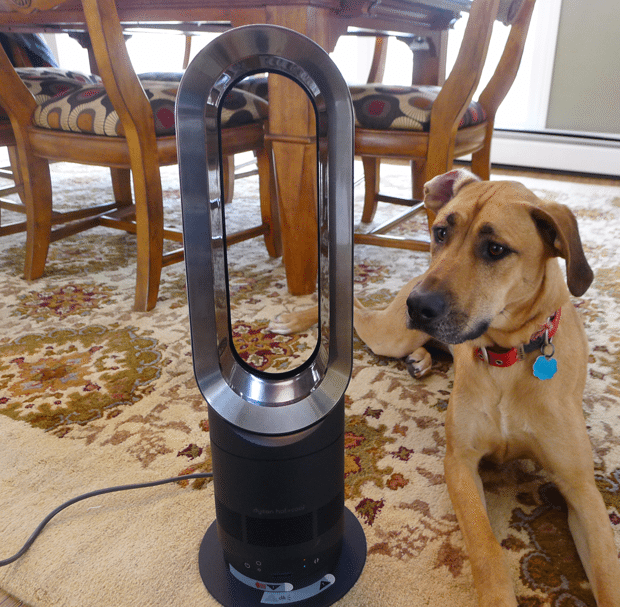 The reason we don't crank up our furnaces up to 80 degrees in the Winter is usually because of energy costs. Some may argue that fans take energy as well. This is not a concern with the Dyson Hot + Cool because it uses 30% less energy to heat an entire room than other fan heaters – and can reduce your energy bills by 20% when it is used with your A/C in the Summer. Don't you just love energy efficient products?
We spend most of our family time together in our living room, so that is where the Dyson Hot + Cool is most of the time. It is quiet enough to not disturb movie night and safe to be used around kids and pets.
Since there are no spinning blades, you don't have to worry about fingers – or tails – getting caught in the fan. The blade-less design makes it easy to clean too.
I have had many, many personal and room heaters over the years. (Cold hands, warm heart!)  I've had some that heat up so fast that it burns you up, then when I'd turn it down, I'd freeze. I've had others that leave a burning smell and odor when used.  Some only would last a few months and die on me.
The Dyson Hot + Cool goes above and beyond other fan heaters I've tried. It heats up rooms evenly and fast. There is no burning smell or odor – dust can't even burn because it never exceeds 392 °F – the point in which dust burns. Plus, it has a 2 year parts and labor warranty.
I can't wait to see how well the Dyson Hot + Cool cools in the Spring and Summer. The slim profile makes it an unobtrusive and quite stylish fixture in our home all year long.
You can purchase the Dyson Hot + Cool at retailers nationwide and on Amazon.com.