**Updated 5/20/15**
Who is your hero? Is there someone in your life that inspires you and makes a difference in your life like no other?  Now is your chance to show your appreciation for your hero while entering for a chance to win Maytag appliances with the Maytag Salutes Sweepstakes!
Now through May 31, 2015, hhgregg and Maytag are giving away $45,000 in Maytag brand appliances with the Everyday Heroes Sweepstakes with winners every single day!
This is a sponsored post for Maytag.
Enter Everyday Heroes Sweepstakes
It is easy to enter the Everyday Heroes Sweepstakes with plenty of opportunities for extra entries. Simply Register to win daily, Nominate your Maytag Hero, and Share the Maytag Home Video for entries every day.
You can gain up to 5 entries every single day through 4 ways:
Do all of the above every day for extra entries into Everyday Heroes Sweepstakes! The more days you enter, the better your chances of winning!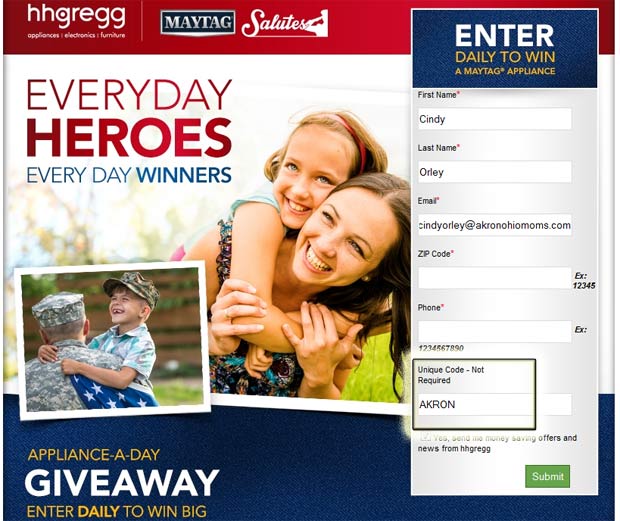 Be sure to enter "AKRON" in the sweepstakes entry form every time to show you are an AkronOhioMoms fan too! (See above)
Everyday Heroes Sweepstakes PRIZES
There are so many prizes being given away every day in May as well as fabulous Grand Prizes at the end of the month. See the full prize list here.
The Grand Prizes of the Everyday Heroes Sweepstakes include:
Daily Prizes include:
Nominate a Hero
**Nomination period ended May 18, 2015.**
Who is your hero? Tell the world between now and May 18th for a chance for your hero to win a Maytag brand appliance of their choice and a $100 hhgregg gift card!  Once you nominate your hero, be sure to vote for them and get your friends and family to do the same. The top 7 heroes will win!
I was a bit surprised when I thought about who my hero was and realized quite quickly that it is my 10 year old son was diagnosed with Type 1 Diabetes 11 months ago.
He is my hero because he has endured hundreds of shots, thousands of finger pricks, the added responsibility of caring for blood sugar lows and highs on his own at school, all while being a 4th grader with a big smile on his face. He has been so strong, so brave, so responsible, never asking "why me?" but has accepted this incurable disease as something that makes him special since only 1 in 500 kids have Type 1 Diabetes. His bravery and positive attitude makes him my hero. Although he doesn't need any of the above Maytag prizes, he deserves the recognition. I'm sure he could find something really cool at hhgregg to spend the $100 gift card on if he won!
Enter the Everyday Heroes Sweepstakes
Be sure to enter the Everyday Heroes Sweepstakes daily using the "Unique Code" AKRON every day for your chance to win fantastic prizes from Maytag and hhgregg. Tell your friends and family!