I used to buy bottled water and grab a few for myself and family when we would get in the car. Feeling bad about all the plastic waste, I stopped buying bottled water. I have purchased several other bottles for water, however more times than not, when I am in a hurry, I don't take time to fill the bottles. Plus, we like filtered water, not tap water. Sometimes, I grab a soda for me and juice boxes for my kids – not a healthy alternative. We have been drinking less water.
I'm excited to tell you about the new Filtrete Water Station. Honestly, it is exactly what I needed – something to filter water fast and store easily for my family. With the Filtrete, I can filter water into 4 bottles in just a couple minutes, then either grab and go or put in the fridge until needed.
How Filtrete Water Station Works
There are 4 BPA free water bottles included int eh Filtrete System. You can fill one, two, three, or all 4 bottles at the same time. Attach the # of bottles you wish to fill to the Filtrete Water Station.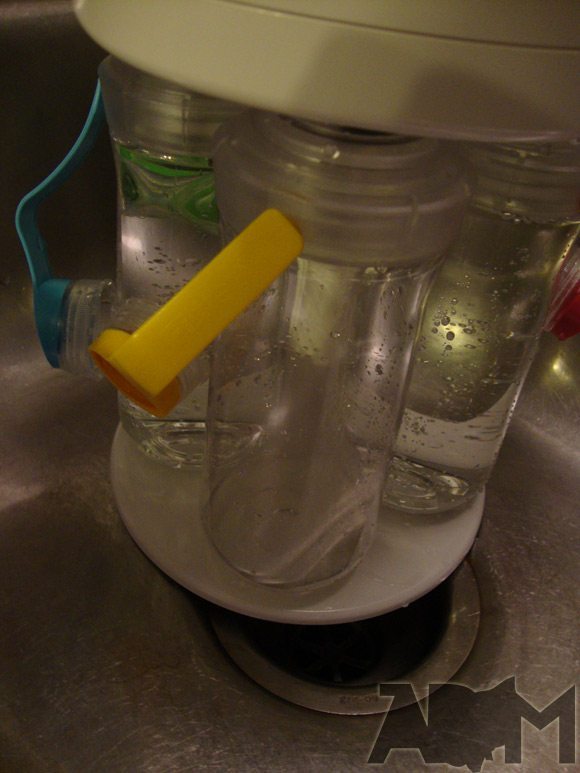 There are 4 spots that the bottles snap into. Run water from your tap or pour a pitcher of water into the reservoir. The water filters through quickly into 1-4 bottles at the same time. If you run the tap water at a medium speed, you should be able to turn your faucet on and walk way for a couple minutes and come back to 4 fresh bottles of filtered water. The Filtrete filters the water quickly. The reservoir holds about 1-2 bottles of water at a time, so it doesn't hold enough water at one time to fill all 4 bottles.
How to use Filtrete Water Station Video
I also like that the BPA free bottles are dishwasher safe. You can reuse the water bottles over and over, which saves up to 3,000 ordinary plastic bottles from landfills per year!
The Filtrete Water Station has allowed my family to save money by not buying pre-bottled water or other drinks. Plus, it is an easy solution for my family to drink healthier and be healthier. If healthy drinks and snacks are within easy reach, my family is more likely to go for it.
Plus, the bottles are labeled with 4 different color tops. Each person in my family has their own color. This helps my 5 & & year old kids from not fighting over whose bottles is whose AND keeps us from passing our germs around – especially helpful during this cold and flu season.
As a busy mom that is trying her best to provide my family with healthy choices, the Filtere system is already working for me.
Buy Filtrete Water Station
You can buy Filtrete Water Station on the Filtrete website or on Amazon.com. Click here for a $5 off Filtrete coupon valid now through December 31, 2011.
I wrote this review while participating in a blog tour by Mom Central Consulting on behalf of Filtrete and received a product sample to facilitate my review.