We're pretty dog crazy here at AkronOhioMoms.com!  We love our furry friends, but don't love the messes they leave behind when their paws and bodies are wet or muddy.  Soggy Doggy's Doormats and Super Shammys claim they can reduce this mess with their patented micro-fiber chenile product line.  I was happy to put their products to the test, and was given a large Soggy Doggy Doormat and Super Shammy to facilitate my review.
Soggy Doggy Doormats
With two dogs in my home, I see way too many wet, dirty paw prints showing up on my floors when our dogs come in from outside-even after drying them with a towel.  It is downright frustrating!  I mean, I love spring and summer, but absolutely DREAD the rainy days.  Experience tells me that by the end of a rainy day, my floors will look like a doggy paw print art class gone bad.  Can you relate?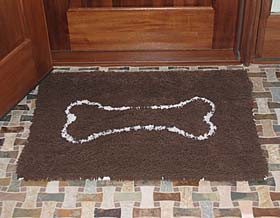 I was anxious to test Soggy Doggy Doormat's claims that their specially designed doormats absorb five times more water than your usual cotton towel or mat.  So when our doormat arrived, I quickly unpacked it, and laid it down on the laundry room floor right where our dogs usual enter and exit the house.  My first observation was how soft and lofty the mat was.  It is made up of hundreds of micro-chenile "noodles,"  designed to devour moisture and dirt.  My second thought was how cute it was.  The simple dog bone graphic and nice, neutral tones made me feel that I would enjoy having it used almost anywhere in our house – in the laundry room, at the back patio door, or even the front door.
Our two dogs quickly gave the doormat their paw print stamp of approval as well – it became a favorite nap spot for both of them the day I laid the doormat down.  It's funny to watch our two dogs try to beat one another to the soggy doggy doormat after a good romp outside.
I think our puppy, who still gets crated when we leave the house, would love to have a soggy doggy doormat as a bed inside his crate.  Since Soggy Doggy makes a small and a large size doormat, I may just have to order a small one for inside his crate.  🙂
Does the Soggy Doggy Doormat Really Work?
"SO…Does the Soggy Doggy Doormat really save your floors from wet, dirty paws," you ask?  The answer is YES!  Those lofty shag loops swallow up wetness on the dogs' feet almost immediately.   The mat traps dirt and grime too.  I notice less build up of dirt on the tile  floor around the mat too.  A doormat that devours doggy wetness and dirt as well as grime brought in by us humans?  That makes me one happy momma!
After washing the Soggy Doggy Doormat, I realized another feature I love about the mat – its unique grippers on the back side.  Unlike most doormats that have an inflexible rubber backing adhered to the entire backside, Soggy Doggy Doormats have channels of flexible rubber gripping.  They work just as effectively as the traditional grippers, but feel soft and completely flexible.  My guess is that they will hold up better over time as well.  I have had more than one rubber-backed rug that had to be thrown out because the rubber backing became brittle and crumbly.
 Soggy Doggy Super Shammy
The Soggy Doggy Chamois is touted to absorb seven times the moisture of a regular cotton towel; that alone sounds wonderful, but it also has a cool design too.  The chamois has a "pocket" on each end, made to hold your hands.
This allows you to dry your dog quickly and effectively, making use of the entire surface of the chamois, while keeping your hands clean and dry.
I don't know about your dogs, but when my dogs have been bathed or are wet from being outside, they wont to sit still for long.  The faster we can dry them off, the better.  Except with the Soggy Doggy Super Shammy, my dogs LOVE to get a rub down with its super-soft loops.  For the first time ever, our impatient, frisky one year old sits patiently while we run the Super Shammy along his wet body.  It's as if he feels like he's at the spa.  And with very little effort, he's only slightly damp to the touch…even after a bath.  Never thought I'd say this about a dog-drying towel, but I'm in L<3VE!
Buy Soggy Doggy Doormats and Super Shammys & Special Coupon Code for AOM Readers
You can buy Soggy Doggy Products on their website.  Right now they are offering a special coupon code for AkronOhioMom.com readers – use the code AKRON15 at checkout, and receive 15% off your total purchase.
Soggy Doggy products can also be purchased from online retailers like Amazon.com.
Win A Soggy Doggy Large Doormat
The dog-lovers at Soggy Doggy have generously offered to give away one large Soggy Doggy Doormat ($40 value) to an AkronOhioMoms.com reader.  Winner can pick the  color they prefer out of Soggy Doggy's in-stock selection.
This promotion is in no way sponsored, endorsed or administered by, or associated with, Facebook. In order to comply with the latest Facebook Promotion Guidelines (revised 5/11/11), the following statements are true:
* Giveaway participants release Facebook from any responsibility whatsoever.
* Giveaways on this blog are in no way sponsored, endorsed or administered by, or associated with, Facebook.
* Giveaway participants are providing information to this blog and giveaway sponsors only; not to Facebook.
30 Day Winning Rule applies. For complete contest rules, please see our Contest Statement and Blog Disclosure.
Contest ends at 11:59 pm EST on June 20, 2013 when a winner will be drawn at random. I will notify the winners and they will have 36 hours to respond or another winner will be selected!
This was not a paid post. My own opinions were used based on my perceptions and experience. Thank you to Soggy Doggy who provided the products for review and giveaway.