Take control of clutter and become an organized queen with Post-it Brand products. From your home, to school, to the office, Post-it Brand has products to keep you organized and on track. We can't use a little more organization or order? I know I can, especially with the new school year! I was lucky enough to sample the Post-it Back-to-School Organizational Kit. It has everything that parents and students need for the school year.
Post-it Pockets
What are Post-it Pockets? They are handy folder-like pockets that you can stick pretty much anywhere. They are perfect inside cabinets, on the door, next to your desk, or file cabinet, etc. They are great for for keeping papers that you need all the time on hand in one easy spot.
I immediately used it for my kids' weekly school schedule, ideas for healthy snacks for school, etc. I put it on the inside of my kitchen cabinet. I have one for each child. I also add their Scholastic Book forms and papers that need signed, etc there so I don't forget them. It really keeps my counter and fridge cleaner too! I love products that help me stay better organized.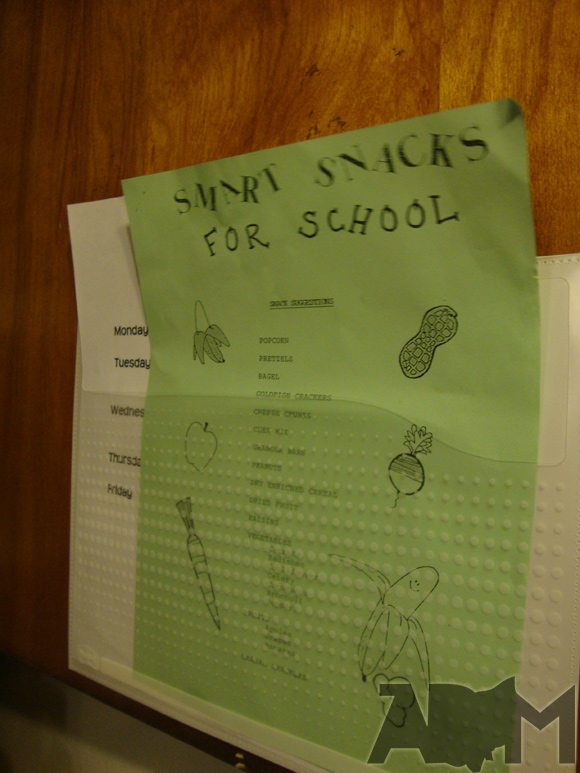 Post-it Notes
I use Post-it Notes all the time for reminders, kids lunch box notes, and keeping me on task. I really enjoy products that keep me organized in a fun way. Post-it Notes come in a variety of sizes, colors, and shapes. Now, they have New Jewel Pop Colors to match the latest in fashion and home decor trends. There is one for every need and mood. There are many pop-up dispensers that make it easier to grab a post-it whenever you need one. The dispensers come in various shapes for the desktop as well as wall-mounted pop-up note dispensers, and even laptop note dispensers.
I was just introduced to the magnetic backed Post-it Notes for those larger reminders, lists, and more. I keep mine on the fridge for grocery lists, packing lists, home remodeling lists, honey do lists, daily tasks, and more.
I also like the weekly Calendar Post-it Notes. With these, you can keep your family on track with this week's activities, events, homework, projects, and chores! It's easy to place anywhere convenient for everyone to see and do! I can see this being really handy for college students too!
Post-it Brand for Schools and Office
There is a large variety of Post-it Brand products that make it easier to stay organized and focused at schools and the office. There are many Post-it flags, tabs, and labels to organize your paperwork, boxes, files, and more in various sizes and colors. Being Post-it brand, you know it will stick securely without damaging the paper it is stuck to! Some you can write on, and others you don't for just marking your spot, color coding a project, etc.
I found quite a few Post-it Brand products that I thought would be very good for teachers. I think Post-it Brand products make a practical and useful gifts for teachers. The above flags, tabs, and Post-it notes as well as writing tools and labels. Teachers are so important, why not help them out with products they can use to help them stay organized? We all know that teachers love their jobs and students so much that they end up using their own funds a lot of the time, giving a product that can actually help them is a great idea – that and gift cards! I gave Elijah's teacher a pack of Post-it Brand products the first week of school, I think she was a little surprised. Don't you love surprising people with thoughtful little gestures just because? Plus, Post-it Brand products are so affordable.
[slickr-flickr tag=postitbrand]
Post-it PopNotes App
For iPhone and iPad users, there are even Post-its for you! Post-it PopNotes App is available to download for free at the iTunes App Store. The   Post-it PopNotes are available in 9 fun Post-it Note colors. What can you do with Post-it PopNotes? Anything, there are no limits. You can create notes and share them, share reviews, leave a note at stores, restaurants, airports and more for other people or as a reminder for yourself, find notes from other people about businesses, etc
Buy Post-it Brand Products and Get Post-it Coupons
Join Post-it Perks for great coupons, samples, promotions, and more.
You can buy Post-it Brand products at retailers nationwide as well as on Amazon.com.
]
Don't forget your kid's teacher!
Post-it on Facebook
This was not a paid post. My own opinions were used based on my perceptions and experience. Thank you to 3M Post-it Brand who provided the products for review.