If you have been looking for a product line that is both Free & Clear as well as Natural, I've found the solution for you. Let me introduce to you Seventh Generation Free & Clear Natural Cleaning Products. Products that are hypoallergenic and made of natural ingredients are no longer difficult to find. Seventh Generation offers a complete line of Natural cleaning products with an entire line that is Free & Clear for us sensitive types. Seventh Generation has been providing non-toxic products that are safe for the environment for 20 years, long before it was the "popular" thing to do.  The best part is that the products work just as well as their counterparts and they are easy to find at major retailers and natural products stores nationwide.
Below is just a sampling of the Seventh Generation Free & Clear Natural Cleaning Products available. Seventh Generation provides Natural Products, Natural Free & Clear Products, and Natural Baby products. You can shop with confidence knowing Seventh Generation products are safe for your family and safe for the environment.
Natural Kitchen Cleaning Products that are also Free & Clear
The one place that I am extra picky about cleanliness is the kitchen. This is the hub of my house where kids play, people gather, and of course where dinner is prepared. I want to know that my kitchen is clean and safe for everyone. I want to know that my counters are not clinging on to the harmful toxic chemicals leftover from cleaning products when my kids grab a snack on the counter. With Seventh Generation Natural cleaning products, I know my kitchen is clean and safe.
The Natural Multi-Surface Concentrated Cleaner ($4.99) is non-toxic, biodegradable, and hypoallergenic. This product doesn't irritate my hands when I use it.  This is a good thing because I hardly ever use gloves when cleaning. It really does a nice job cleaning up the counters, stove top, and even the sink. This products is one of those products that can clean up messes on just about any surface. The solution is concentrated so you don't need to use much.
The Free & Clear Natural Dish Liquid ($3.99) works great on even greasy dishes. I primarily use my dishwasher but for large items or super messy dishes, I have to hand wash. I liked that this product has no scent and was gentle on my hands. Some other products have left my hands feeling like I was washing in bleach. The natural Cornstarch-derived Water Softener actually softens hard water which is good for us with well water, it is safe for septic systems too.
The Automatic Dishwasher Detergent Pacs ($4.99) are convenient pre-measured pacs that you just pop in the dishwasher. They are Chlorine and Phosphate Free and the box is made up 100% recycle materials. I love the idea of these single use pacs, however my dishwasher is very old and it do not work well with this type of product. I've tried several other brands as well. However, I gave this to my mother-in-law to try and she said they work very well and deliver a spot free, clean load of dishes everytime.
Natural Laundry Detergent and Natural  Fabric Softener
Being a red-head, I have sensitive skin. My son also has very sensitive skin. We've even had issues with products labeled Free & Clear and develop rashes. I started by just washing 1 load of clothes with the Seventh Generation Free & Clear Natural 2X Concentrated Laundry Detergent ($6.99) and Natural  Fabric Softener ($5.99). When there was no reaction, I continued.
We've use these products for 3 weeks now and love it. It is absolutely free of any dyes or fragrances, hypoallergenic, biodegradable, and free of phosphates & optical brighteners. The bottles look rather small at 32 and 40 oz, however I've been using these products for 3 weeks and still have about 1/2 of the product left. I also like that it is for both HE and Standard washers.
I also have had good success with the Natural Fabric Softener Sheets ($4.99) which also contain no scent with the Free & Clear product. Not only do the sheet provide a static free and softened clothes but after use, the sheets are recyclable or compostable. Remember, if you do enjoy a scent, Seventh Generation does provide products that are not Free & Clear as well.
Natural Bathroom Cleaners
The second most important room that I want to ensure is clean is my bathroom.  If you are a mom, you know that bathrooms are not just for cleaning up but to kids, bathrooms is another playroom when it comes to bathtime!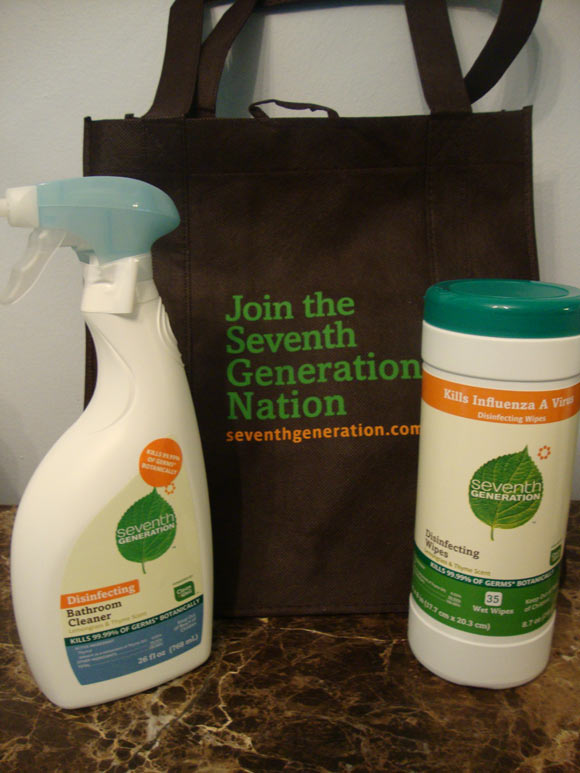 The Natural Disinfecting Bathroom Cleaner ($6.99) naturally kills over 99.99% of household germs, including Influenza A, H1N1, Staphylococcus aureus, Salmonella enterica, Pseudomonas aeruginosa and Escherichia coli on hard, nonporous surfaces. It has a mild, earthy scent of Lemongrass & Thyme which is like a breath of fresh air in the bathroom compared to harsh chemical smells normally associated with a clean bathroom. The  Disinfecting Wipes ($5.75) also kill 99.99% of household germs in an easy, convenient form. I like to use these daily just to touch up the bathroom, especially the toilet flush handle.
Seventh Generation has natural cleaning products for the entire home
The following products are great for the entire house.
The Free & Clear Natural Glass & Surface Cleaner ($4.99) really impressed me. I normally like only Windex for cleaning my glass surfaces but this product really delivers a streak-free shine. The Plant-derived Cleaning Agent gives great results without harmful smelling fumes.
The Natural All Purpose Cleaner ($4.99) is worth stocking up on as it can be used practically everywhere inside and outside the home.  It delivers a clean surface without fumes. The products is non-toxic,  biodegradable, and hypo-allergenic.
Also stock up on the 100% Recycled Paper Towels ($2.29) that are made of 100% recycled paper which saves a ton of trees from being cut down. These paper towels work well for cleaning and wiping up spills.
Buy Seventh Generation Natural Cleaning Products
Seventh Generation Products are available nationwide at retailers of all kinds including Target, Walgreens, Giant Eagle, local independent stores, and more. Enter your zip code for the store nearest you on their online form. Visit the SEventh Generation website store for all your product needs. Also check out their Seventh Generation Coupons here where you can get $1 off coupons.
You can also buy all of your Seventh Generation products on Amazon.com including my favorites by clicking here: Disinfecting Multi-Surface Cleaner, Free & Clear All-Purpose Cleaner, Natural Kitchen Cleaner
, Disinfecting Wipes, Bathroom Cleaner, Free and Clear Natural Glass and Surface Cleaner, and Free & Clear 48 fl. oz. Dish Liquid.
Win Seventh Generation Free & Clear Natural Cleaning Product Prize Pack (Closed)
Updated: 6/8/10 Winner Announced: Congratulations, Tiffany Schmidt!You have 36 hours to respond to the email sent to you. Thanks to all who entered. Please check out Seventh Generation cleaning products.
Seventh Generation has generously offered one lucky winner a whole house collection of Free & Clear Natural Cleaning products valued at $60! All products pictured above!
ENTRY #1: You must visit the Seventh Generation website and leave one comment below on what you learned about Seventh Generation products.
---
Extra Entries (do as many as you wish and leave a corresponding comment below) Please be sure to do Entry #1 above or all extra entries do not qualify.
For 5 entries, blog about this giveaway on your website and link back to this article and to Seventh Generation website.
"Like" Seventh Generation on Facebook (posting a comment is appreciated but not required).
"Like" AkronOhioMoms.com on Facebook (posting a comment is appreciated but not required).
For 3 entries, comment on any Total House Remodel post
Yahoo Buzz this post with button on top of screen
Google Buzz this post with button on top of screen
Stumble Upon this post with button on top of screen
Follow AkronOhioMoms on twitter and tweet about this giveaway. You can Tweet once a day for an extra entry every day! You can copy and paste: Win $60 Natural Cleaning products from Seventh Generation http://tinyurl.com/26tfs8s #contest #sweepstakes #free
Follow Seventh Generation on twitter and tell them that AkronOhioMoms.com sent you.
Vote for AkronOhioMoms.com on Top Baby Blogs by clicking here ( just click here, then click on the phrase "Cast A Vote", nothing else required)
Rate my site on Top 100 Mommy Blogs.
Become an AkronOhioMoms member by joining us with Google Friend Connect (on the right sidebar).
For complete contest rules, please see our Contest Statement and Blog Disclosure. If you ever have any questions on entering to win, just ask cindy@ akronohiomoms .com.
Contest ends at 11:59pm EST on July 6, 2010 when a winner will be drawn at random and announced the next day. When commenting, please include your email address (not visible to public). I will notify the winners and they will have 36 hours to respond!
This was not a paid post. My own opinions were used based on my perceptions and experience. Thank you to Seventh Generation who provided products for review & giveaway.