I grew up thinking that soap suds in your hair, laundry, and general washing equaled clean. Times and technology has changed and improved in a major way. We now know that you don't need suds, in fact too many suds is causes the new HE low water-use washing machines are damaging washers and not even getting the clothes clean!
After years of research, Jon Charles has invited a laundry detergent formula that cleans clothing and protects washing machines with zero suds called Rosalie's Zero Suds. This is how it works:
I received product to facilitate this post.
Rosalie's Zero Suds Review
I've given Rosalie's Zero Suds a full review, trying it out for the past month on all of my laundry.  I started using it on our dark laundry and it did a great job. Next, I tried it on our brights and whites which are a little tougher to clean. Everything came out fresh and clean. Next, I used Zero Suds on our towels, they came out clean, soft, and fresh. I've used Zero Suds for all of our bedding as well. I even used it to clean a rug that our puppy had an accident on, this was the true test, and it came out clean.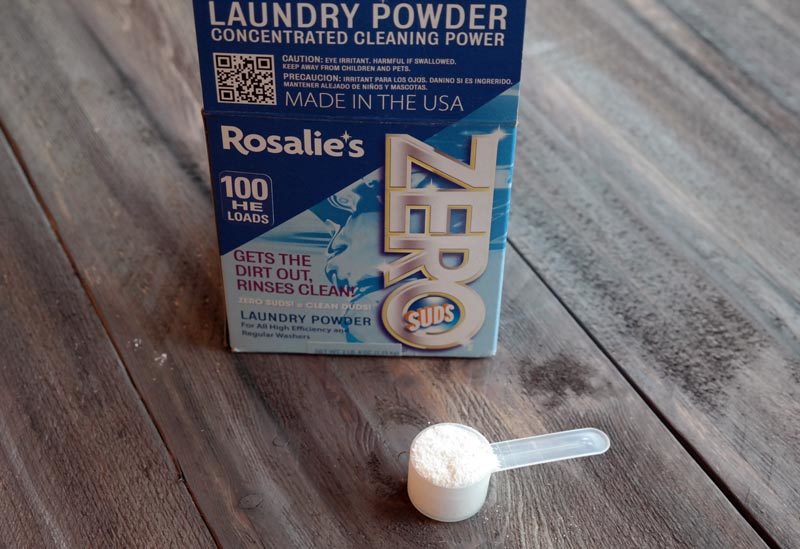 So, Jon Charles developed Zero Suds using a phosphate-free formula that still works like the old brands that had phosphates but without suds that can leave a residue. Not only was he focused on the cleaning power but also the environment. Zero Suds complies with the EPA's Design for the Environment "DfE" criteria. Plus, the minimal packaging leaves a smaller carbon footprint than liquid detergents.  Zero Suds is Made in the USA too!
I've been happy with the immediate results of cleaner laundry and thrilled to know it is keeping my washer safe too.
What I really, really like about Zero Suds is that I know my clothing has zero residue left on them after washing. I have had this issue with other detergents – name brand detergents that you would know. I have had to rewash or add an extra rinse to get extra soap suds off laundry many times before. This is a problem with many laundry detergents – even if you don't see extra suds in the washer on your clothes – the detergents aren't working well with our new low-water usage machines, the suds just don't rinse all the way out. Not only are the suds staying on your clothing but they are damaging your washing machines.
Does your washing machine have a 'clean washer' light? With these new washers, we have to buy extra washing machine cleaners to clean our machines because of the build-up from the detergents. In fact, the detergents can harm your washer's mechanical action, clog recirculating pumps, and destroy electronic parts on the machine. With Zero Suds, you will have a cleaner washing machine without the damage. I LOVE that! I want to keep my Maytag Bravos washing machine in good condition for many more years!
You can purchase Rosalie's Zero Suds on the Zero Suds website for just $15 for 50 loads, $21 for 80 loads, or $26 for 100 loads!