If you are a fan of Scentsy or of beautiful fragrances, you are going to really like Layers by Scentsy.  Leave it up to Scentsy to offer another truly new way to enjoy fragrances. With the new Layers by Scentsy, you can create your own signature scent by layers fragrances around you with personal care and laundry care products.  I was able to experience and review the full line and am hooked!
Layers by Scentsy
With Layers by Scentsy, you can mix and max 9 Scentsy products from morning to night, to create your own layered fragrance.  In the morning, I alternate between the new Shower Cream and Shower Gel.
The Love Story Shower Cream is super creamy and smells of pink jasmine, amber and dark chocolate. It is a bit floral but light and luxurious. It leaves my skin feeling soft and moisturized.  I also like the Layers by Scentsy Sugar Cookie Shower Gel. Yes, it smells exactly like sugar cookie, making you sweeter than you already are. 😉  It is a warm fragrance of vanilla, butter, and sugar.  It is a great way to start to the day with beautiful fragrances to uplift your mood.
Next, it is time to layer on the Layers by Scentsy lotions.  I keep the Layers by  Scentsy Sugar Cookie Body Lotion in my guest bathroom. It is the perfect scent to add any time of day after washing your hands. My kids love this scent. They were surprised by it when I first wore it and said they smelled cookies!   My sister-in-law came out of the bathroom the other day and had my brother smell her hands. She loved it, and now I have a Christmas present idea!
If you like Layers by  Scentsy Sugar Cookie Body Lotion, then you'll also like the Layers by Scentsy Sugar Cookie Body Butter. It is rich and creamy, perfect for smothering yourself in after bath time for super soft, deliciously smelling skin.  It is especially great on elbows.
Layers by  Scentsy offers a boy spray and hand cream in their Love Story scent.  It is a silky hand cream to keep in your purse that both moisturizes your skin and add fragrance to your day. The body spray is perfect for a quick pick-me-up of scent during the day or after showering in the morning. They both offer light, jasmine scents that are feminine and lovely.
The Layers by  Scentsy Solid Perfume is perfect for applying to your pulse points. It is a solid perfume and a little goes a long way. The fragrance is fresh and beautiful with pink grapefruit, sugared apple, lavish praline, and flirty marshmallow swirl.
Have you ever been to a spa or luxurious hotel that had linens that were scented?  Enjoy the spa like experience at home with Layers by Scentsy Washer Whiffs and Dryer Disk Fragrances. The Layers by Scentsy Washer Whiffs  smell of creamy coconut and lemongrass.  Add just a cap full to your bedding, towels, or clothing for a remarkable fresh fragrance that will be truly your own scent. It is best to match this with a scent-free detergent as to not mix the scents.  One bottle last for loads and loads.
Just pop a Layers by  Scentsy Coconut Lemongrass Dryer Disk into your dryer to infuse your clothes for up to 15 loads! Plus, it fights static at the same time – perfect for the upcoming dry winter!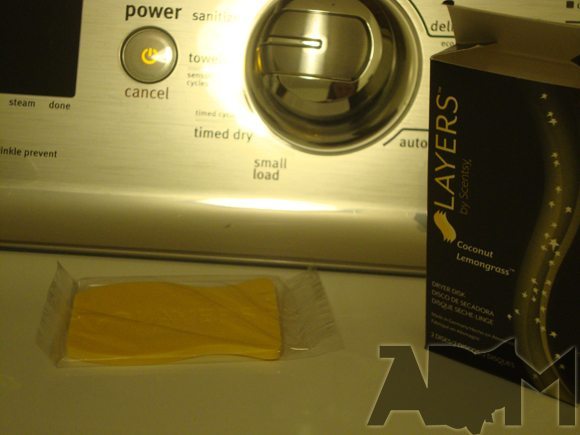 Buy Layers by Scenty
You can buy Layers by Scenty  from more than 180,000 Scentsy Independent Consultants. Find your nearest consultant here.
This was not a paid post. My own opinions were used based on my perceptions and experience. Thank you to Scentsy who provided me with the product for review