Use as directed. It is the phrase on everything you buy. If you use as directed, you should receive the benefit of the product. If you don't use as directed, sometimes serious consequences occur.
We are all programmed to read labels these days to keep our families safe. However, there is one product that actually kills people when they use as directed. That item is tobacco. Tobacco kills 480,000 people and cost $289 billion in health care bills every year.
This is a sponsored conversation on behalf of The Campaign for Tobacco-Free Kids.
Even with those alarming stats, tobacco companies continue to promote their products- not even just to adults – but to our children and youth.
Tobacco companies spend $8.8 billion per year to encourage people to pick up on a deadly habit that not only kills the user but also causes health problems for those around them, like my grandpa.
My grandpa was never a smoker but he breathed in cigarette smoke daily for 50 years, causing the emphysema that led to his death.
It made me angry to know his breathing problems could have been prevented.
I felt helpless as a granddaughter. What could I do if my extended family all chose to smoke? Nothing.
Make a Difference for Our Kids  #ShopTobaccoFree
With the Campaign for Tobacco-free Kids, I can make a difference. I can keep my children away from the deadly cigarette smoke and I can help prevent that annual $8.8 billion per year from enticing my children into that deadly habit.
The vast majority of smokers start as kids. Studies show that when kids are exposed to tobacco products in stores and through marketing, it encourages kids and youth to  use tobacco products. When tobacco products are available as an impulse purchase, it undermines smokers' of all ages in their attempt to quit.  If tobacco isn't as convenient to obtain, out of sight of young eyes, then maybe we can prevent our children from the deadly effects of tobacco.
I can make a difference by shopping tobacco free.  Businesses that are tobacco-free get my dollars because they stand with ShopTobaccoFree.org to create a tobacco free generation. Find tobacco free businesses in your area with a simple search on ShopTobaccoFree website. In Summit County, I found CVS, Medicine Shoppe, ALDI, Target, and Roses.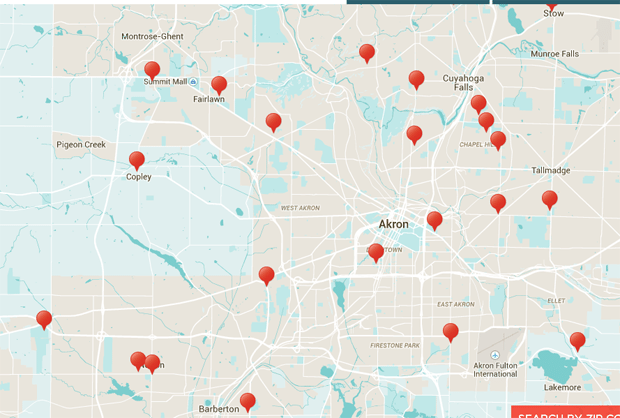 The first business that I noticed was tobacco free was CVS.
I recently transferred all of my family's prescriptions to CVS to show my support of their business decision to keep their customers healthy. Shouldn't that be the primary goal of any pharmacy?  So why doesn't Rite Aid or Walgreens?
Our kids need the retailers of America to step up and become tobacco free.  If you agree, you too can do your part by asking companies to stop selling tobacco too. The ShopTobaccoFree.org website makes it easy to do with a couple clicks on their website.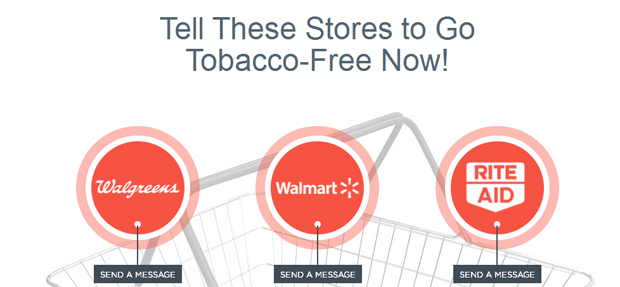 You can also do your part by supporting the independent and national stores that have chosen to be tobacco free including CVS, Wegmans and Target. Send them a quick note to thank them for taking the stand and going tobacco free on the ShopTobaccoFree.org website too.
We all need to do our part. If nothing changes, 5.6 Million kids that are alive today will die prematurely because of tobacco. 5.6 MILLION
We need to save this generation from a product that kills – when used as directed.
Why do you shop tobacco free?
We'd love to hear by commenting below or through social media. Use #ShopTobaccoFree and spread the word about why you shop tobacco free and encourage others.
Connect socially with ShopTobaccoFree on Facebook, Twitter, Instagram, and Tumblr.