Everyone has favorite special photographs.  One of my favorite family photograph is a vacation picture of me and my girls on the beach.  It is several years old now, but remains one of my favorite family memories.  I have my youngest daughter on my shoulders, and my eldest daughter standing in front of me.  The only thing brighter than our smiles is the crystal-blue water of the ocean behind us.  I've often thought about enlarging it, and making it a special piece to hang in our home.  I can't wait to share with you how we were able to make this photo a one-of-a-kind, signature piece in our home with the help and skill of Print My Watercolor!
Tell Me More About Print My Watercolor
Print My Watercolor started out as a high-end photography and print shop in San Fransisco.  They have taken their skills and expanded it to the internet, allowing folks all over to create custom artwork out of their special photographs.   The process is really simple too.
Upload a favorite photo to Print My Watercolor

Customize your water color print with 3 effects: black and white, sepia or brushstrokes
Order your artwork
It's that simple!  Here's a sample of each of the effects:
Black and White – I think adds feeling to a cherished photograph
Sepia – the brown tones add warmth to a photograph
Brushstrokes – makes your special photo look like a hand-painted work of art
Our Print My Watercolor Experience
The process of ordering our watercolor was a piece of cake!  It literally took me less than 10 minutes from start to finish!  Let me take you through the process:
 I chose the brushstrokes effect.  I chose the dark walnut wood bars (they also offer maple) for the top and bottom   "frame."  I wanted the watercolor to fill a space behind a sitting area, so we chose a larger 20″x30″ size.
In less than 2 weeks we received our completed custom print. Here it is!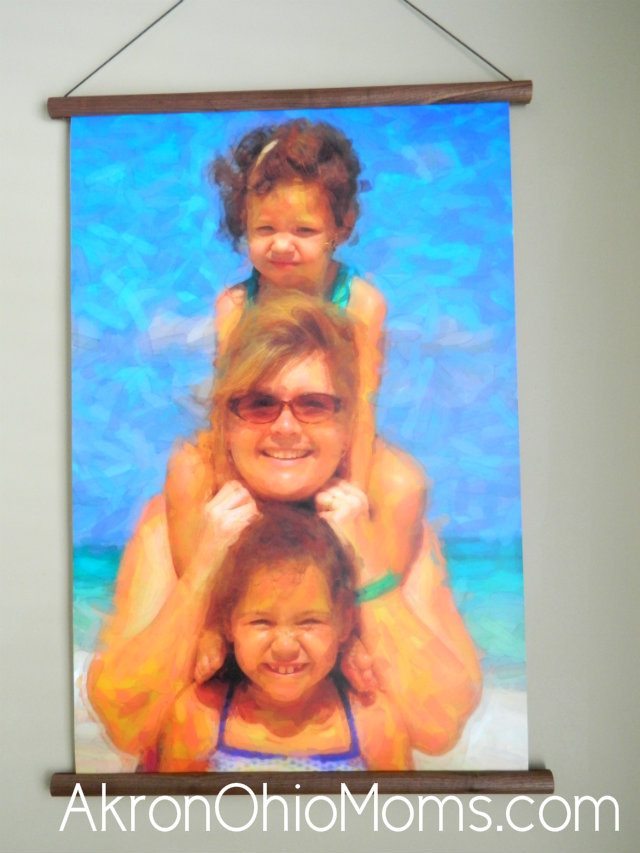 Isn't it absolutely gorgeous?!?!?  I love it!  It truly is a one-of-a-kind, high-end piece that we will cherish for years and years.
The brushstrokes effect is so unique and pretty.  It looks as though an artist painted each stroke onto the canvas the old fashioned way.  The shading and shadowing highlighted by the brushstrokes technique makes it so beautiful.  Here's an up close look at the brushstrokes effect:
How many of us can afford a sitting with a painter?  Paint My Watercolor and their brushstrokes effect is an affordable option for a custom portrait.
Important to note is that Print My Watercolor uses artist watercolor paper (not cheap canvas) for each of their custom pieces.  They also use a process called giclee printing, which provides a longer lasting, higher quality print.
Print My Watercolor – The Perfect Gift!
I think these custom pieces make amazing gifts!  Whether you pick a photo for a loved one, or allow them the opportunity to choose the photo themselves, the gift of a Print My Watercolor print is thoughtful and unique.  Wouldn't this make a great wedding, anniversary, birthday, Christmas, or birth of a child gift?  A art piece from Print My Watercolor is a gift everyone would appreciate.
Buy Print My Watercolor Custom Artwork
You can purchase your custom artwork on the Print My Watercolor website.
Print My Watercolor on Facebook
This was not a paid post. My own opinions were used based on my perceptions and experience. Thank you to Print My Watercolor who provided the product for review.