Do you hate lugging heavy jugs of laundry soap from the shelf to the cart to the checkout to your car and into your home only to repeat week after week? What about the plastic jugs, have you thought about how much waste your family produces with laundry jugs alone? The US produces over 1 billion plastic laundry jugs every year – enough to circle the planet 6 times! It is time to stop lugging heavy laundry jugs around and wash smarter with MyGreenFills.com!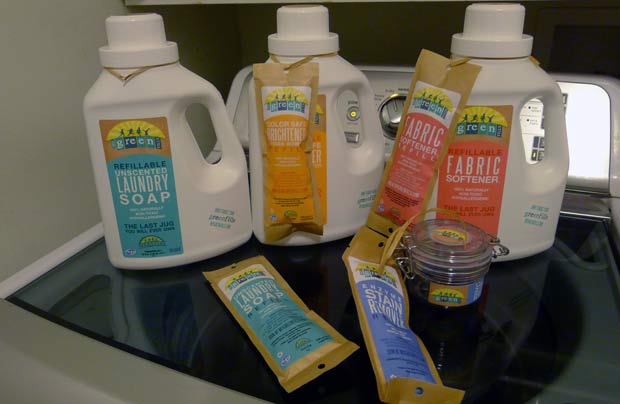 I received product to facilitate this post.
MyGreenFills.com Review
Stop the crazy cycle of lugging around heavy laundry jugs and then throwing the empty jugs into our wastelands. MyGreenFills.com is a smarter way to wash laundry. Simply add the laundry soap refill to your jug, add water, and shake. Repeat every 50 loads. You never have to buy – or toss – a laundry jug again!
I really like the refill pouches, they are much more Earth-friendly to use, store, ship, and toss than entire heavy jugs.  Everything from MyGreenFills.com is 100% natural, nontoxic, and hypoallergenic.  I can feel good about the materials I'm using to clean my family's clothing. No more expensive, harsh chemicals! Plus, they MyGreenFills.com products are cold water formula, so you can wash and clean in cold water – saving you money by not using hot water. The soaps work great too, leaving our clothing fresh and clean every time.
MyGreenFills.com offers laundry soap, fabric softener, enzyme stain remover, and color safe brightener for all your laundry needs. They also sell as well as non-toxic insect repellent and sunscreen for all your outdoor adventures this summer.

I like this concept a lot. I use another line of products for my household cleaning in which I simply buy concentrated refills and add my own water to the jugs. I've done this for years and like how I waste less and how much space it saves in my cabinets.  I'm excited about MyGreenFills.com because it is a safe product to use for my whole family's laundry, plus it is good for the environment. Every little step we take makes a difference.
Another thing that I really like about MyGreenFills.com is that I don't even have to go to the store to buy it, they ship it right to my door whenever I need it.
Simply choose what products you want and how often you want them delivered and they do the rest!
So, are you ready to try MyGreenFills.com for yourself?  Get your own free laundry jug when you just pay shipping cost!
Connect with MyGreenFills.com on Facebook.