October is national eczema Awareness Month. It is the time were many people suffering from eczema find even more dry skin problems. Eczema causes irritation, flakiness, and drying of the skin.
My son and husband both suffer from a mild form of eczema and are constantly searching for relief.
Finding a moisturizer that isn't full of fragrance and preservatives can be difficult. For many eczema sufferers, these ingredients make eczema worse, not better. There is a new product that is made of 100% fractionated coconut oil fractionated this product is called CapriClear.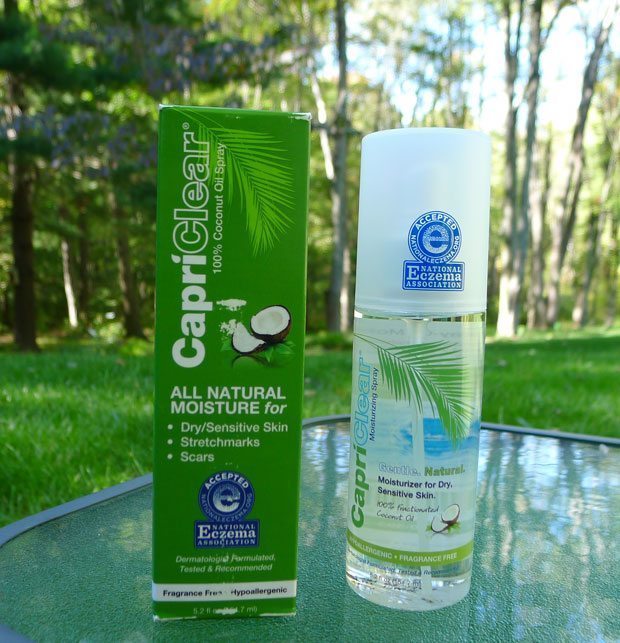 I received product to facilitate this post.
CapriClear Spray On Moisturizer it is colorless, odorless, and free of preservative, fragrances, parabens, sulfate, and other irritants found in skin care products.
We like that it is a spray on moisturizer. It goes on light and not oily. Plus, it is easy to apply, especially to squirmy kids. My son has always ran from me when I even mentioned that he needs to put lotion on his dry, chapped skin. Thankfully now he is older and understands that he really needs it, so he doesn't run. 🙂 He even likes this product because it is fun to spray – oh no! 🙂 At least it isn't a pain to get him to apply it now for his eczema.
CapriClear is good for everyone – adults, kids, and even babies because it is 100% coconut oil. With continued use, CapriClear should help your eczema too, from the results we've seen early in the season. It helps reduce the itching, scaling, redness, and dryness.
You can purchase CapriClear at retailers nationwide including Bed, Bath, and Beyond Capri and on Amazon.com for around $10.99 for oz or $19.99 for oz.