Testing blood glucose levels 5-10 times daily is a daily requirement for those living with Type 1 Diabetes. There is no way around it. With Genteel Lancing Instrument, you can test painlessly anywhere on your body, giving your fingertips a break! See those smiles above? Even though my kids have to test 5-10 times a day, they are happy kids, made happier because of Genteel.
I received Genteel Lancing Instruments to facilitate this post. All opinions are 100% my own.
Painless Blood Sugar Testing with Genteel Lancing Instrument – Our Review
The Genteel Lancing Instrument replaces painful, spring-loaded lancing devices with a precision depth control vacuum device.  Genteel uses vibration and vacuum technology to draw blood. Genteel is easy to use, even for young, newly diagnosed diabetics for painless blood sugar testing.
This gentle lancer comes with easy to use instructions, once you do it a time or two, it will be like second nature. The key is to keep your finger on the activation button until the vacuum has drawn up enough blood for the test as you can see in the video.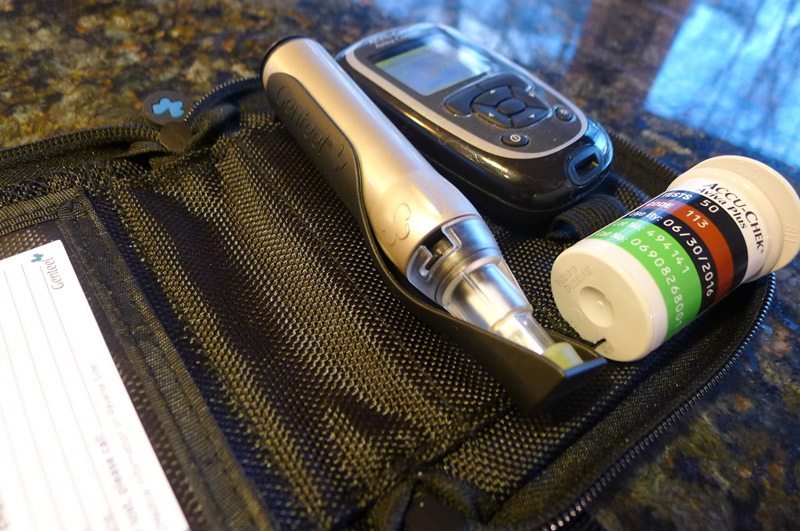 Since Genteel uses contact tips to control the depth of penetration with vacuum, you can get reliable blood draws all over the body, instead of just fingertips. Choose the contact point that works best for you, my kids both use #2.
Traditionally, blood draws are on the fingertips because that is where blood capillaries are closest to the surface of the kind – and also abundant supply of pain nerves. Since Genteel can be used in alternate sites that aren't full of pain nerves, it can be pain free, or at least less painful. You can still use your fingertips, but also your stomach, forearms, chest, upper arms, thighs, hips, calves, fingers, and palms.
The first 3am blood test that I did was on my son's leg. He was sleeping on his stomach, I didn't have to wake him up to test! I was sold!
My Type 1 Diabetic Kids Review of Genteel
My 10 year old son has had Type 1 Diabetes for 1-1/2 years. His poor little fingertips are dotted with 3,832 finger prick marks, scares from repeated finger pricks daily. My heart has cried whenever I saw those marks, knowing it is only going to get worse, until I discovered Genteel Lancing Instrument.
10 Year old Boy Video Review of Genteel Lancing Instrument
Unfortunately, my 8 year old daughter was just diagnosed with Type 1 Diabetes in September.  It's terrible to have two children suffering with a life-threatening disease with no cure. During our first endocrinology appointment, a nurse recommended the Genteel Lancing Instrument for testing blood sugar levels. She said that everyone raves about how pain free it is. Really? Why didn't anyone tell me about this for my son?
Well, I'm here now to tell the world online – and everyone I meet with T1D – about Genteel. It does everything it promises and more.
With Genteel, my kids are now testing their blood sugar levels with no pain, just a pinch. They are giving their fingertips a break since they can test practically anywhere on their bodies with accurate test results.
I  suspected that my daughter was Type 1 Diabetic when I noticed subtle warning signs of weight loss, drinking more water, and excess bathroom breaks. I asked her if she'd test her blood sugar with me. She bawled for fear of the pain. When we tested with my son's lancer and meter to discover her blood sugar level of 389, we all bawled with the diagnosis…
I hated knowing the future of finger pricks and needles for my little girl's future. She was brave but each finger prick hurt on her tiny little fingers. She wouldn't dare try to test her blood sugar levels with our old lancer.
Once our Genteel Lancing Device arrived, my daughter couldn't wait to test on her own. It was odd to say the least!
Now, my daughter won't let anyone else test her blood glucose levels (except for the 3am nightly test). As a newly diagnosed 8 year old girl, she is self managing her blood tests at home, at school, and at friends' houses with Genteel.
Genteel gave her confidence and such a peace of mind for this mom.
Not only can kids test themselves with Genteel, but they can also decorate it to be more 'fun' with provided stickers. My daughter customized her Genteel right away with flowers and butterflies. You can purchase Genteel in a variety of colors too. Every little thing that helps my kids feel better about Type 1 Diabetes is appreciated by this mom!
Still not sure if Genteel is for you? Check out what other users are saying about Genteel from kids to teens to adults.
Purchase Genteel Lancing Instrument for painless blood sugar testing
You can purchase the Genteel Pain-Free Lancing Device on the Genteel website for $129.  Genteel comes with a 100% Risk Free Guarantee, if you don't like it after 120 days, get your money back.
Trust me, this will be the best $129 diabetic supply you purchase all year. When you see your kids are testing with less pain, it is worth it. Plus, since it is less painful, they won't object to testing like they do with other painful lancers.
Get social with Genteel on Facebook and Twitter.